Albert Heijn is the most famous supermarket chain in the Netherlands: here's the essential keto-friendly products you'll find here.
Hey, don't forget that in all the Netherlands there are many AH To-Go, perfect for a keto snack on the go!
Discover all the keto-friendly snacks at AH To-Go.
If you are in Amsterdam and you want to eat keto and low-carb, I have a guide that you'll love.
Let's dive in and talk about the keto-friendly products in Albert Heijn. If you are interested in a more general list of groceries, read my grocery list for the keto diet.
Vegetables
Albert Heijn has all the vegetables you need. Also, it has many smart veggies, like:
Koolraap (rutabaga) in tagliatelle and in fries shape
Cauliflower rice, ready to cook (and they sell it even frozen, from the brand Bonduelle)
Pumpkin slices is wonderful for preparing keto-lasagna
Read more about Smart Veggies in the Netherlands.
Remember that AH seeks also the pumpkin purée useful for cooking keto things in the pumpkin spice season!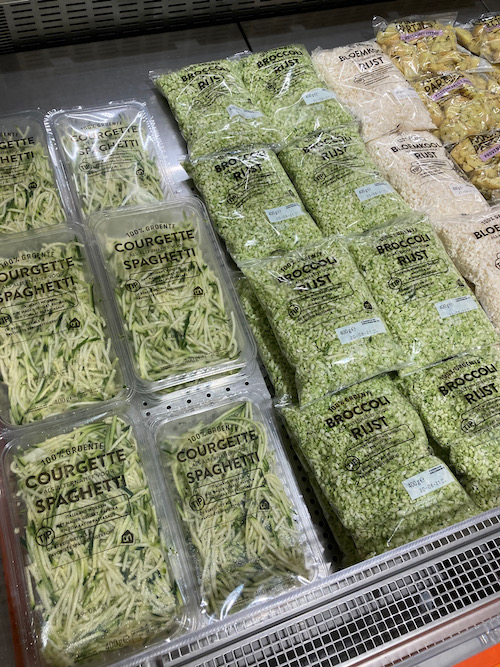 Fish, meat, eggs
Unpopular opinion (or maybe not?). Supermarkets in the Netherlands are not the best regarding fresh fish and meat.
In the biggest AH, such as the XXL, you will find frozen fish that you buy in convenient baskets. The baskets are in 2 sizes and you can fill them up for a fixed price. I tried it, and I liked the quality.
In some AH you will find also an octopus!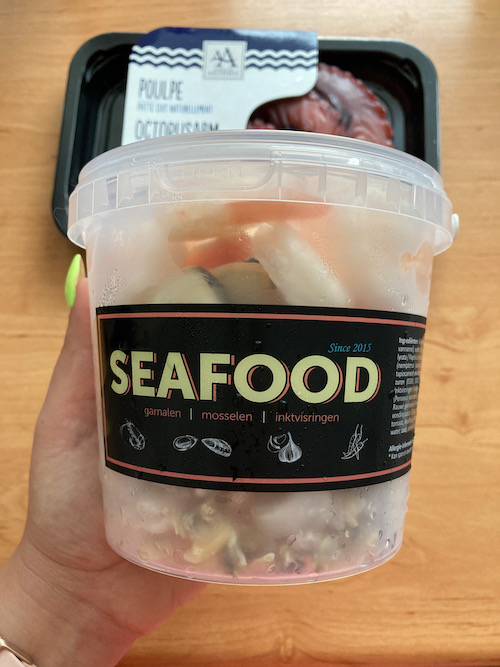 Don't forget shrimp, mackerel, trout, salmon, and canned fish (in water) such as tuna, sardines, and mackerel.
In AH you can buy steaks and several meat cuts. If you want to buy meatballs or burgers, check that they didn't add sugar, potato flour, or something else that can be not keto-friendly. This is very common in every supermarket in Holland.
There are a lot of choices also in processed meat, lunch meat, bacon, and salami. They sell also small plastic boxes with cheese and salami blocks, salmon rolls, and so on.
If you like spreads, check out the pathé (available in salmon and tuna) from John West.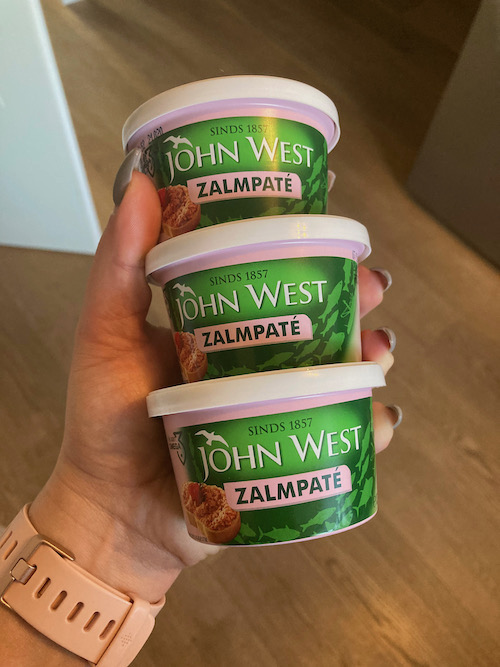 Cheese and dairy products
AH has a lot of choices regarding cheese. Read in this separate post my favorite cheese for the keto diet.

Some of my favorite options:
Grana Padano
Gouda
Brie
Taleggio
Truffle Cheese
AH sells also Cheese pops, the best snack to crunch during a movie!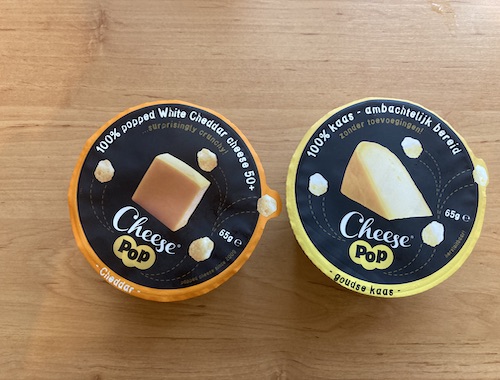 Slagroom, is the best thing closer to the heavy cream. I buy the thick one from Campina and a liquid one from de Zaanse Hoeve.

Clotted cream, can be used as heavy cream to use in coffee.

Yogurt: read the best keto yogurts in the Netherlands.

Butter I recommend the bio grass feed from Campina or Borderij Zuivel.

Ghee, from the brand Bio Today.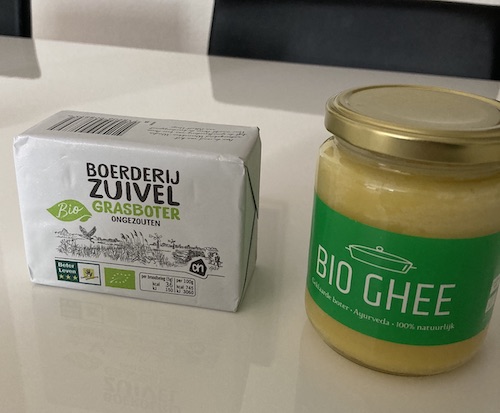 Low-carbs milk
Choose the Almond milk with the best values: you can find easily a 0 carbs milk from brands like AH, Provamel, and ALPRO.
Coconut milk is also a low-carb milk. I buy the one from Fairtrade Original or the one from AH. Both have 17 grams of fat and 2 net carbs for 100 ml.
The best Soya milk is from AH, with its 0,8 net carb and 2 grams of fat.
Another brand that is exclusive at AH is Plenish. 3 kinds of milk are available: Hazelnut milk (0,3 carbs), cashew milk (1,5 carbs), and almond milk (0,4 carbs). All the flavors are made with only 3natural ingredients (nuts, sea salt, and water).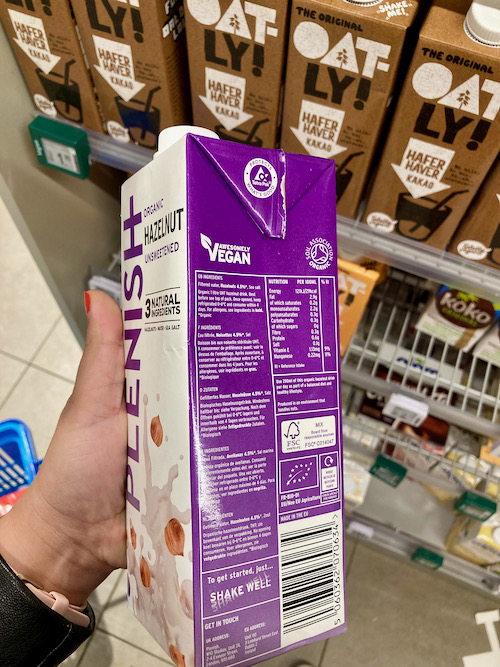 Read also how to use the milk to enjoy coffee on keto.
Butter and oils
Let's talk about fats. They have all the kinds of oils. I recommend extra virgin olive oil because is one of the healthiest. In AH you will find also Ghee and MCT oil from the brand Bio Today.
Fruits
They always have berries. Don't forget the best fruit for a ketogenic diet, the avocado. And olives, which are full of healthy fats.
Nuts, nut butter and Seeds
Huge selection of nuts, that you'll find in bags and in plastic boxes. They are perfect as snacks on the go.

From the AH brand, I like the 100% peanut and almond butter. Check always the labels and make sure the butter is 100% nuts.
Also for the seeds, we have a lot of choices. Pumpkin seeds, hemp seeds, chia seeds, flax seeds and have always the bio-version.
Read the best nuts for keto diet. AH, helaas, doesn't sell pili nuts.
Chocolate
Dark chocolate (minimum 85%) is low-carb. The 2 best brands in AH are Handsoff and Lindt.
Low-carb bread
In AH you can find the Tasty Basic bread lijnzaad, that has 7,5 carbs for 100 gr. That makes less than 4 net carbs for slice.
If you follow low-carb try the almond version! It's very tasty (15 carbs/100 gr).
Read more about low-carb and keto bread in Holland.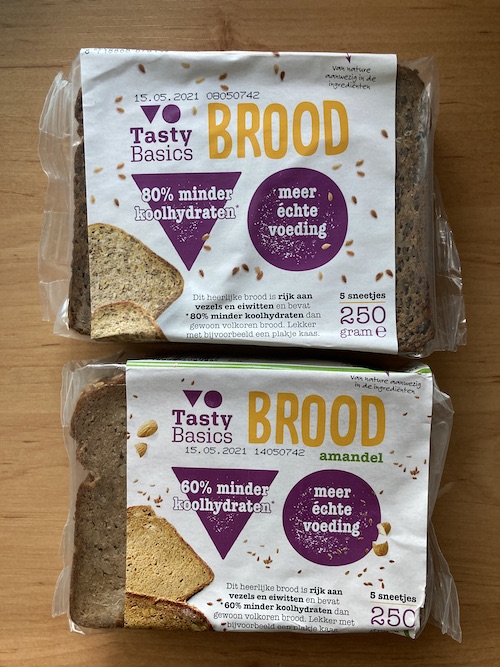 Another low-carb bread, you can find in the freshly baked aisle is from the Ah brand. Read here my detailed review of this bread. Notice: it is not keto-friendly BUT, for 5 gr carbs per slice, I say it is a fair compromise when we just want to enter into a bakery and eat all the bread.
Sauces and spices
AH is the best because sells 0-carb mayo. Read here for the best low-carb mayo in the NL.
As for spices, all of them are great: black pepper, Italian herbs, chili pepper, and so on.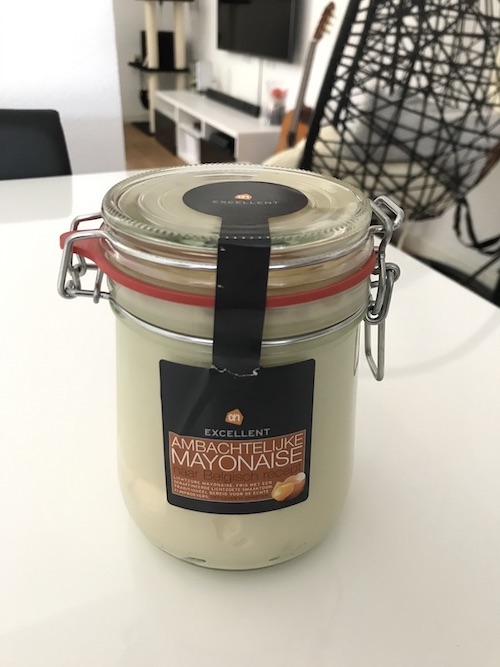 Keto snacks and bars
Finally, it's June 2022 and we have some interesting Keto products at Albert Heijn. We have a full department for gym junkies. Many things are from Body and Fit but look better: you should find also some keto snacks and bars.
Killer Body bars review (low-carb not keto)
Also, you will find the Boost Keto balls, in 3 flavors.
In this department, I found also crispy seaweed crackers.
Drinks and beverages
You will find basically all the soft drinks, like Cola, Fanta, and Sprite with 0 sugar. Ice tea 0 from AH (not only 0 carbs but also 0 calories). There are also special drinks that you can find only in AH.
Kombucha 0, is available in several products, and brands.
Nocco sugar-free drinks are also great drinks, and very refreshing.
Other sugar-free no-alcoholic options:
Lohilo, is a sort of energy drink with collagen and hyaluronic acid.
Aloe vera 0 drink.
AH has good choice also regarding the alcohol.
Read the best wines for the keto diet.
Royal Club 0 % sugar: available Ginger Beer, Bitter Lemon, Ginger Ale, Tonic Classic. Great to make refreshing and easy cocktails.
More drinks: Frank Seltzer and Stëlz, sparkling water with alcohol and flavoring.
Other products
Pork rinds and nibble bacon(in dutch: Knabbelspek and knabbelbacon)
Almond flour( brands Smaak, AH, Molensteen)
Baking powder, yeast, aromas
Egg whites in bottles
Crunchy Edamame beans (13,6 carbs per 100 gr)
Low-carb Ice cream – more for less strict keto. Like Oppo or Lohilo.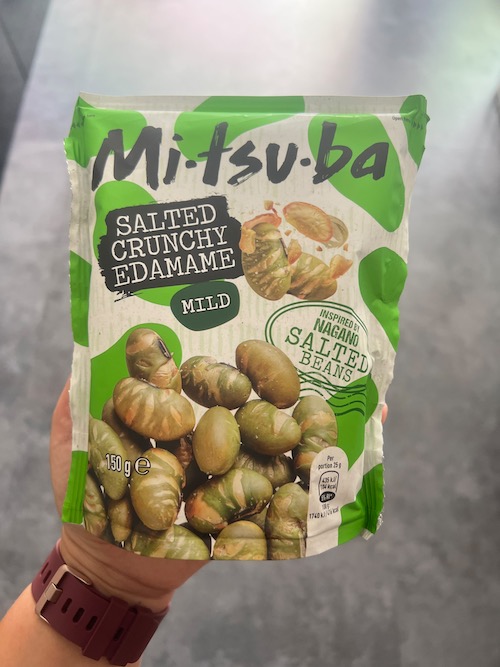 ---
This Albert Heijn keto products list is in continuous evolution as I discover new keto-friendly products. Stay tuned!
More ideas:
Eat Keto and low-carb in Amsterdam and in the Netherlands
Eat keto at IKEA
Keto products at Holland and Barrett
Keto products at HEMA
Keto at Starbucks
Keto meals at Vapiano
Keto snacks at AH To GO
Keto shopping at Jumbo
Order keto food at home in the Netherlands


---
---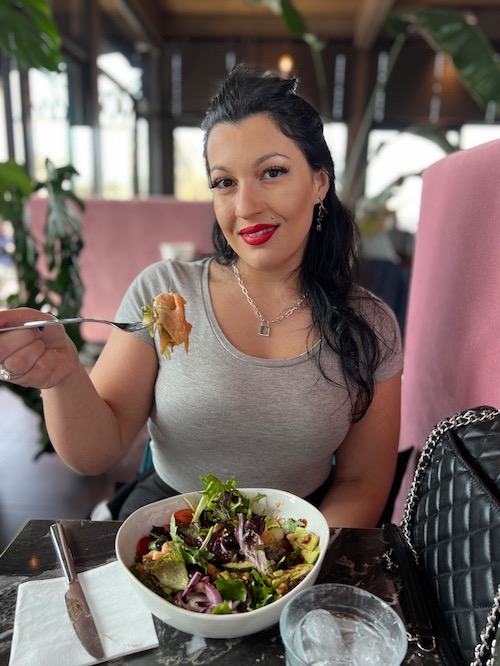 My name is Simona, a keto enthusiast, based in the Netherlands.
I live with my husband, my cat Newton, and a fridge full of cheese.
You find me on Instagram, Pinterest, and sometimes on Facebook.
I also write a lot of keto recipes on my Italian blog keto-with-simona.


Check also:
Keto products review
Discount codes
Keto favorite products
---
---
"This post may contain affiliate links. This means I will get a commission if you purchase through my links, at no extra cost to you. All the opinions are my own. Read the full disclosure here."
---