Navigate to where you want to go:
I recently discovered the pili nuts: tasty, full of minerals, and with great macros for the keto diet. They are hard to find in a physical store, and the price is quite high. No wonder I did not know their existence until now, May 2021.
Even the top-ranked keto, paleo, and superfoods websites don't talk about the pili nuts.
Pili nuts: what are they?
Pili, also called Canarium ovatum, is a tropical tree typical of the Philippines. From this tree, the nuts growing are the so-called pili nuts.
The taste is very delicate, a crossover between Brazil nuts and Macadamia nuts.
Nutrition facts of Pili nuts
Values for 100 gr of pili nuts:
Calories: 718
Fats: 79,5 g
Carbs 4 g
Protein 10,8 g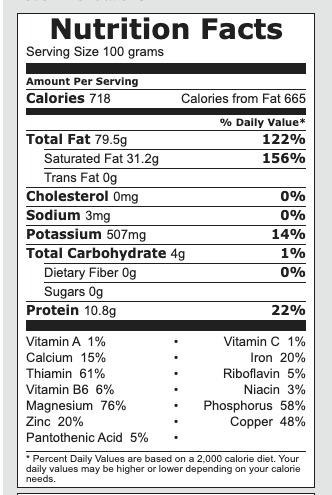 It's great that the fats contained in the pili nuts are saturated and monounsaturated. Only a small quantity is polyunsaturated. The pili nuts are one of the lowest nuts containing polyunsaturated fats (the lowest, are the Macadamias).
Pili nuts are not only a great nut for the ketogenic diet, but also a real superfood.
The pili nuts are, in fact, a great source of:

Potassium
Magnesium
Phosphorous
Antioxidants
Where to buy Pili nuts?
Pili nuts are still a niche product. In many don't know still this nut.
You can find them online or in several whole-foods store. I found activated (sprouted) pili nuts in Holland & Barrett, from the English brand Raw and Wild.
Are Pili nuts worthy?
Being a niche product, pili nuts are still quite difficult to find, especially in physical stores. That's also why you can notice that their price is quite high.
If you find them easily, and you don't find the price prohibitive, you can use pili nuts as a snack/treat for the keto diet.
Remember that also other kinds of nuts are great sources of vitamins and minerals. You are not missing anything if you can't access their purchase. Keep snack on your favorite nuts, and from time to time, buy different types.
If you want to know the best nuts for the keto diet, ranked, read this post.
Read more keto-friendly products at Holland & Barrett.