Which keto snacks to eat at the movie theater in Holland? Spoiler alert: not many! Of course, every movie theater is different and we can find different options depending on the one we visit.
I live in the Amsterdam area, therefore I visit many times the following: Pathé Arena, Tuschinski, and City. Hereby, the keto options I found here:
Water
Black coffee
Cola zero

Oh wow, that's too much, Pathe, please! I can survive 3 hours with only water. But I don't want to, while other people is snacking nachos and opening Grolsch beers.
So, the only option is to bring something from home or buy few things at AH to-Go for example. There is always an Ah to Go nearby! I have selected the best keto snacks to eat at the movie theater.
Cheese pop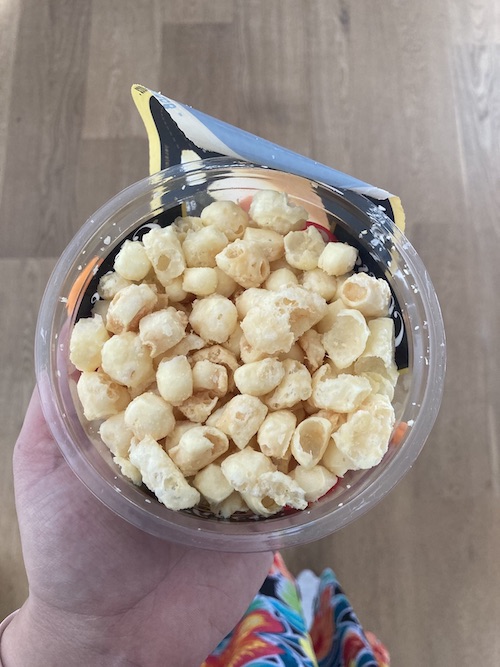 Cheesepop not only resembles popcorn in shape, crunchiness, and way to eat them, but there are also tasty and 0 carbs. The pack is very small and convenient to carry in the bag. Eat these and you won't miss popcorn or nachos!
Where to buy them: AH, Jumbo, Afvallenmetbregje.
Low carb candies
I really miss the candies! Recently I have discovered two Dutch brands of low-carb candy. One is De Bron, sold online. The other brand is Food2Smile, sold both online and at Jumbo supermarkets. Both have a big selection of sugar-free and low-net-carb candies.

The taste is amazing, it's almost identical to the regular candies, but no sugar involved! They do contain Maltitol: so go easy on them, because they can kick you out of ketosis or have a laxative effect. And you don't want this while you are at the cinema, ah-ah-ah!
Where to buy them: Jumbo, website, B&F.

Nuts
Just grab a bag of nuts of your choice and take it with you! Be mindful of the calories and read my post about the best nuts to eat in the keto diet.
Vegetables
Pack some low-carb vegetables and you have a crunchy night. In supermarkets, you can find snopegroenten usually sold in small boxes. Many keto-approved vegetables: tomatoes, cucumber, celery, and edamame. The best way is to mix them with some cheese or salami.
Low-carb bars
If you like a fast snack choose a low-carb bar. Check my post about the low carb bars in the Netherlands.
Mix of Salami, cheese and olives
Grab a small box and put a mix of salami, cheese, and olives.
It's very easy to wrap the products you have at home. If you don't have time remember that supermarkets have many small packages with keto snacks.
---
These are my favorite keto snacks to enjoy my time at the movie theater in Holland! Every time I will visit Pathé I will check if they included more low-carb options.
For more meal ideas, read my article about eating keto in Amsterdam.
Read also the keto snacks at AH and AH To Go.
---
---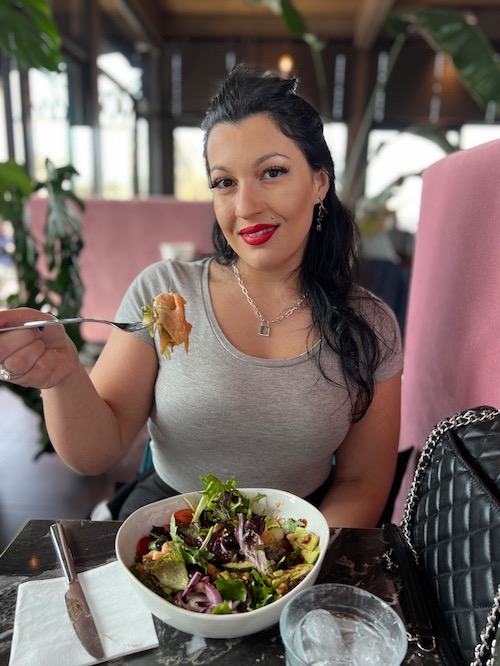 My name is Simona, a keto enthusiast, based in the Netherlands.
I live with my husband, my cat Newton, and a fridge full of cheese.
You find me on Instagram, Pinterest, and sometimes on Facebook.
I also write a lot of keto recipes on my Italian blog keto-with-simona.


Check also:
Keto products review
Discount codes
Keto favorite products
---
---
"This post may contain affiliate links. This means I will get a commission if you purchase through my links, at no extra cost to you. All the opinions are my own. Read the full disclosure here."
---