I am writing this post to help tourists and locals that want to eat keto and low-carb in Amsterdam. When I googled "where to eat keto in Amsterdam" I got only old posts on restaurants that no longer have a keto menu. Therefore, I decided to write a post about it and keep it updated.
Those who want more information about eating keto and low-carb in Amsterdam can download my free PDF guide. It's a nice one!
Eat Keto & Low-carb in Amsterdam
Download the free guide
What you will find in this free guide:
The best places to eat keto and low-carb in Amsterdam
Tips to eat out in Amsterdam
The best places for low-carb snacks on the go
Supermarkets and best street markets in Amsterdam
Tips to order meals online in the Netherlands
Notice: all the suggestions are suitable for a ketogenic diet. If you are not following keto but you are living low-carb, these options are perfect for you; since you can eat more carbs, feel free to add some whole grain products.
If all you want is a calm dinner in your hotel room: Thuisbezorgd, ja graag!
If you are at IKEA, read also all the keto things you can eat at IKEA.
Read also where you can get the best keto coffee in the Netherlands.
Let's dive in.
Best places to eat keto/low-carb in Amsterdam
In the Netherlands, there is no such thing as a keto restaurant. But fear not. You won't starve.
Breakfast
Many restaurants and bars are opened for breakfast and many coffee places serve breakfast. You will always find eggs, cheese, and bacon. In particular, I would like to mention two places:
Omelegg. It's a lovely family business, and they have also a location in Berlin. They serve omelets, with many flavors. You can put basically what you want, such as ham, cheese, salmon, broccoli, and so on. It's great that you can buy the omelet alone, and basically, all flavors are keto-friendly. For the regular low-carb eaters, you can buy the menu, where bread or a small croissant is included.
Coffee & Coconut: they serve an all-day breakfast. A good option is scrambled eggs, with avocado and feta. if you like good coffee this is the place, and they have also coconut milk. A good selection also for the tea.
Read in more detail where to find a keto breakfast in Amsterdam.
Lunch and dinner
Luckily, Amsterdam is full of brasseries.
Read here about the best keto-friendly meat restaurants in Amsterdam.

You can have a steak or a burger, of course skipping any sauce.
Ask to replace fries and bread with a salad. In particular, I suggest:
The butcher on the menu there is a bun-less burger. I am sure you can make small modifications to the menu. They have keto-friendly side dishes, like mushrooms, avocado, cheese, eggs and bacon.
Cannibale Royale has many choices of meals. You can opt for grilled chicken, steak, and any burger without the bun. Avoid the ribs because they are already glazed and they cannot be cooked without the sauce.
Rancho has several locations throughout Amsterdam. What I love of this Argentinian grill Restaurant, is that they have on the menu several meat options with no fries included!
The Uptown Meat Club has a lot of keto choices: not only you can find here a great variety of high-quality meat, but also many keto-friendly side dishes.
If you want to focus on salad and you seek more vegetarian and vegan options I suggest these places:
SLA has many restaurants in Amsterdam. Here you can find a lot of high-quality salads, most also suitable for vegetarians and vegans. You can ask for some modifications or even make your salad from scratch.
The Avocado Show is a lovely place in which you can have a great meal and a lovely photo for your Instagram. The common thread is that every meal has avocado on it. For a keto meal, I suggest these options: Caesar salad without croutons is perfect, poke bowls, ask them without sauce, mango, and sushi rice. They also serve eggs, with avocado, bacon, or salmon, just skip the sauce. They are very happy to make adjustments, so don't be afraid to ask for some modifications. Read the details in this post.
Salsa Shop, if you like fresh Mexican flavors, have a salad here. Vegetarian options are available. Read the full review here.
EAZIE has low-carb salads and meals. They also make wok and poke bowls, and the great thing is that you can replace the quinoa with 0-carb noodles (shirataki). They also have tofu and other vegan options if you don't want meat or fish. You can also combine your soup.
Vapiano is a world restaurant chain where you can eat a lot of low-carb and keto-friendly options. Read my dedicated post about all the keto options at Vapiano.
If you desire fish, I suggest these 2 places:
The seafood bar is an amazing place that serves fish. Here I suggest the plateaus, with a mix of smoked fish, so you can taste a little of everything. You can see I love this place. Besides pick up and delivery, they have also an online shop where you can order raw fish.
Sumo is one of the most famous sushi chains in Amsterdam. You can order a la carte or all you can eat: order of course keto-friendly food, such as sashimi, edamame, and miso soup. Oh, and tons of salad. Skip the sauce.
Restaurant Smelt If you like cheese, my Instagram friend Silvia, told me about this cheesy restaurant. Here they make exceptional cheese fondue, and you can ask for customizations. Just dip veggies in the cheesy dip and you won't regret it.
Kaasbar, is another place for cheese lovers. Read my experience here.
Manoto and De Aardige Pers: In Persian Restaurants, the meat is fresh and very tasty. For details read
Eat keto at the Persian Restaurant.
I suggest also Greek Restaurants, where you can enjoy protein and healthy fats. Read here the best keto options at the Greek Restaurant.
DUTCH ideas made keto
Hereby, 2 low-carb Dutch products.
Kapsalon: this meal was invented in the Netherlands! It's made with lettuce, meat, and cheese. The original recipe has fries on it, but skip them and you have yourself a keto meal! I love how Kapsalon was invented (and could've been me – hiding my fries under the salad, I mean, is the story of my life- maybe I will tell you this in another post).
Herring: One of the traditional Dutch traditions is a small stop to any haringhandel and have a herring. Walking around Amsterdam you will find many stands selling herring. Important: the traditional way to eat this fish is raw. Some stands also smoke it, so if you are not raw fish, ask before you order. Just make sure to not order any bread with it. This solution is good for replenishing omega-3 fatty acids but not really the best for your breath. Please, if you order a herring, eat it in the classic haring position, and tag me on my Instagram (see picture above).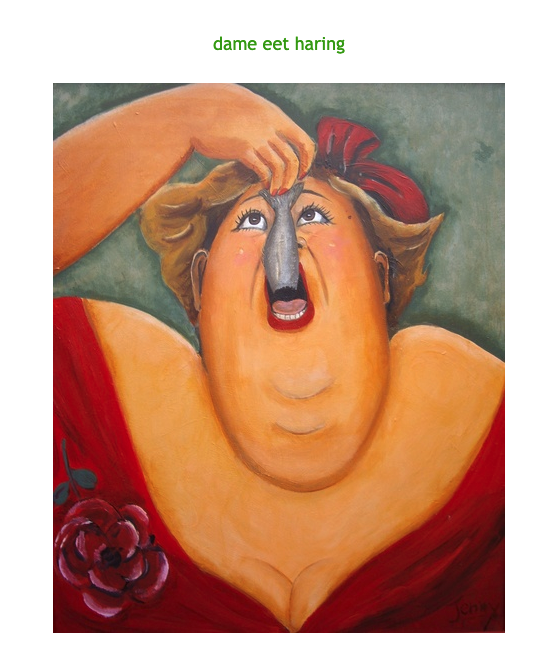 Keto friendly coffee in Amsterdam
In Holland, there are not many fancy places where you can have a custom coffee low-carb. Mostly, you will have to enjoy it black. Unless you visit Starbucks. If you want to know more, read my article about Starbucks.
If you want more info about eating keto and low-carb in Amsterdam, download my free Amsterdam guide, with bonus information.
Eat Keto & Low-carb in Amsterdam
Download the free guide
What you will find in this free guide:
The best places to eat keto and low-carb in Amsterdam
Tips to eat out in Amsterdam
The best places for low-carb snacks on the go
Supermarkets and best street markets in Amsterdam
Tips to order meals online in the Netherlands
Bonus information in detail:
Best places to eat keto and low-carb in Amsterdam
Summary of how to order a keto coffee at Starbucks
Tips to eat out in Amsterdam (eh-eh-eh!)
Best shops that sell keto snacks on the go (+ list of products)
Supermarkets in Amsterdam
The 3 best street food markets in Amsterdam
How to order meals online
Takeaway services
Articles about keto in Amsterdam and the Netherlands
Eat keto at IKEA
Keto at 5 Guys
Keto products at Holland and Barrett
Order low-carb food at home in the Netherlands
Keto products at HEMA
Keto at Starbucks
Keto at the Avocado Show
Keto meals at Vapiano
Keto snacks at AH To GO
Best Low-carb beers in the Netherlands
Keto snacks at the movie theaters in the Netherlands
Where to find grass-fed meat in the Netherlands
Patagonia sugar-free ice cream
---
I hope this post will be useful for all my low-carbers out there! Oh, and if you know someplace where to eat low-carb in Holland, feel free to contribute and leave a comment below.
---
---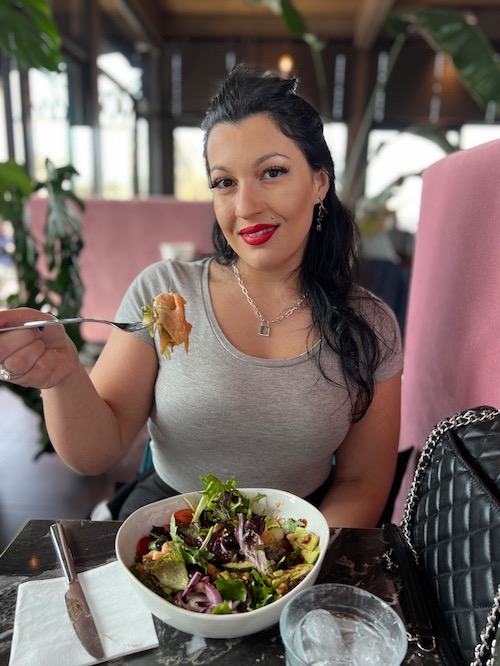 My name is Simona, a keto enthusiast, based in the Netherlands.
I live with my husband, my cat Newton, and a fridge full of cheese.
You find me on Instagram, Pinterest, and sometimes on Facebook.
I also write a lot of keto recipes on my Italian blog keto-with-simona.


Check also:
Keto products review
Keto favorite products
---
---
"This post may contain affiliate links. This means I will get a commission if you purchase through my links, at no extra cost to you. All the opinions are my own. Read the full disclosure here."
---