Navigate to where you want to go:
Hema is one of the best places to buy a snack or a quick lunch because has a lot of keto products. I love that their products are sold in comfortable boxes, easy to carry in the bag and to store in the fridge.
They also have fresh food for a last-minute dinner, like salmon and shrimp.
If you need a snack, count on HEMA. And if you need more keto snack ideas, read where to eat keto and low-carb in Amsterdam (and in the Netherlands).
Read also:
Where to find keto products in the Netherlands
Below all the keto-friendly products you can find at HEMA.
Lunchmeat

Ham

Serranoham and Parmaham

Salam

Rosbief
Carpaccio

Meat

Steaks

Sausages (HEMA sells the ones they use for the hot-dogs – also without bread!)

Bacon strips

Rookworst

Filet Americain naturel

Fish

Smoked salmon

Shrimps

Prawns

Salmon filet

Cheese
Read the best cheese for the keto diet.
Semi-hard cheese

Cheese slices

Cheese blocks
Soups

In the fridge, there are many soups in a plastic box.
One good option is the broccoli and zucchini soup, 2,7 grams carbs for 100 gr.
Another low-carb soup is the champignon soup (3,3 carbs).

Check always the labels before you buy because the soup ingredients may vary and therefore the values cannot be the same.
Salads

They have complete salads, meaning with carbs (potatoes or pasta).
If you think you can avoid eating carbs, you can buy them. Personally, I never did that because I don't like to throw the food away.
Read the 3 best ready to eat keto salads at AH.
Nuts

They have several nuts: the best low carb option they have is walnuts.

Read the best choices concerning nuts on my post about the best nuts for a ketogenic diet.
Seeds

Flex seeds

Hemp seeds

Chia seeds

Other products


Cacao Nibs

Sugarfree chewing-gums
Olives

Flavored sparkling water

My favorite keto-friendly products at HEMA

I am so blessed I have a HEMA very close to my working place. When I don't feel to bring my lunchbox with me I buy some cheese and salami to survive the day.
---
Here's more ideas:
Read the best places to eat keto and low-carb in Amsterdam and in the Netherlands.
All the keto products at IKEA.
All the keto-friendly products at Holland and Barrett.
Need a coffee? Read the keto drinks at Starbucks in the Netherlands.
If you need a quick snack read also the best keto snacks at AH To Go, Jumbo and AH, Lidl.

Want to order some food? Read the keto meals you can order at home.
Read my grocery list for keto diet here.
Hema Keto products: photo gallery

---
---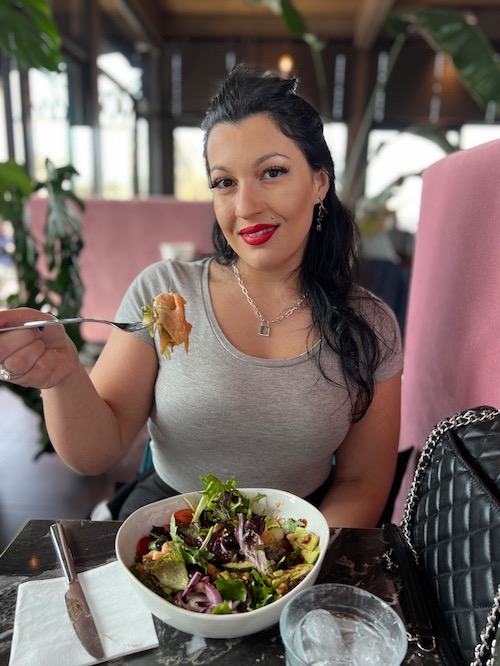 My name is Simona, a keto enthusiast, based in the Netherlands.
I live with my husband, my cat Newton, and a fridge full of cheese.
You find me on Instagram, Pinterest, and sometimes on Facebook.
I also write a lot of keto recipes on my Italian blog keto-with-simona.


Check also:
Keto products review
Discount codes
Keto favorite products
---
---
"This post may contain affiliate links. This means I will get a commission if you purchase through my links, at no extra cost to you. All the opinions are my own. Read the full disclosure here."
---