Navigate to where you want to go:
Finally I am writing about the best low-carb wines suitable for a keto diet.
One of the best things about keto is the possibility to drink wine (together with other sugar-free alcohol drinks).
Should I repeat that moderation is the key? Yes, we can have wine, but this doesn't mean we have to finish a whole bottle every day.

Remember that on a low-carb diet you'll have the tendency to get drunk easily, so you don't want to over drink!
If you want to drink a lot, make sure it's water. Read some tips to drink more here.
I consider myself a wine lover even if I am far away to drink it every day: loving wine for me is a special treat.
That's why I drink a glass or two only in special moments, when I am around special people or when I have to celebrate something. In this way, I can enjoy it more. But I do always keep a bottle of white wine in my fridge.
I am keeping this article quite brief, so can be an easy guide to order next time we will drink with our friends.
Rules of the thumb to choose a wine suitable for keto
Keep in mind that most wine producers don't put nutrition labels on the bottle. Therefore, knowing the exact amount of carbs and calories is challenging.
Here are some easy to remember general rules to help you identify the best wine you can have.
Pick a dry wine and you will be OK. The dry ones are the lowest in carbs.
Rose wines have generally the same residual sugar as white wines.
European wines are typically drier. Search especially in the Mediterranean area, like Italy and Greece.
If you are picking a Sparkling wine, choose if you can one marked with Brut Nature, Extra Brut or, Brut. In general, they have the lowest amounts of residual sugar(1.5g carbs per glass or less).

Wine theory: why a wine is low-carb and others are not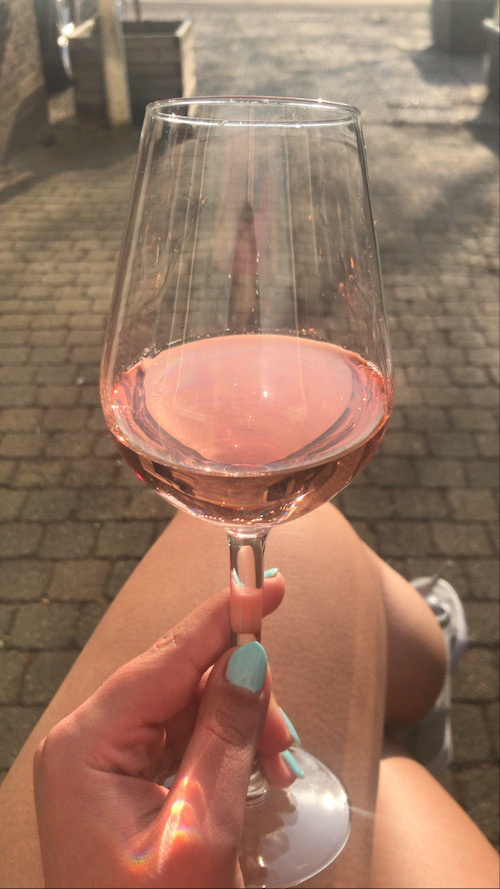 Not all the wines are low-carb and this depends on their residual sugar.
A wine that fits in a keto diet has ideally 0 sugar residuals and 13,5% or less Alcohol by Volume (ABV).
Less sugar residuals = less carbs.
Dry wines count the lowest amount of carbohydrates per serving (glass of 150 ml / 5 oz).
Dry wines have in general from 0-30 grams per liter of residual sugar. The carbs are between 0 and 4 grams.
Off-sweet wines have generally 30-50 residual sugar, and 4 to 8 grams of carbs.
Sweet wines have a sky high residual sugar above 50 grams per liter and 8 to 14 carbs per serving.
If you notice that the keto diet usually keeps the carbs under 50 or even 20 grams per day, you'll understand why choosing dry wines is fundamental.
Wines to avoid
All the sweet wines are off-limits: Moscato, Asti, Port,..Stick to the dry wines. Unless you are really loving them, I would say to avoid also the off-dry wines.
Best white wines for keto and low-carb
In general white wines are good to pair with fish and desserts.
1. Chardonnay (2G Net Carbs)
2. Sauvignon Blanc (2G Net Carbs)
3. Champagne, Cava, Prosecco (2G Net Carbs)
4. Pinot Grigio (2G Net Carbs)
Best red wines for keto and low-carb
In general, red wines are good to pair with meat, or even a tomato sauce pasta (low-carb of course!).
1. Pinot Noir (2.3G Net Carbs)
2. Merlot (2.5G Net Carbs)
3. Chianti (2.6G Net Carbs)
4. Cabernet Sauvignon (2.6G Net Carbs)
5.Tempranillo (3.6G Net Carbs)
6. Syrah (3.8G Net Carbs)
Keto low-carb brands wine
With the increase in the popularity of keto and low-carb diets, many companies are starting to producing keto-friendly wine. These wines tend to be more expensive because is more difficult to reach a percentage of carbs equal to 0.
In the US the most famous brands are:
Fitvine
Dry Farm Wine
In Europe a famous is:
Pure the Winery ( I bought the whole set of wine, I will make a review soon)
---
I hope you liked this post. Pair your wine with the cheese. I learned a lot about wine also by reading Wine Folly.
---
---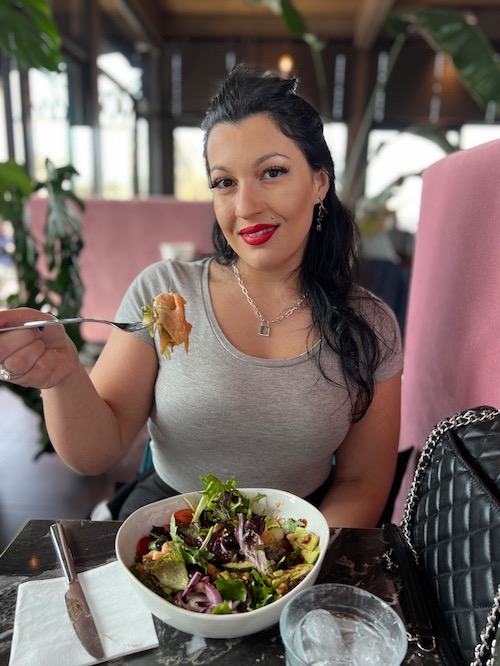 My name is Simona, a keto enthusiast, based in the Netherlands.
I live with my husband, my cat Newton, and a fridge full of cheese.
You find me on Instagram, Pinterest, and sometimes on Facebook.
I also write a lot of keto recipes on my Italian blog keto-with-simona.


Check also:
Keto products review
Discount codes
Keto favorite products
---
---
"This post may contain affiliate links. This means I will get a commission if you purchase through my links, at no extra cost to you. All the opinions are my own. Read the full disclosure here."
---