Navigate to where you want to go:
Eating keto at Vapiano: yes, it's possible and it's also very tasty.
Before my ketogenic life, I used to visit Vapiano for pizza or pasta. I often ate their salads, and I always loved them.
In this post, you'll discover every keto option you can have at Vapiano.
Vapiano is a chain that you can find in many many countries, the concept and the menu are the same.
I visited many times Vapiano in the Netherlands and other countries. Depending on the day and location, some options cannot be available. This is because the restaurant chain likes to use fresh products.
Read:
Keto at the Persian Restaurant
Keto-friendly options in Amsterdam and in the Netherlands.
Are there keto options at Vapiano?
Vapiano doesn't only offer pasta and pizza but has more. Some options on the menu are keto. Some, need a bit of work, meaning, ask the chef to remove or replace one ingredient or two.
This is the great thing of Vapiano: you order directly to the chef and you can instruct them how to change your meal.
In every table of Vapiano restaurants, you'll have oil, spicy oil, salt, spices, and herbs. Use them to customize your meal.
Keto starters at Vapiano
Let's start from the beginning, with antipasti, starters.
Here's the choices according to the menu.
Caprese
Caprese is one of the dishes that are naturally keto! The ingredients: Mozzarella di bufala, cherry tomatoes, basil, rocket salad. They have also balsamic vinegar: skip it, and replace it with oil.
Carpaccio
Carpaccio is made with thinly sliced beef filet, rocket salad, and Grana Padano. There is also a Cipriani sauce. What's Cipriani sauce? It's a tuscan sauce made with tomatoes, mayonnaise and Parmesan. Per se, is not a sauce high in carbs. I have no idea how the one from Vapiano is done. Evaluate if you trust a small sauce or you want to cut it and replace it with oil.
Sauce or no sauce, this starter is extremely filling and ketogenic.
Piatto antipasti grande
This means literally: "big plate of starters". And by the ingredients, I would say the name is well chosen.
Ham, Grana Padano cheese, grilled vegetables, green olives, basil pesto (with pine nuts) and buffalo mozzarella.
Keto salads at Vapiano
The salads at Vapiano are great! You can also add more ingredients to your salad and customise it as you fancy.
Reef'n Beef
The reef'n beef is the only keto salad the you won't need to modify. Salad, rocket, onions, cherry tomatoes, grilled vegetables, beef, prawns and optional Parmesan.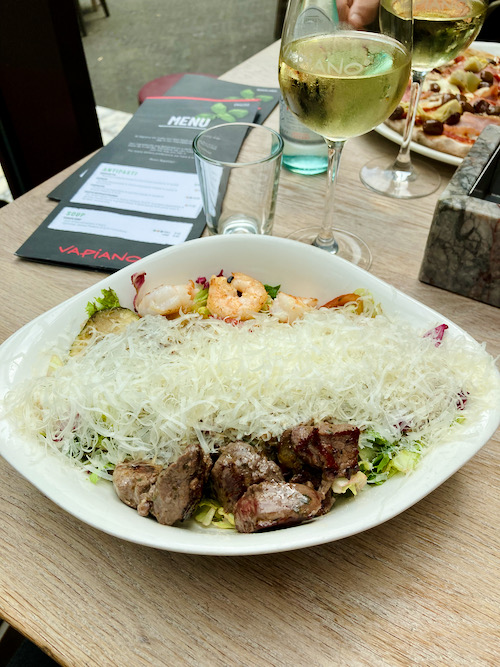 Cesare
This is a Caesar salad: lettuce, Parmesan cheese and croutons. You can add apart the chicken and replace the sauce with oil.
Mista
This is just a veggie salad with Parmesan. It is not a full meal, so you can add apart ingredients, like meat or fish.
Nicoise
Nicoise is a mixed salad with tuna, black olives, onions and tuna. Ask it without potatoes.
Keto pasta at Vapiano
As for now, Vapiano has a low-carb/keto option to taste the pasta: zoodles, the noodles made of zucchini.
You can ask them in many seasonings, skipping the ones that may contain more carbs. Below, some of the lowest in carbs.
Bolognese: tomato sauce with Italian beef ragù, onions, and carrots. The carrots are minimal so won't damage the macros.
Pomodoro: tomato sauce and onions
Carbonara: sauce with bacon and onion, egg and cheese
Aglio e olio: garlic, olive oil, chili, parsley
Pesto basilico: basil pesto with pine nuts and cheese
Pesto rosso: red pesto with tomatoes
Gorgonzola e noci: gorgonzola cheese with nuts
Quattro formaggi: gorgonzola, italian cheese, burrata, goat cheese, roasted nuts
Chicken Alfredo: sauce with chicken, egg, and cheese
Diavolo: tomato sauce with pepperoni, chili peppers and onions
Pollo e verdure: sauce with veggies and chicken, pine nuts and wine
Carbonara salmone: cream with salmon, onions, egg and cheese
Scampi: sauce with prawns, red chili peppers and tomato
Read also all the keto pasta options you can cook at home.
Conclusions
Eating keto and low-carb at Vapiano is very easy. It's Italian cuisine, therefore it's very easy finding low-carb options.
The menu are always available in English in whenever country you are going.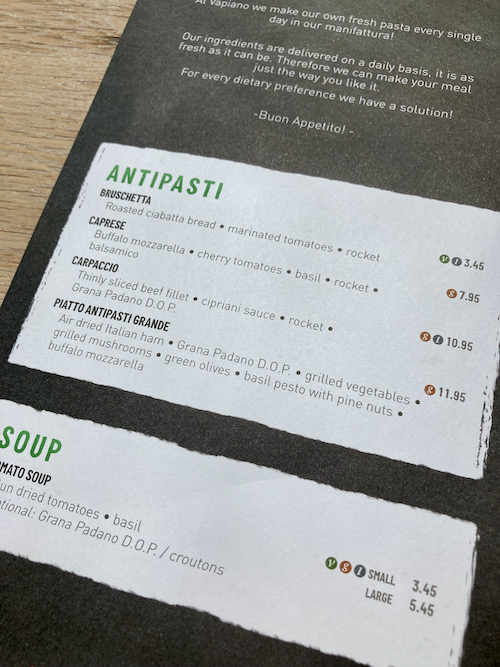 More ideas:
Eat keto at IKEA
Keto products at Holland and Barrett
Order low-carb food at home in the Netherlands
Keto products at HEMA
Keto at Starbucks
Keto at Jumbo
Keto at AH
Keto snacks at AH To GO
---
---
---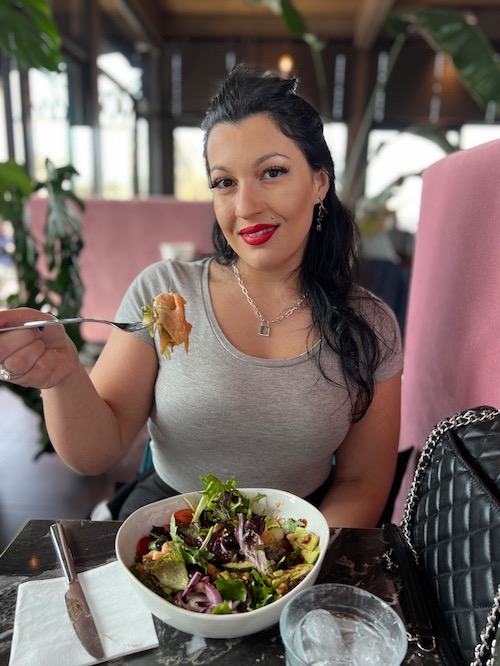 My name is Simona, a keto enthusiast, based in the Netherlands.
I live with my husband, my cat Newton, and a fridge full of cheese.
You find me on Instagram, Pinterest, and sometimes on Facebook.
I also write a lot of keto recipes on my Italian blog keto-with-simona.


Check also:
Keto products review
Keto favorite products
---
---
"This post may contain affiliate links. This means I will get a commission if you purchase through my links, at no extra cost to you. All the opinions are my own. Read the full disclosure here."
---