Navigate to where you want to go:
Holland & Barrett is one of my favorite shops for low-carb shopping since they sell a lot of keto-friendly products. In this blogpost, I will name all the keto products available here.
Read also:
Where to find keto products in the NL
Keto products in Normal stores
Low-carb bars
In the Netherlands, Holland & Barrett sell most of the keto and low-carb bars that I love. Some examples:
Good Good Crunchy Keto bars
Good to Go Soft bars
Pulsin Keto Bars (review here)
Planet Hemp Superfood Keto Bars (review here)


For more details, also read about low-carb and keto bars available in the Netherlands.
Crackers
In H&B you can find Smaakt flax seeds crackers, made only with seeds and spices.
Keto Granola and Porridge
Naturya Keto Porridge (available in a few flavors)
Keto Granola GO-Keto (available in a few flavors)
Drinks, beverages, milk
Aspire Drinks
Virtue Sparkling Energy Water
Predator Energy Drink
Read more about sugar-free beverages in the Netherlands.

Spreadable creams
Good Good Sweet Jam with Stevia
Available in Strawberry, Blueberry, and Apricot. The taste is amazing and I cannot taste the stevia. The texture is the same as a normal jam. My favorite flavor is strawberry.

This cream counts 9 net carbs for 100 grams. It's impressive because is very similar to Nutella. It contains Maltitol (as you know, I don't like this sweetener), but occasionally it is a great sugar-free alternative to the real Nutella.

Proteins
Whey powder is available in many flavors from the following brands:
Women's Best Whey protein
Purition proteins
Optimum Nutrition Whey

Chocolate and Cacao Butter
Holland and Barrett sell also Cacao butter! This is one of the few ingredients you need to prepare some tasty homemade keto chocolate!
Mattisson Biologic Cacao powder
Mattisson Biologic Cacao butter
Funky Fat Food Keto Chocolate (review here)

Coconut Oil and MCT Oil
They have a lot of jars of coconut oil and MCT Oil and they also have this MCT Oil Go-Keto powder.

For more details, read this post about MCT Oil.
Flours and powders
H&B Almond Flour
H&B Coconut Flour
H&B Xanthan Gum
Psyllium
Seeds and Nuts
H&B sells also seeds and nuts. Some examples:
H&B Chia seeds
Purasana Hempt seeds
H&B Pumpkin seeds
H&B nuts
Read the best nuts for keto, here.
Supplements
H&B is known to sell vitamins and useful supplements. Read my post about supplements.
Candies
At H&B you can find also some low-carb candies, sold in packages.
Check always the label to be sure they don't contain carbs.
Blood Glucose & Ketones tester
From the brand Go-keto, you can find here the monitor system, which is the most accurate way to test your ketones in the blood.

---
I will keep this post updated and I hope that soon new keto-friendly products will be available at Holland & Barrett!
Are you looking for more stores having keto-friendly options? Below, more ideas:
Read the best places to eat keto and low-carb in Amsterdam and in the Netherlands.
All the keto products at IKEA.
Need a coffee? Read the keto drinks at Starbucks in the Netherlands.
If you need a quick snack read also the best keto snacks at AH To Go.

Want to order some food? Read the keto meals you can order at home.
Read my grocery list for keto diet here.
---
---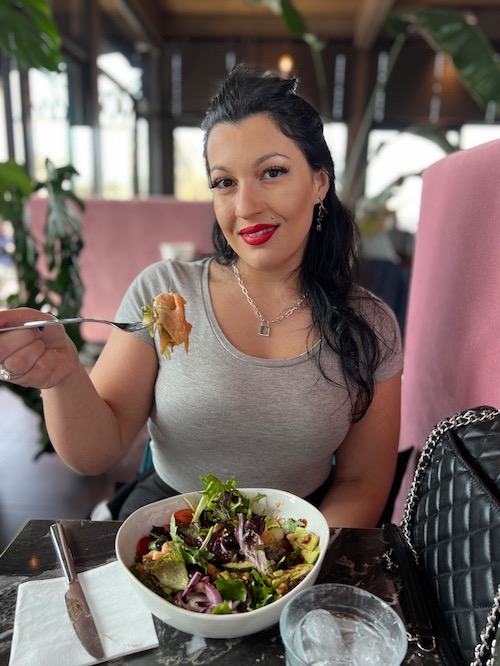 My name is Simona, a keto enthusiast, based in the Netherlands.
I live with my husband, my cat Newton, and a fridge full of cheese.
You find me on Instagram, Pinterest, and sometimes on Facebook.
I also write a lot of keto recipes on my Italian blog keto-with-simona.


Check also:
Keto products review
Discount codes
Keto favorite products
---
---
"This post may contain affiliate links. This means I will get a commission if you purchase through my links, at no extra cost to you. All the opinions are my own. Read the full disclosure here."
---