Navigate to where you want to go:
AH To Go (Albert Heijn To Go) is my lifesaver when I search for fast keto snacks, while I am running errands or having a sudden hunger.
Usually, I am the kind of girl who takes snacks in the purse – just in case. But since I carry a lot of stuff, sometimes I just keep it easy, leave my house with a small bag and rely on the amount of Ah to go on the city.
AH To Go became slowly one of my best friend, especially because:
It's small, not crowded, I always find what I need very fast
There is always one near the movie theaters, to grab a keto snack for the movie! Read also this article.
During the pandemic, while many restaurants are closed, I could have a snack
It's full of keto choices
Read also: keto products in Albert Heijn.
AH To Go keto and low-carb snacks
Boiled eggs
Albert Heijn sells boiled eggs, ready to peel. They are sold in practical boxes with a small tissue inside. I love this solution because I believe eggs are one of the best food to eat, not only while on keto.
I am very glad that AH includes in its stores an healthy food such eggs.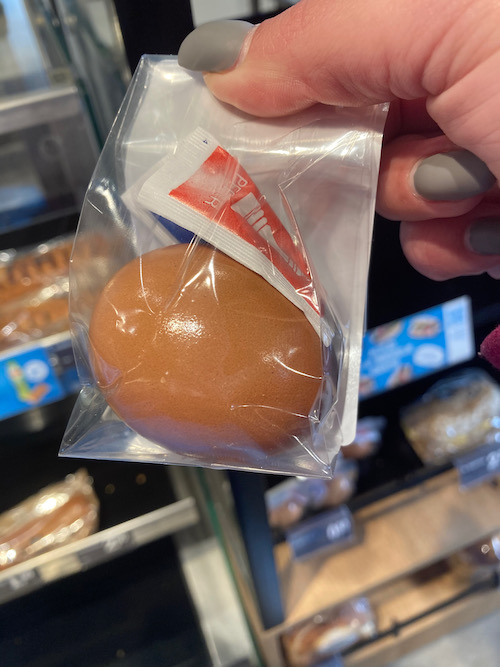 Berries
In AH To Go, you will find in the fridge, mix of berries. They are very practical to eat on the go. I found that the berries are always fresh. They have different mixes of fruit, but many are not keto-friendly.
I am very glad that there is a mix with strawberries, blackberries and blueberries.
If you eat them alone, be sure to compensate later with a good intake of fats.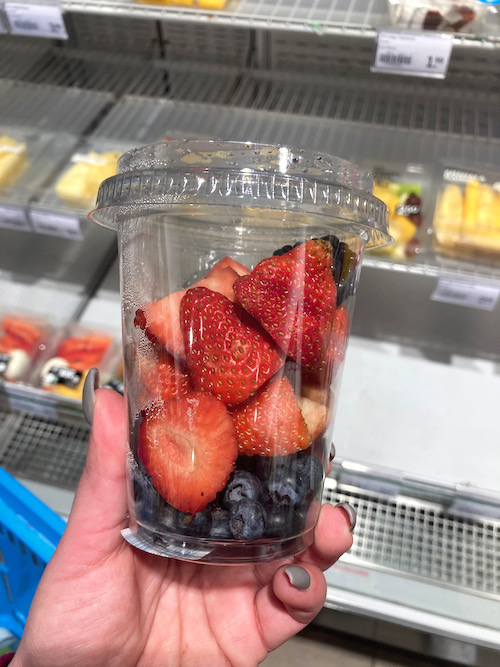 Cheese
In AH To Go you will find a lot of cheese. If somebody doesn't hack the cheese suppliers of course.
They have medium pieces as well as slices, brie, and cheese in blocks. All the options are welcome for keto and low-carb.

I love cheese and I am very glad to not crave desserts thanks to the huge availability of cheese.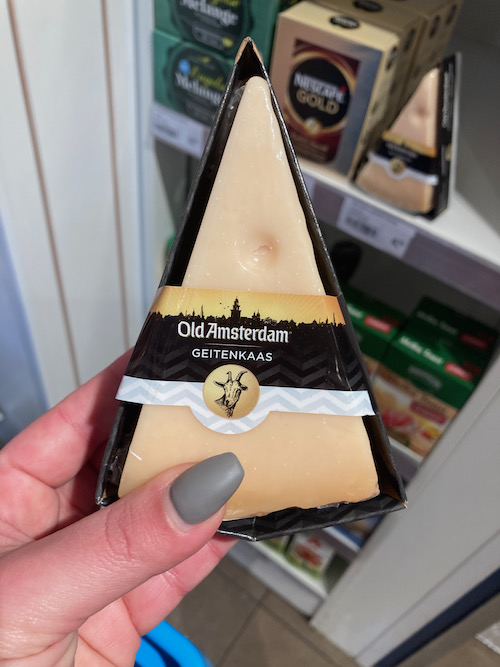 Salami
In AH To Go you can find many types of salami. I love these 2 choices below from Bifi. I love the fact that they are exactly the right portion for a snack.
Nuts
AH To Go has a great selection of nuts. You can find them in plastic boxes and several bags. They have many mix and many combos with chocolate, so be sure to check that what you buying has only nuts inside.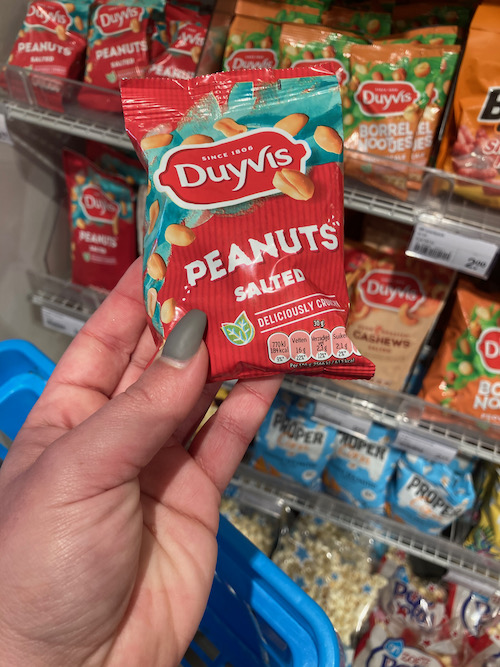 AH To Go keto-friendly Drinks
In AH To Go you will find the following drinks:
Water, flavored water
Cola zero
Nocco- no-carb company 0 carb energy drink
Fresh flavored water with mint, lemon, or berries
Sourcy Vitamin Water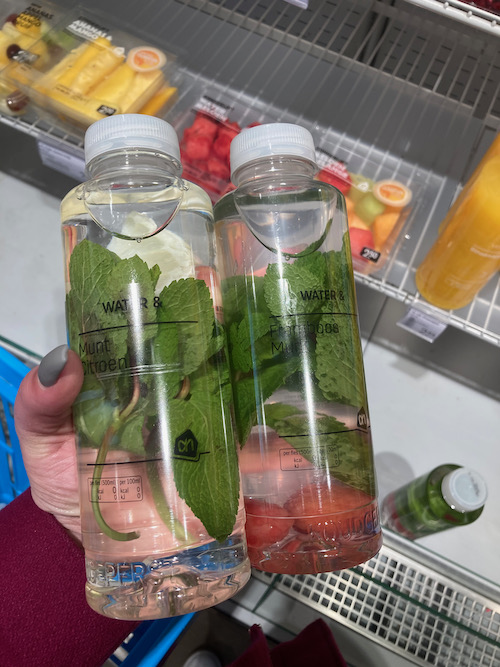 AH To Go Keto snacks ideas (with macros!)
Duyvis salted peanuts + Bifi XXL: 377 calories, 3,6 net carbs, macros: Fat 78% Protein 18% Carbs 4%
40 gr cheese blocks + 30 gr almonds: 340 calories, 1,8 net carbs, macros: 78% 20% 2%
One boiled egg + 40 gr cheese blocks + 30 gr almonds: 415 calories, 1,8 net carbs, macros: 75% 23% 2%
Half bag of Duyvis peanuts + Bifi XXL: 288 calories, 2 net carbs, macros: 78% 19% 3%
Bifi XXL + 30 gr almonds: calories 385, net carbs 2,2, macros: 81% 17% 2%
Bifi XXL + 40 cheese: 356 calories, 0,4 net carbs, macros: 77% 22% 1%
Fresh flavored water and berries pack, 50 gr of cheese: 225 calories, 2,5 net carbs, macros: 67% 25% 8%
2 boiled eggs, 50 gr cheese in blocks, Bifi XXL: 545 calories, 0,4 net carbs, macros: 73% 27% 0% carbs
Extra
Ah To Go is not only handy for a fast snack on the go. It's also selling useful products. If you forgot to buy small things to your local store, could be that AH To Go has it. It depends.
Usuful things for people on keto:
Olives (they can be a practical snack as well)
Olive oil
Pesto
Dark chocolate
Lettuce
Don't forget that AH To Go has always a special green plastic fork & spoon, 2 in 1.
If you buy something you are not comfortable to eat with only your hands, take this special piece of cutlery.
The forks/spoons are made of hard plastic: you can always wash them and use them many times.
Bonus for low-carb dieters
IN AH To Go they have a huge selection of low-carb bars. I haven't find one that is keto-friendly.
They have so many, and I am hopeful that we will have keto options soon.
In any case, if you are on a low-carb – not keto, you can check the labels and choose the best option for you.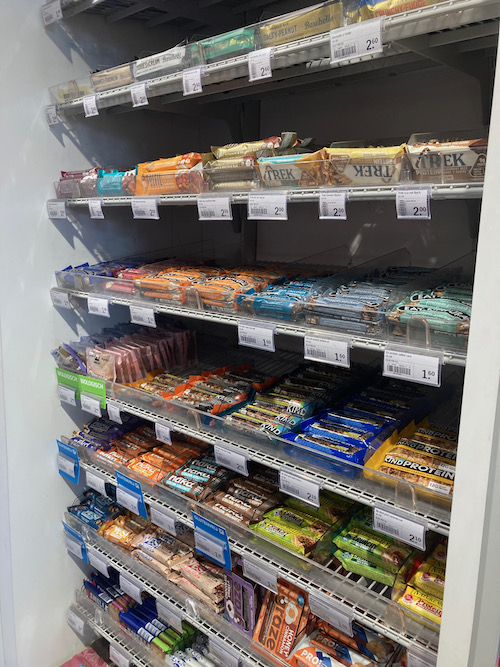 ---
More ideas:
Eat keto at IKEA
Keto products at Holland and Barrett
Order low-carb food at home in the Netherlands
Keto products at HEMA
Keto at Jumbo
Keto at AH
Keto at Starbucks
Keto meals at Vapiano