Navigate to where you want to go:
Body & fit is an online web-store full of useful products and they have also low-carb and keto-friendly products. I am a huge fan of Body & Fit, even before I started keto. Their products are always high in quality, and the prices are very competitive.
In this post, I will mention the most important keto-friendly products. Since I buy often from this web-store, I will update this list with new products suitable for the ketogenic diet. Check always the labels, as some products can be low-carb but not keto.

This post is valid for every country. To know the selection of my favorite European products, visit the keto favorites page. And now, let's dive in.
Keto bars
In Body and Fit you can find the keto line from Slimfast. Make sure is the keto line and not the regular line. I am happily impressed by this line, because it contains keto friendly ingredients and no Maltitol!
My favorite snack from this line is for sure the Slim-Fast fuel keto bar: with 3 net carbs, it taste like Peanut Butter even, and it is very very similar to Snickers.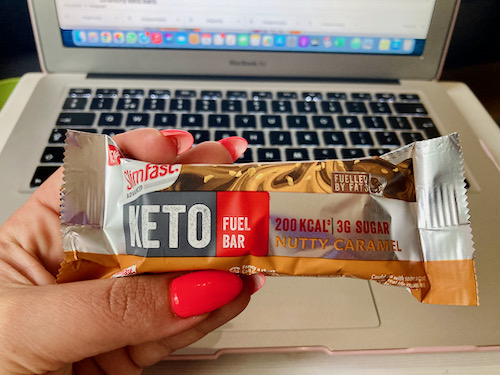 Slimfast keto snack. Available in 2 flavors: chocolate peanut and chocolate milk. I love this product.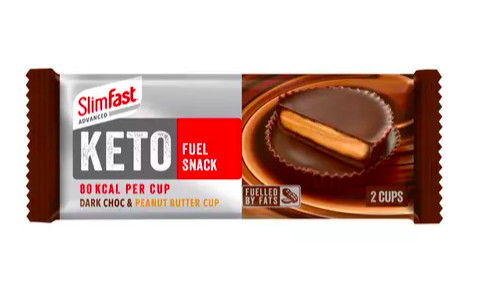 In the same line there is the the Keto Fuel Shake in Chocolate and Vanilla.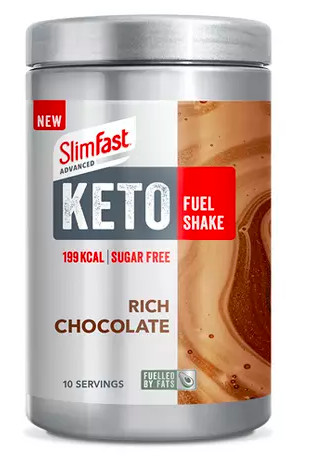 Low-carb bars
Consume bars in moderation, because they can cancel the benefits of keto, and yes, even stall weight-loss.
Moreover, they can also contain Maltitol: as I explain in my post on sweeteners, Maltitol is not ideal like the other sugar alcohols.
Body & Fit sells many low-carb bars, but not all of them are keto-friendly! Many have 20 gr carbs or more. Some of the best options:
Women's best bars generally has 3 net carbs
Fulfil bars, around 2 net carbs per bar!
Carb Killa bars have generally 3 net carbs per bar, but some have more carbs!
Low-carb Pasta, pizza, bread
B&Body and fit sells also one of the best pasta for the low-carb diet. I am talking about Pasta alla Eva from Adam's Fitness Food. 4,3 carbs per 100 gr.
A great pasta for the keto diet is the Smart pasta, noodles and rice, all made with Konjak, so 0 carb.
From Adam's Fitness food you will find also these mix to make bread and pizza: Adam's brot and Adam's pizza
Candies
In Body & fit you can buy sugar-free candies from the brand Debron, but not all of them are 0 net carbs, so check the labels. Notice, they contain Maltitol so don't eat too many of them.
My favorite options are:
Poker Fruit 1 net carb (these are the best! These are my favorite, they have no aftertaste at all!)
Jelly Bears 0 net carbs
Raspberry gums 0 net carbs
Fruit Juice Toffee 1 net carb
Cherry gums 1 net carb
Cola gums 5 net carbs (I don't understand why these are 5 net carbs. If you eat them in moderation, go ahead and buy them).
Supplements
Speaking of vitamins and supplements, Body & Fit has a lot of choices and brands. You will find all the supplements you need and more.
In my keto favorites page, I put the ones that I use. Remember that you have to choose your own accordingly to your lifestyle and medication/other supplements that you are taking. Always read the composition/ingredients of every supplement, to avoid supplement overdose.
They have also Vital Proteins products, and often they do some promotions.
Collagene Peptides and marine collagene.
Other ingredients

Erythritol
Organic Coconut oil
Body & Fit keto products: photo gallery
---
More ideas:
Eat Keto and low-carb in Amsterdam and in the Netherlands
Eat keto at IKEA
Keto products at Holland and Barrett
Keto products at HEMA
Keto at Starbucks
Keto meals at Vapiano
Keto snacks at AH To GO
Order keto food at home in the Netherlands


---
---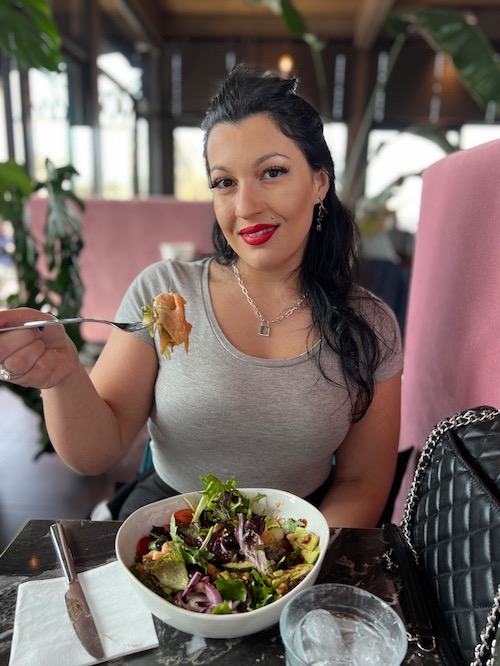 My name is Simona, a keto enthusiast, based in the Netherlands.
I live with my husband, my cat Newton, and a fridge full of cheese.
You find me on Instagram, Pinterest, and sometimes on Facebook.
I also write a lot of keto recipes on my Italian blog keto-with-simona.


Check also:
Keto products review
Discount codes
Keto favorite products
---
---
"This post may contain affiliate links. This means I will get a commission if you purchase through my links, at no extra cost to you. All the opinions are my own. Read the full disclosure here."
---