Navigate to where you want to go:
What keto drinks can I order at Starbucks in the Netherlands? This was one of my first questions, while back, starting my ketogenic journey. As always, Dutch literature about keto is poor…you know already, dieting in the Netherlands is hard. So…welcome, this is my Starbucks keto guide to ordering drinks in the Netherlands! To jump to what you can order, go to the Summary.
Read also: Best Low-Carb Starbucks Chilled Drinks
Looking for places to have a meal in Amsterdam? Read my other post: eating keto in Amsterdam.

Making this guide was easy. For months I just:
Spent half of my salary ordering endless combinations of cold-hot-coffee-brew-tea-syrups
Talked nonsense with Starbucks baristas (They love me!)
Stalked Starbucks baristas (I know they love me!)
Fought with Starbucks baristas because they put creamer instead of Heavy Cream or normal syrup instead of sugar-free syrup (They love me, right?)
I am confident this post will be useful to all the keto followers + Starbucks lovers + living in the Netherlands. In my first month of keto, I ordered only Americano because I wasn't sure what I could order at Starbucks. Americano is great because has few calories but I like the luxury to choose every day a different coffee. If I want to, of course. I visit Starbucks many times per week: in these months I've learned what is keto-friendly and what is not.

Let's dive in.
3 golden rules to order keto-friendly Starbucks drinks in the Netherlands
Let's start with 3 simple basic rules when order keto-friendly Starbucks drinks in the Netherlands.
1. Say no to seasonal and special drinks
We all know that seasonal drinks are sugar bombs: syrups, sugary spices mix, and whipped cream are largely used.
2. Say no to normal milk, creamer and whipped cream
Normal milk and creamer have more carbohydrates than other kinds of milk. Whipped cream is already sweetened with normal sugar, so avoid it.
3. Limit almond, coconut, and soya milk
The almond and soya milk sold at the supermarket has 0 carbs. I've checked the bottle of almond milk they use and it has 2,6 carbs and only 1,2 fat. Coconut milk has 3,5 carbs. Use it with moderation.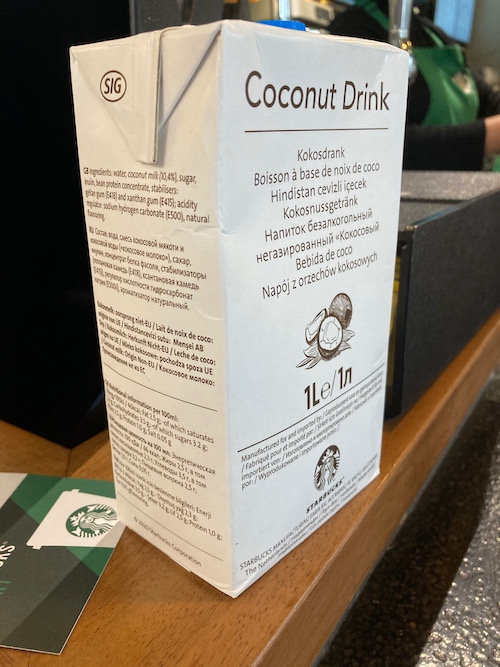 Coffee safe options
Americano
Espresso
Brewed coffee
Nitro
Cold brew
Tea safe options
Unsweetened warm teas
Unsweetened cold brewed teas
Be very clear in saying you would like only unsweetened tea. With the cold teas, I am very careful because I am afraid the employees don't really know if they contain sugar or not. On the Dutch Starbucks website, the only unsweetened option for cold tea is the Peach Citrus Green Tea.
The Starbucks near my workplace have always black tea as a sugar-free option. Occasionally, they have also green tea and hibiscus tea. I guess this changes from location to location. So you will have to ask your baristas.
Safe options to combine in your coffee or tea
Heavy Cream
In the Starbucks near my workplace, they keep the heavy cream in the fridge, in a plastic bottle. The one they use in this Starbucks has 40 grams of fats and 2,8 carbs. In the Netherlands they don't really know what is heavy cream: tell them you are referring to the cream 40% and surely they will understand better.
For a small splash of Heavy cream, you will have about 0,4 net carbs.
From location to location they could use different products: to be sure ask the employee if you can check the values in the bottle. In the Starbucks near my workplace the heavy cream was difficult to find: then one day something changed and they have it every day for me. I am thinking they are ordering for me, as a regular customer (they love me! – Love you more, guys!).

Sugar-free syrups
Starbucks in the Netherlands offers 3 sugar-free syrups: hazelnut, caramel, and vanilla. I checked the bottles of these syrups and for 100 ml they have 1,4 carbs and 5 calories. They put 4 to 6 pumps in a venti size. I usually ask them to put just 2-3 pumps so I introduce fewer carbs.
For 3 pumps of a sugar-free syrup: 0,2 net carbs
Ice cubes
Of course, ice cubs have no carbs and calories, yeah! In the summer ice cubes make our beverage refreshing and our cup look like a special iced drink! Is definitely a nice trick to use!
My favorite keto options at Starbucks
The following are my favorite keto-friendly drinks at Starbucks in the Netherlands:
Americano with a splash of heavy cream
Americano with a splash of heavy cream is what I order more at Starbucks.
They usually ask how much I want and they pour it in front of me so I can say stop when is enough.
Be a control freak like me and make sure they really use the heavy cream!

Net carbs for this drink: 0,4

Nitro or Cold brew with heavy cream and 2 pumps of Sugar-free Vanilla syrup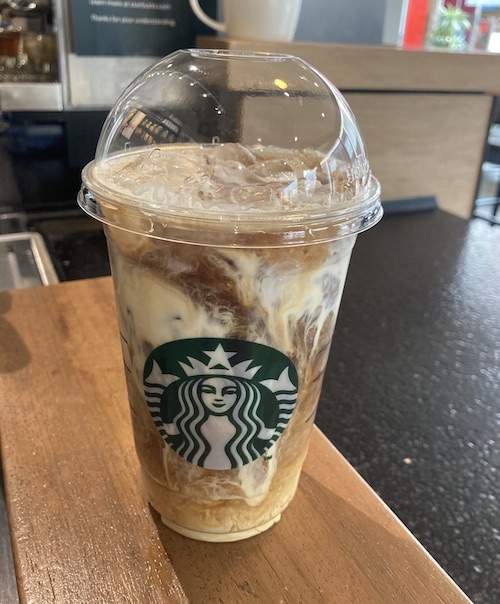 For the summer I recommend cold americano, nitro, or cold brew.
I make sure they add extra ice to feel I am drinking a special summer drink!
Is very refreshing and sometimes I don't ask for heavy cream or syrups – to avoid some carbs.
Net carbs for this drink: 0,6


Cold unsweetened tea with heavy cream and 3 pumps of Sugar-free Caramel syrup
Ask for the sugar-free options in your Starbucks. Syrup and heavy cream are optional. I prefer to mix black tea with heavy cream and a sugar-free syrup. Hibiscus tea is great alone! I just add my favorite sweetener and I am a happy girl!
Net carbs for this drink: 0,6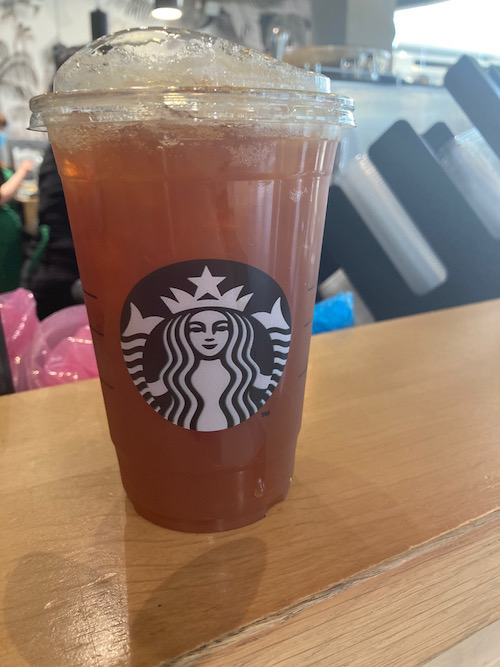 Keto Matcha & Espresso fusion
This is a very uncommon ice drink. Ask for a scoop of Matcha dissolved in water, add some ice cubes, a splash of heavy cream, and 1 or 2 espresso shots. Add some sweetener and mix! Matcha has some carbs (6 per scoop) so this option is very occasional for me.

Net carbs for this drink: 6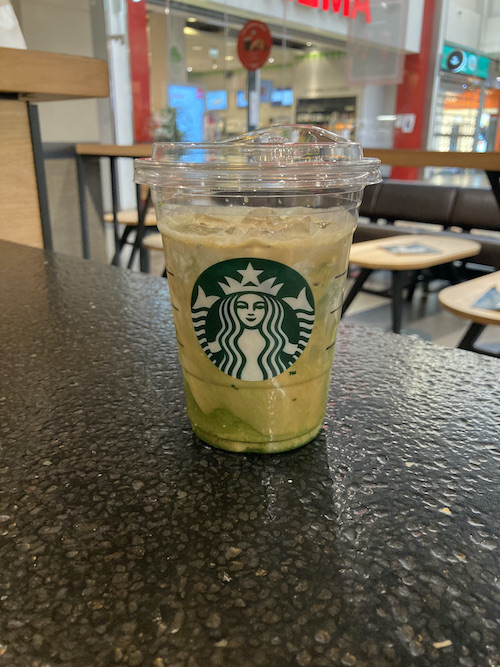 Keto "Frappuccino"
For the warm days, I need something more, I have a Frappuccino option that you'll love.
Ask for almond milk, blended in ice and an (optional) sugar-free syrup. Optional shot of espresso. No whipped cream.

Yes, is basically a Frappuccino. But don't ask for a Frappuccino. Why?
If you ask for a Frapuccino, the Barista will automatically add some pumps of coffee or milk syrup, that contains sugar! This extra syrup is implied in the original Frappuccino recipe. It's just easier to ask them to blend your milk and ice, and sugar-free syrup.

You can choose the syrup you want. I like Vanilla.
Carbs for a "Frappuccino" Grande: about 180 ml almond milk = 5 net carbs

Carbs for a "Frappuccino" Venti: about 240 ml almond milk= 6,4 net carbs
REMEMBER: frappuccinos are paired with whipped cream: ask to not have it.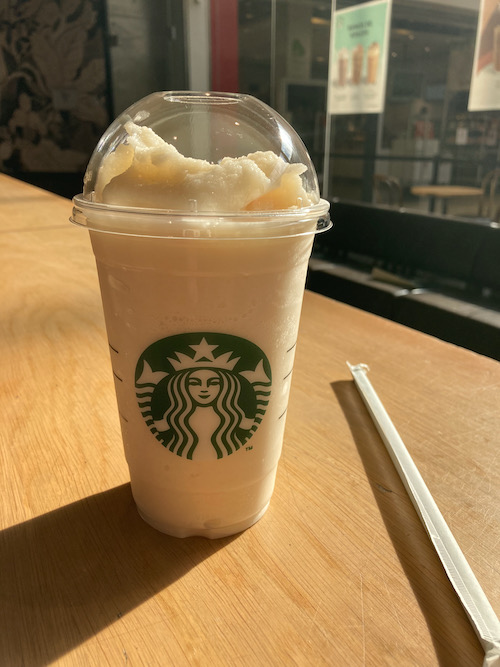 My Starbucks experience as a keto follower in the Netherlands
Be patient with baristas: ketogenic diets are not very popular in Holland! It took months for my baristas to remember the details of my crazy, low-carb lifestyle.
I would like is a change from the inside: companies should think of people on a diet or on a low-carb journey. In the USA employees are well educated in low carb. Many coffee stores advertise the low carb options or have on their menu low carb options. For example, Dutch Bros Coffee has on the menu 2 different keto drinks, with unsweetened whipping cream!
My passion for coffee won't keep me away from Starbucks anyway.
I will keep my eyes open and I will update this post with extra info and change about keto and Starbucks in the Netherlands.
Updates: new products, drinks
January 2021
The barista showed me a new bottle of milk, that will be in the permanent selection. The milk is a blend of rice, hazelnuts, and cashew. I immediately check the values. Darn! For 100 ml 4,4 carbs. Fat only 1,5.
I tried it anyway (a small amount because I am in keto but I am also curious!). Alone, without coffee or anything, is very tasty and I loved the nuts aftertaste. Really pleasant milk. Then I mixed a small amount with an espresso shot and the taste disappeared. To feel the taste you must have a big splash in your coffee, 100 ml is not enough. The verdict is, according to my humble opinion, this milk is not worth.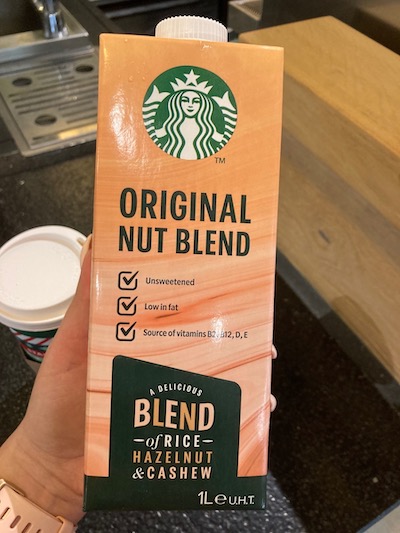 Summary
In cold drinks, you can add ice cubes. Syrup and splash of heavy cream and milk are optional.
Choose a beverage
Americano
Espresso
Brewed coffee
Nitro
Cold-brew
Unsweetened warm teas
Unsweetened cold teas
Choose a sugar-free syrup (2-3 splashes)
Choose a splash
Cream 40%
Soya-almond milk (in moderation, they are not 0 carb)
---
More ideas:
Read the best places to eat keto and low-carb in Amsterdam and in the Netherlands.
All the keto products at IKEA.
All the keto-friendly products at Holland and Barrett.
If you need a quick snack read also the best keto snacks at AH To Go.

Want to order some food? Read the keto meals you can order at home.
Read my grocery list for the keto diet here.
Read my favorite keto products.