Navigate to where you want to go:
In this article, I will talk about all the keto products you can find at IKEA.

At IKEA you can find keto products in the 3 areas: Restaurant, Bistro, and the Swedish food shop.
But before we jump into it, let's answer the most important question:
Are the meatballs from IKEA keto-friendly?
IKEA produces 2 types of meatballs. The Swedish meatballs and the chicken meatballs. They contain potato starch, therefore they are not strictly keto.
Here are the values according to FatSecrets:
Swedish Meatballs: A serving size of 5 meatballs has 3 net carbs. The macros are 68% fat, 9% carbs, 24% protein.
Chicken Meatballs: A serving size of 7 meatballs has 2 net carbs. The macros are 59% fat, 11% carbs, 30% protein.

The chicken meatballs have less net carbs and more fiber.
The Swedish meatballs have more fats and fewer proteins: therefore, even if the carbs are higher, in my opinion, they have better macros.
Let's have a closer look.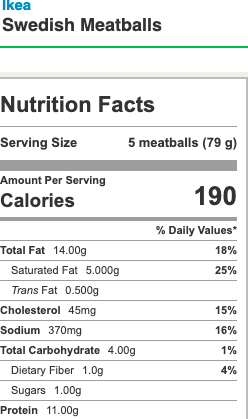 The portions are small. But if we consider the number of carbs we can have per day (20 to 50, depending on our goals), the net carbs are not too many.

I would say, the net carbs are not the problem, but the macros are. If we indulge in one portion of meatballs, we have to be careful during the rest of the day, eating fewer carbs and focusing on healthy fats.
It will be easier if you track your macros.
In brief:
IKEA Meatballs keto or not keto?
Officially, they are not, because of the potato starch on them, but they could fit in a day, as a very occasional treat. But make sure you stick to the serving size. Swedish meatballs have better macros than chicken meatballs.
Keto-friendly food at the IKEA Restaurant
What I love about the IKEA restaurant is that employees always ask before they add sauces or side dishes. You can ask for meals at the desks, or take them from the fridges at the beginning of the queue.
IKEA Restaurants have also a salad bar, with a lot of choices to create a mix of greens.
Let's see which keto options we have at the IKEA restaurant.

Salmon filet
The salmon filet is a permanent dish on the menu. It comes with sauce and beetroot. Skip these two and ask if they have steamed vegetables.

Chicken
The chicken satay comes with fries and sauce. Order it without and take a mix of greens and you are good to go.
Smoked salmon with salad
This is in the fridges and is a perfect keto option.
Tomato mozzarella salad
They have always this option at the restaurant.
Keto-friendly food at the IKEA Bistro
In the bistro, the only keto-friendly food is the Hot dog without the bun: not sure how many carbs for the IKEA sausage, but I guess is around 2 grams, like the other brands. Skip the sauce as it contains sugars.
Keto-friendly food at the Swedish Shop

In the IKEA Swedish shop, there are many products we can buy. Watch also this super brief reel where I show all the safe options at the Ikea shop.
Frozen fish
The fish at IKEA is wild. They have:
Frozen salmon
Frozen shrimps
Smoked salmon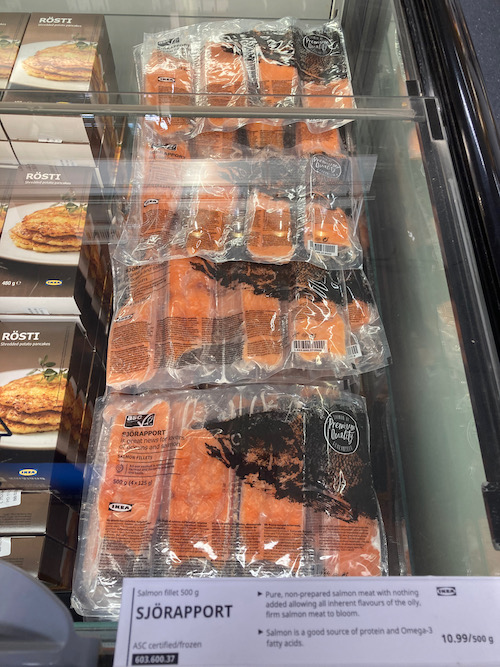 Seaweed pearls
I never heard of this product until I found it in IKEA.
Seaweed pearls are similar to caviar but they are made with seaweed instead of fish eggs.
The taste is very salty and they are low carb. Plus, they are suitable for vegans. They count 1 carb for 100 grams.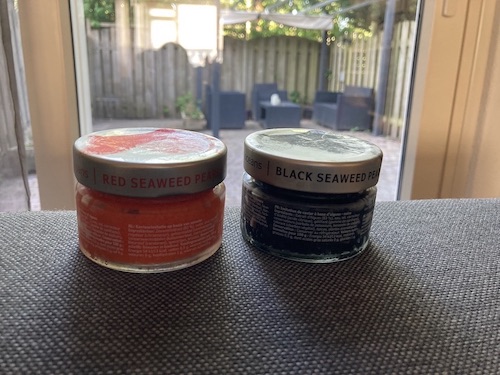 Meatballs
The meatballs (frozen) are the same that you can buy at the bistro or at the Restaurant.

The Swedish meatballs count 4 carbs for 100 grams.
The chicken meatballs count 4,9 carbs for 100 grams.
Each meatball weighs approximately 15 grams. The Swedish meatballs have better macros because they have more fats. As I stated above, they contain potato starch, so they are not officially keto, but as a very, very occasional treat, you can have a small portion.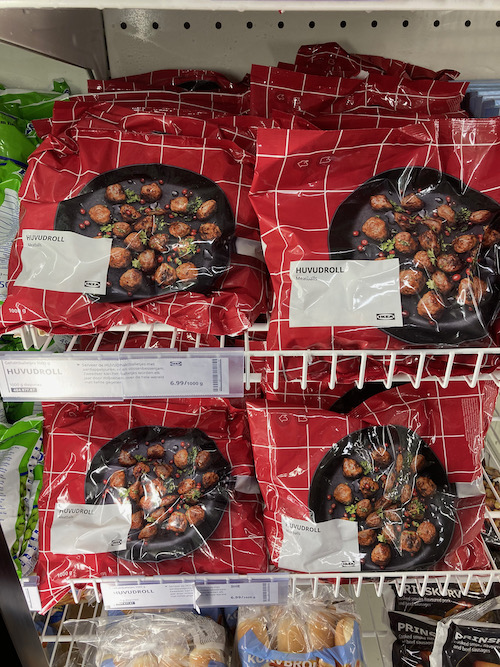 Smoked sausages of mixed meat
During the festivities, they have small, smoked sausages.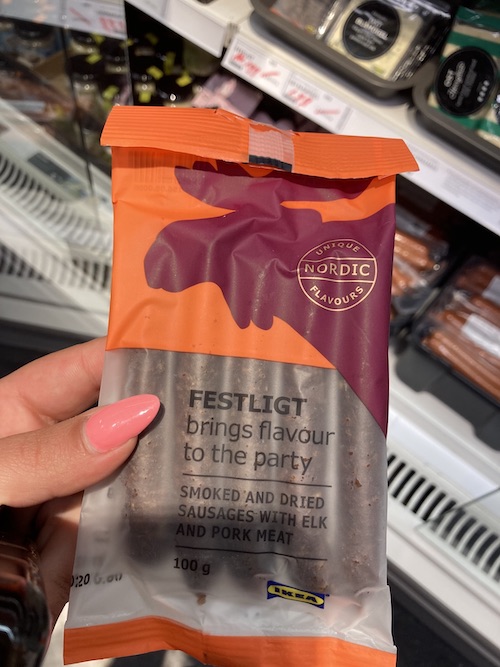 Cheese
The Ikea cheese is so tasty! So far they have blue cheese and semi-hard milk.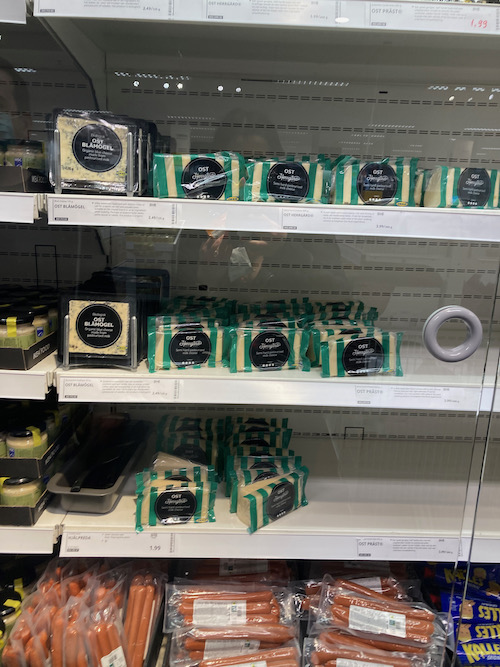 Nuts
So far, the only nuts that I noticed at IKEA are roasted salted almonds. They are packed in a convenient pack of 60 grams. I noticed that they contain maltodextrin. This is not the ideal sweetener for keto , but I'd say, when there is no choice left, is better than a burger XXL.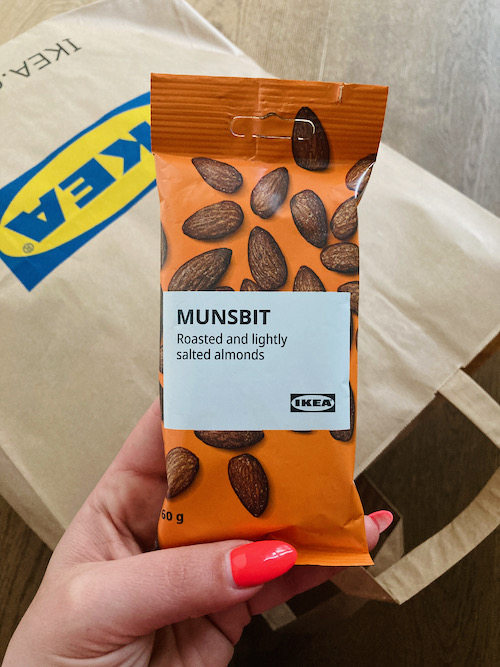 ---

IKEA doesn't change often the products assortment. I will keep my eyes open and keep this post updated, if any new keto products will be available at IKEA.
Here's more ideas:
Read the best places to eat keto and low-carb in Amsterdam and in the Netherlands.
All the keto-friendly products at Holland and Barrett.
Need a coffee? Read the keto drinks at Starbucks in the Netherlands.
If you need a quick snack read also the best keto snacks at AH To Go, AH, and Jumbo.

Want to order some food? Read the keto meals you can order at home.
Read my grocery list for keto diet here.
---
---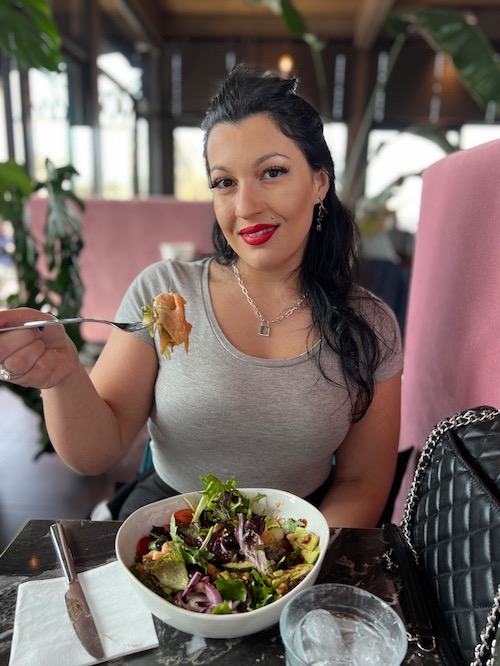 My name is Simona, a keto enthusiast, based in the Netherlands.
I live with my husband, my cat Newton, and a fridge full of cheese.
You find me on Instagram, Pinterest, and sometimes on Facebook.
I also write a lot of keto recipes on my Italian blog keto-with-simona.


Check also:
Keto products review
Discount codes
Keto favorite products
---
---
"This post may contain affiliate links. This means I will get a commission if you purchase through my links, at no extra cost to you. All the opinions are my own. Read the full disclosure here."
---