One of the first things to know when starting the Keto diet is which supplements include in our diet. Of course, it's also important to discuss about our choices with our doctor, especially if we have other conditions/deficiencies.

A low carb lifestyle can be very healthy if followed correctly. In the ketogenic lifestyle we lose a lot of water, therefore we can have some deficiency of some vitamins and electrolytes. That's why is important to support our diet with supplements. Supplements are fundamental also to support our body during the keto flu.
DISCLAIMER: I am not a doctor/nutritionist/dietician: in this article I am writing my experience and my knowledge.
The best supplements for the keto diet
The most important supplements to include in our life, if we follow a low-carb and keto diet are:
Electrolytes: minerals in our blood and body fluids such as sodium, potassium, calcium and magnesium
Vitamin D
Omega-3 fatty acids
Fibers

Let's talk separately about each one of these.
Sodium
Sodium is important for the nerves and muscle functions.
We can replenish this electrolyte adding Hymalayan sea salt to our food or in water.
Potassium
Important for blood regulation, heart rate, muscles, and nerve functions.
Keep in mind that too much potassium is toxic.
You can buy some supplements available online (Dutch name "Kalium") or eat a lot of leafy greens, nuts, avocado, and salmon.
I take a capsule of Potassium 99 mg per day.
Calcium
Important for muscle functions, blood clotting and strong bones.
We can find Calcium in food like leafy greens, fish, and dairy foods.
I take one capsule of Calcium 99 mg per day, and I see benefits also in my hair and nails.
Magnesium
Important for strong bones and for the immune system. You can integrate the magnesium with leafy greens, dark chocolate, nuts, and pumpkin seeds.
I take a capsule of Magnesium citrate 500 mg per day.
Vitamin D
Along with the electrolytes, Also Vitamin D is important for the human body, in specific is preserving immunity, keeping us away from conditions and diseases.
I take vitamin D supplements almost all the year since in the Netherlands we don't have many sunny days. I stop the supplements in spring and summer.
Omega-3 fatty acids
Researches show how fatty acids such as EPA and DHA help reduce inflammation, lower heart disease risk, and support mental functioning.
A valid omega-3 supplement provides at least a combined 500 mg of EPA and DHA per 1,000 mg serving.
If you want to support the fatty acids only with the food, eat more fish food such as mackerel, salmon, and sardines.
Fibers
A keto diet doesn't gives a good assumption of fibres. Fibers are essential to prevent constipation.
Many keto-friendly foods, such as avocado, nuts, seeds, and leafy greens, contain fibres. However, if you eat mostly meat, seafood, eggs, and dairy you don't get enough fibres.
Psyllium Husk can help. You can find it in capsules or powder. Is a great supplement for the Keto diet, not only is helping with constipation but researches show how is linked to lower the cholesterol level and improving the heart health.
Remember when you assume fibers you need also to drink plenty of water.
---
If you decide to take supplements, is very important to read the label. Ensure no sugars are added in the composition. Follow the dosage tips: do not take more capsules than indicated in the bottle.
Which supplements I use
To sustain the functioning of my body while following a keto lifestyle I use several supplements.
I take them all in the morning with half liter of water, before starting working.
Supplement I take every day
Calcium, Magnesium, Potassium,Vitamin C, and a sugar-free multivitamin. It's very difficult finding. a multivitamin without sugar. I found this in Kruidvat, which is sugar-free but contains Maltodextrin and Saccharin, and they say they are not really the best sweeteners.
Every day during the wintertime
Vitamin D. In Holland we don't have much sun, so I take Vitamin D almost all the year long, with exception for the warmest months.

Everyday, but with cyclic breaks
I do periodical cycles of Biotin and Fish-Oil. When I don't use Biotin, I use Viviscal, an american supplement that supports hair and nails. I have a lot of benefits with keto, but my hair are struggling a lot. Read how to avoid hair loss and healthy hair on a keto diet.
Occasionally, when needed
When i feel constipated, I take for 3-4 days in a roy Psyllium Husk in capsules.
Which supplement I don't use for the keto diet
I don't use any ketones: they are expensive, supporting a Ponzi scheme and, according to the research, they are useless. Read more about exogenous ketones in my separate post.
---
I am keeping this blogpost updated!
More post you may like:
---
---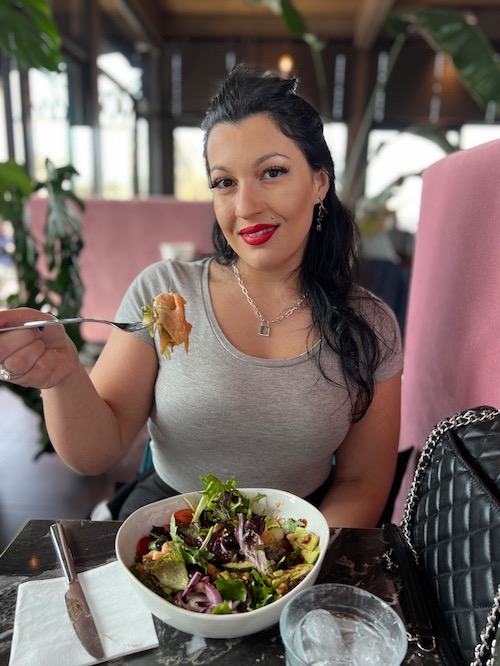 My name is Simona, a keto enthusiast, based in the Netherlands.
I live with my husband, my cat Newton, and a fridge full of cheese.
You find me on Instagram, Pinterest, and sometimes on Facebook.
I also write a lot of keto recipes on my Italian blog keto-with-simona.


Check also:
Keto products review
Discount codes
Keto favorite products
---
---
"This post may contain affiliate links. This means I will get a commission if you purchase through my links, at no extra cost to you. All the opinions are my own. Read the full disclosure here."
---