Autumn is the pumpkin spice season, and even if my keto lifestyle suggests me to avoid the PSL from Starbucks, I enjoy this period. Well, also because I can make my own keto PSL in 10 minutes.
It's the time of reading, warm blankets, warm teas, colourful lights…as a low-carbers we can still enjoy these small moments.
In this article you'll find some products and ways to enjoy the Pumpkin spice season in a keto way!
Pumpkin spice mix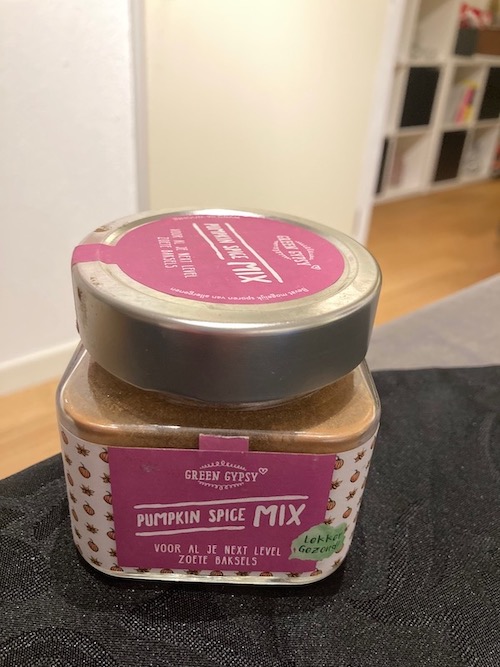 The Pumpkin Spice mix is the ultimate product you need to enjoy this season.
With this, you can make your own Keto PSL and basically add it to everywhere you fancy to.
Pumpkin spices are not really easy to find here in the Netherlands.


I bought a great mix online.

If you don't want to buy a ready mix you can also prepare your own mix at home.
DIY Pumpkin Spice Mix
The recipes to make the Pumpkin Spice mix, are different everywhere. I do it like this:
1 tbs cinnamon
1 teaspoon nutmeg
1 teaspoon ginger
1/2 teaspoon cloves
Feel free to combine also allspices to this mix. Of course, everyone has its own taste, so with the time you'll learn to create your own proportions.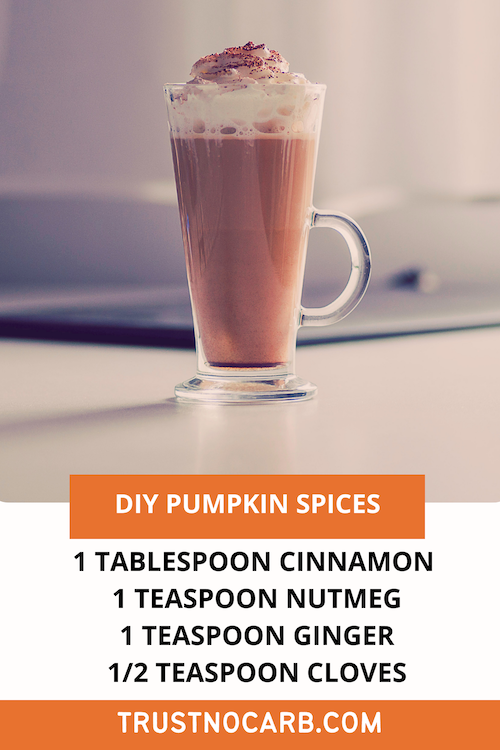 Pumpkin puree
Pumpkin puree must have as only ingredients pumpkin and water. I am sure you can find online many recipes, if you want to prepare your own.
I don't want to prepare my own, because in Autumn I am lazier than usual, so I prefer to buy it.

Be careful while shopping for pumpkin purée:
almost every pumpkin puree in the Netherlands is enriched with other ingredients like potatoes, rice, mango, or chicken
don't confuse the purée with the filling used for the pies: this contains a lot of sugar and is not keto-friendly!


Pumpkin purée is not easy to find in Holland. My 2 best options are:

Organic Pumpkin from Farmer's Market

Albert Hejin Biologisch Pompoen
Pumpkin Spice Latte unsweetened aroma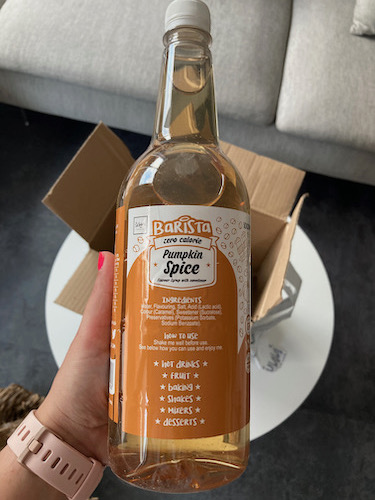 For a year I have been searching a keto-friendly Pumpkin Spice syrup to add to my coffee and have a fast and easy PSL – for the days when I am late for work.
I found it! The Pumpkin Spice syrup from the brand Skinny Food.
Some useful info if you want to buy from Skinny Food (English company):
My package, took 10 days to arrive in the Netherlands, but believe me, it's so worthy!
The only "issue", is that the company doesn't sell more than 2 kilos to Holland (I believe is due to customs and Brexit).
So, I had to order not more than 2 liters (which was the 1 liter syrup, a cream, and another small item).
Therefore, for only these 3 items, I had to pay 12,99 for delivery. Well, I am sure it's worthy because here in the Netherlands we have many syrups, but couldn't find the PSL.
Bonus: my favourite skincare product for the Pumpkin spice season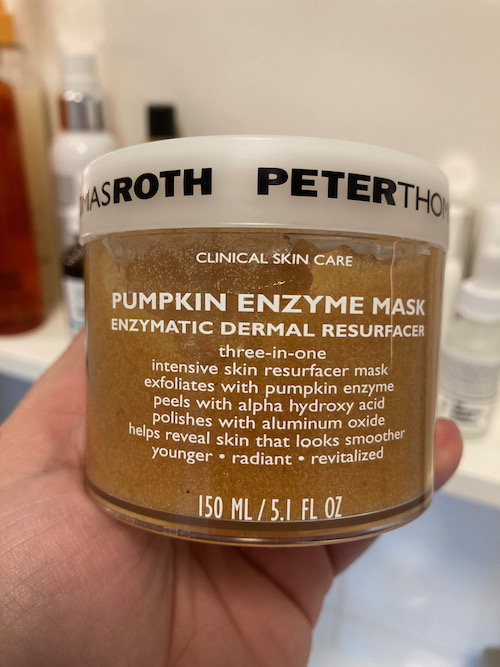 My favourite skincare for this season is the Pumpkin Enzyme Mask Peter Thomas Roth. It's an AHA exfoliator that rennovate the skin, making it younger and smoother. Apart from this benefits, the best thing is the smell.
The pumpkin spice smell is what makes my Autumn happy.
How to enjoy the pumpkin spices on the keto diet
With just these ingredients you can spicy you recipes up. These spices are very autumnal: is the only time of the year we consume them therefore is like a breath of fresh air in our diet.


Add the pumpkin spices, purée or syrup to your usual keto recipes: there is no need to search for a new recipe: everybody has their favourite recipes, the ones that always work. It's sufficient to convert your favorite muffin, pie, or cookies recipe into a pumpkin spice recipe adding some puree and some spice mix.
How I use the pumpkin spices in baking

Usually, for every 200 grams of almond flour, I use 4 tablespoons of pumpkin puree and 1 teaspoon of pumpkin spices. You can adjust according to your preference. If you want a stronger flavor, add more spices.

You can enhance the autumnal feeling of your dessert by cutting a mix of nuts into small pieces (macadamia, walnuts, and almond) mixing them with cinnamon and brown erythritol, and put them on top of muffins and cookies for decoration.


More keto ideas for the pumpkin spice season
A quick way to have the autumn flavor is to add some spices on top of a bulletproof coffee or your favorite coffee. Read more low-carb coffee ideas here. My favourite coffee in Autumn is the famous Pumpkin Spice Latte.
I like spices also on top of a foamy almond milk cappuccino.

Crush some nuts, and use them for your autumn baking: nuts are great for this season.

Add the pumkin spices to all your recipes, such as pies and cookies. You won't regret it!
---
I hope you enjoyed my keto ideas to make magic the pumpkin spice season!