Navigate to where you want to go:
I finally visited Kaasbar, and as a cheese lover, I couldn't avoid writing about all the keto and low-carb options.
You will find Kaasbar in several cities, such as Amsterdam, Rotterdam, and Utrecht.
Cannot visit a fondue bar? Then read how I Prepare My Keto Fondue at Home!

I believe Kaasbar is one of Amsterdam's best places to eat keto and low-carb. Not all on the menu is keto-friendly, but if you love cheese, it will be very easy to avoid the carbs.
This is the ideal place for an informal dinner. If you love small bites, cheese, and wine, this is definitely the place for you. If you don't mind sitting at the bar, I would suggest you also the cheese train, where the cheese is passing in front of you.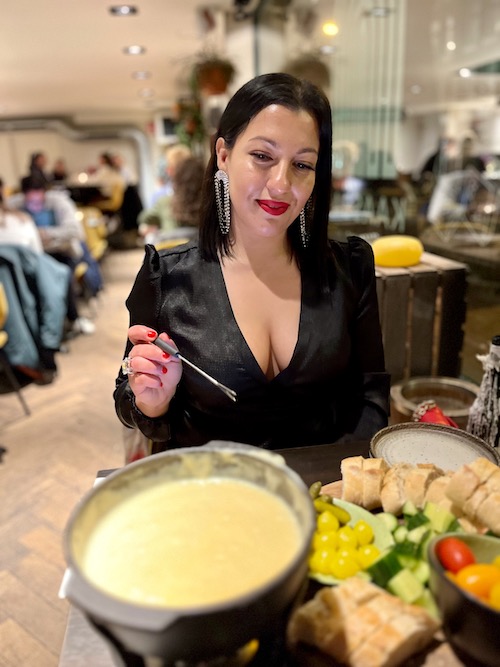 Keto and low-carb options at Kaasbar
Almost all of the menu at Kaasbar is keto and low-carb. Of course, be mindful to avoid bread and crackers, grapes, and other ingredients that they use to embellish the dishes.
Also notice: fondue contains, even if in small amounts, cornstarch or flour.
Cheese boards
There are 4 categories of boards: White flora cheeses, Red flora cheeses, Hard Gouda cheese, and spicy blue cheese.
Charcuterie
There are 4 types of charcuterie, all paired with a different cheese.
Borrelplank
You can compose a borrel board, mixing cheeses and charcuterie.
Sides
You can also order aside sides, such as olives and mixed crudité.
Fondue
There are 3 types of fondue: Swiss fondue, Blue cheese fondue, and Trufflel fondue.
Fondue is served with a board with crudité (and bread, to avoid at all costs).
I tried the Swiss fondue. At the time of my visit, the crudité were: cherry tomatoes, cucumber in pieces, pickles, and sweet and sour onions. If you exclude the bread, you may think that it is not a lot of toppings to dip in the cheese, but surprisingly it was quite a big dinner.
I wished I had one of my protein buns tho.
Keto and Low-carb drinks at Kaasbar
The best to pair with cheese is of course wine. In Kaasbar they have a big selection of white, red, and rose wines. Read the best wines for the keto diet.
Of course, water and sugar-free soda are available.
Kaasbar, in conclusion
I loved my experience at Kaasbar. Cheesy vibes and a cozy environment. It is a great place to stay keto or low-carb with a small effort. So, next time your friends want a pizza, try to bring them here.
---
Read also:
Best keto-friendly meat restaurants in Amsterdam
How I Prepare My Keto Fondue at Home
Best places for a keto breakfast in Amsterdam
Best places for a keto coffee in the Netherlands
---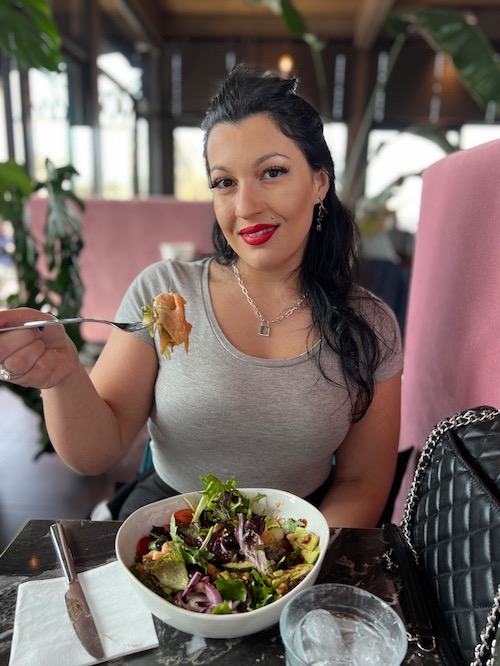 My name is Simona, a keto enthusiast, based in the Netherlands.
I live with my husband, my cat Newton, and a fridge full of cheese.
You find me on Instagram, Pinterest, and sometimes on Facebook.
I also write a lot of keto recipes on my Italian blog keto-with-simona.


Check also:
Keto products review
Discount codes
Keto favorite products
---
---
"This post may contain affiliate links. This means I will get a commission if you purchase through my links, at no extra cost to you. All the opinions are my own. Read the full disclosure here."
---