Navigate to where you want to go:
It is not easy to find grass-fed meat in the Netherlands, that is why I want to dedicate a full blog post to where is possible.
A few reasons why you should consume grass-fed meat:
Antibiotic and Hormone Free
Tastes Better
Higher in Healthy Fats
Decreased Risk of Heart Disease
More Nutrients, Vitamins and Minerals
Choosing grass-fed meat is always a good idea. Of course, is not the easiest, because is not available everywhere and because of the cost, more elevate compared to the other meat.
How to cook grass-fed meat
When I started to buy grass-fed I was a little bit disappointed. I thought grass-fed meat was softer and could melt in my mouth. Quite the opposite, the meat was tougher to bite.
Due to the fact that the grass-fed meat is leaner than the grain-fed meat, it has to be cooked in a different way than the other meat.
Here are a few suggestions to cook grass-fed meat in the best possible way:
Bring to room temperature the meat before you cook it. Never cook it straight from the fridge.
Marinate your beef for a few hours, before you cook it.
Oil your meat with oils or butter.
Cook it slower than any other regular meat.
Don't overcook it. Grass-fed meat has to be cooked the 20-30% less than regular meat.
Is grass-fed meat better for keto and paleo diet?
Grass-fed beef contains fewer calories, more omega-3 fatty acids, and antioxidant vitamins.
These nutrients are an essential part of any diet, especially in the keto and paleo diet, whereas some vitamins and nutrients are more challenging to introduce.
Grass-fed in Dutch
The world for grass-fed is in Dutch grasgevoerd. So far, I haven't found any grass-fed meat in a supermarket in Holland. Yes, you can find bio, excellent, meat but this won't give you the assurance that this meat is really hormone and antibiotics-free.
Can I find grass-fed meat in supermarkets in the Netherlands?
No. Supermarkets in the Netherlands, such as Jumbo, AH, Lidl and so on, don't sell grass-fed meat. They can have excellent or organic meat but there is not explicitly written that this is grass-fed meat.
Where can I find grass-fed meat in the Netherlands
The safest option to buy grass-fed meat in the Netherlands is to find a farm that produces excellent meat and deliver it to your door. You can find many online places where they sell grass-fed meat.
Some offer also pickup, so you can visit the place where the meat is produced.
Here are a few places. The list is not complete, but it will give you plenty of choices to start.
Vlees van Ons
I buy often my meat from Vlees van Ons. It delivers all over the Netherlands, one time per week.
They sell hormone-free chicken, beef, and pork. Free-range eggs.
They also sell yogurt, milk, and butter from grass-fed cows.
Zorg Natuur
Zorg Natuur delivers all over the Netherlands or you can pick up your shopping in several locations throughout Holland.
Schootse Hooglanders
Schootse Hooglanders, is another place that is 100% focused on grass-fed meat, without using antibiotics, soy, or grain.
Available for delivery in The Netherlands and also in Belgium.
Boeren in the Bos
Boeren In Het Bos where you can find hormone-free chicken, and beef.
They also have bone broth, eggs, and cheese.
De Woenste Grond
De Woeste Grond shipping in the Netherlands and Belgium.
This list is for sure not complete, if you know some good place where we can find grass-fed meat, hit me in the comment and help the community.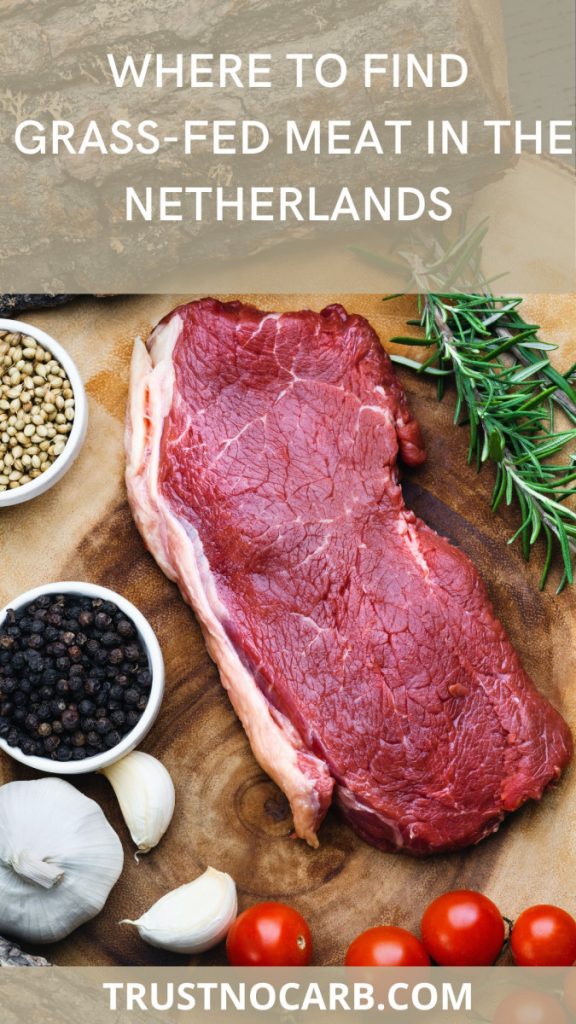 Featured image by Photo by Eiliv-Sonas Aceron on Unsplash (it's freaking difficult make a decent picture of meat).
---
More blog posts you may like:
Where to buy keto products in the Netherlands
Best Keto yogurts in the Netherlands
Eat keto in Amsterdam and in The Netherlands
Best keto coffee in the Netherlands