In the beginning, I found it very difficult to follow the keto diet in the Netherlands. And not only because there is a Febo in every corner. Not only because fries, bitterballen, ham-Kaas croissants, cakes, and bread, are so damn good here.
Here, in the Netherlands, low-carb products were so damn hard to find.
Read here more posts about keto in the Netherlands.
I moved here from Italy, and usually, they say we have good food. Well, let me tell you, my first year in Holland I gained 10 kilos.
This is the country of carbs. That's why I had to find a good diet to shred forever those kilos. And, in the beginning, was so hard to find low-carb options. I started this blog in early 2020, as a way to unload my frustration and keep myself motivated.
After one year it's going better. I don't know if something is changing in the Netherlands or the keto is more popular, but it's easier to follow a ketogenic diet now.
In 2020, these were the reasons why I find difficult keto in the Netherlands:
1. The restaurants had poor low-carb options
Still, there is no low-carb restaurant for keto-followers. But more and more, restaurants are focusing on healthy choices. Lately, I can order a meal at home, and is totally keto-friendly. And I am more confident dining out with y friends in Amsterdam because I can find many options. Read more about ordering keto food at home in the Netherlands (with Thuisbezorgd/Deliveroo/Uber Eats) and eating keto and low-carb in Amsterdam.
2. The supermarkets didn't have a huge selection of low-carb products
We don't have famous products like Rebel ice cream (very low-carb) or the chocolate Lily's. The USA or other European countries have still much more choice than here. But now we do have more options here in Holland.
Eating Ketogenic in the Netherlands it's easier now
Now, I feel easier eating sugar-free and sticking to a ketogenic lifestyle in Holland. And I am positive that the future will bring more and more for us, keto followers.
Keto restaurants in the Netherlands
It's me or do I feel that lately (if we are not in lockdown, of course) is it easier to find low-carb options at the restaurant? After all, Brasseries are so Dutch!
Read also:
Keto and low-carb options at Starbucks in the Netherlands
Keto products in supermarkets in the Netherlands
Yes, still no proper keto ice cream at the store, but I feel something is moving.
We have more choices in the stores: more sugar-free products are filling the shelves. There is new attention to low-carb. We still have progress to do, but this is improving,
Keto and low-carb bars in the Netherlands

Read the best keto products in the supermarket:

Keto products at Albert Heijn and AH To GO
New keto-friendly companies in the Netherlands

New companies are emerging every year, and even if many are not Dutch, they ship to the Netherlands.
Discover some of my keto favorites products in the Netherlands!

Keto Chocolate: Funky fat foods chocolate. (code TRUSTNOCARB for 15% OFF)
Keto cereals: GrandmaCrunch they are based in UK but they ship to Holland! (SIMONA10 for 10% OFF)
Keto Bakeries at home: like my favorite Keto Bites Amsterdam
Check these stores for cool keto snacks
Read which products are keto in the following stores:
Keto products at Holland&Barrett
Keto products at Ikea
Keto products at Dille & Kamille
---
Some useful posts to read about keto in the Netherlands:
Eat Keto and low-carb in Amsterdam and in the Netherlands
Eat keto at IKEA
Keto products at Holland and Barrett
Keto products at HEMA
Keto products at Dille & Kamille
Keto at Starbucks
Keto meals at Vapiano
Keto snacks at AH To GO
Order keto food at home in the Netherlands


---
---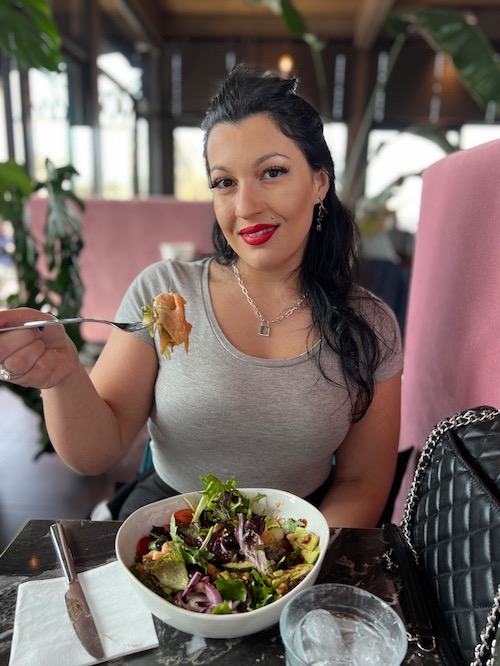 My name is Simona, a keto enthusiast, based in the Netherlands.
I live with my husband, my cat Newton, and a fridge full of cheese.
You find me on Instagram, Pinterest, and sometimes on Facebook.
I also write a lot of keto recipes on my Italian blog keto-with-simona.


Check also:
Keto products review
Discount codes
Keto favorite products
---
---
"This post may contain affiliate links. This means I will get a commission if you purchase through my links, at no extra cost to you. All the opinions are my own. Read the full disclosure here."
---
---
"This post may contain affiliate links. This means I will get a commission if you purchase through my links, at no extra cost to you. Read the full disclosure here."