Navigate to where you want to go:
Yes, you you can find low-carb options at FEBO, and in this blogpost you will find the best.
FEBO, the typical Dutch Fast Food, doesn't sell only fries, frikandel and kroket.
Surprisingly it has also low-carb choices. No so much, but still is something.
Important remark: I consider these options low-carb, not 100% keto. WHY?
If you look to the nutritional label, the carbohydrates are very low (less than 2 grams for 100 grams, not bad at all). On the other hand, as stated in the website, the ingredients are not totally ketogenic. Mostly, they all contain flour.
In my opinion: I am not a keto taliban. For me is ok indulge sometimes in some food with flour, just because I want to eat something different. But if you are following a keto lifestyle, and you rather starve than eat something with flour, this article is not for you.

Many also discuss the quality of FEBO, saying is not the best. I cannot talk for each product, because I only tried the chicken recipes, but as far as I know, the chicken quality is good.

If you are living low-carb all these choices are great for you.
Read also:
Can I eat at FEBO if I am on a keto diet?
Depends. Know that most of FEBO recipes contain flour. Even in the simple chicken, there is flour. And the sauces, they can contain some sugar.
If you are following a very strict ketogenic diet, these options are not really fitting in your nutrition.
If you are following a flexible keto or a normal low-carb, and you don't mind about the ingredients, you can consider all the options here.
I also don't think that FEBO puts a lot of flour is the following recipe. I ordered each one of them, and in my opinion, they cook healthier than other places here in the Netherlands.
So yeah, FEBO, you are surprising me, positively.
Low-carb at FEBO: all the best options
Ok, time to explore all the low-carb options at FEBO, in the Netherlands.
Best low-carb option at FEBO: Kipsaté
I consider this Kipsaté, the best low-carb option at FEBO. I honestly think that a serving of this, won't kick you out of ketosis.
The kipsaté is chicken filet with sautè sauce, pickles and onions. In the nutritional label count 0 grams of carbohydrates.
You can see from the label that it may contain flour. Even if at this point I am thinking it's a mistake in the website because I don't see any flour.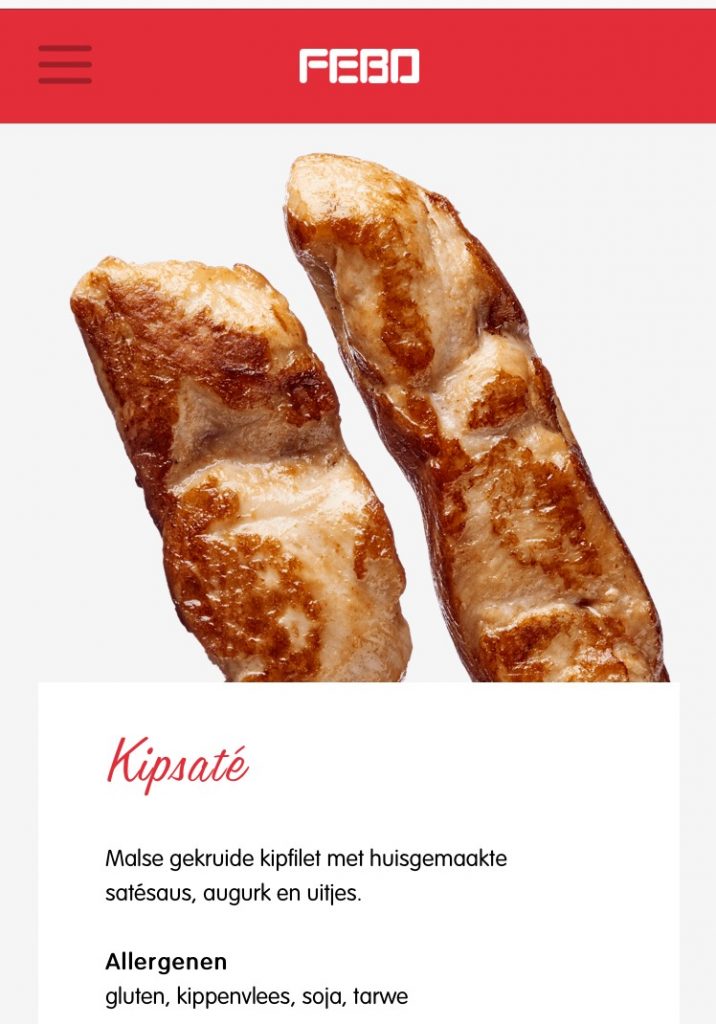 Febo Low-carb: Chicken Wings
Another good option: Chicken Wings. For 100 grams, it counts only 0,8 gr of Carbohydrates.
Not bad. Even here, I have not notice any flour.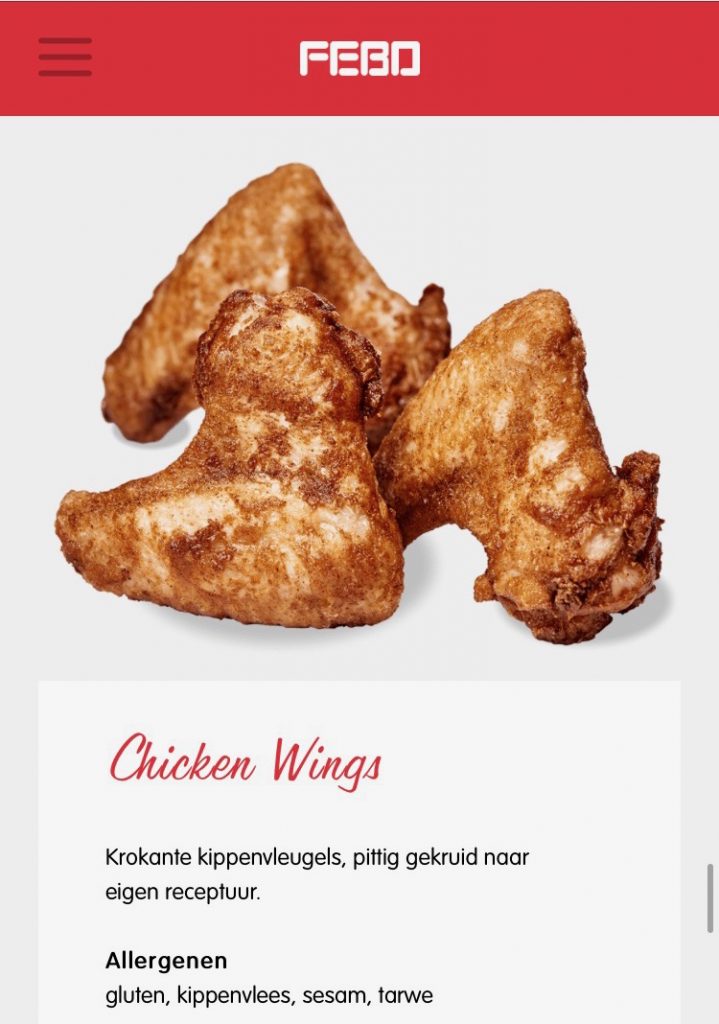 Febo Low-carb options: Kipkrokant
Kipkrokant is also a good low-carb option. For 100 grams, 1,7 gr of carbohydrates. I believe this contain some flour.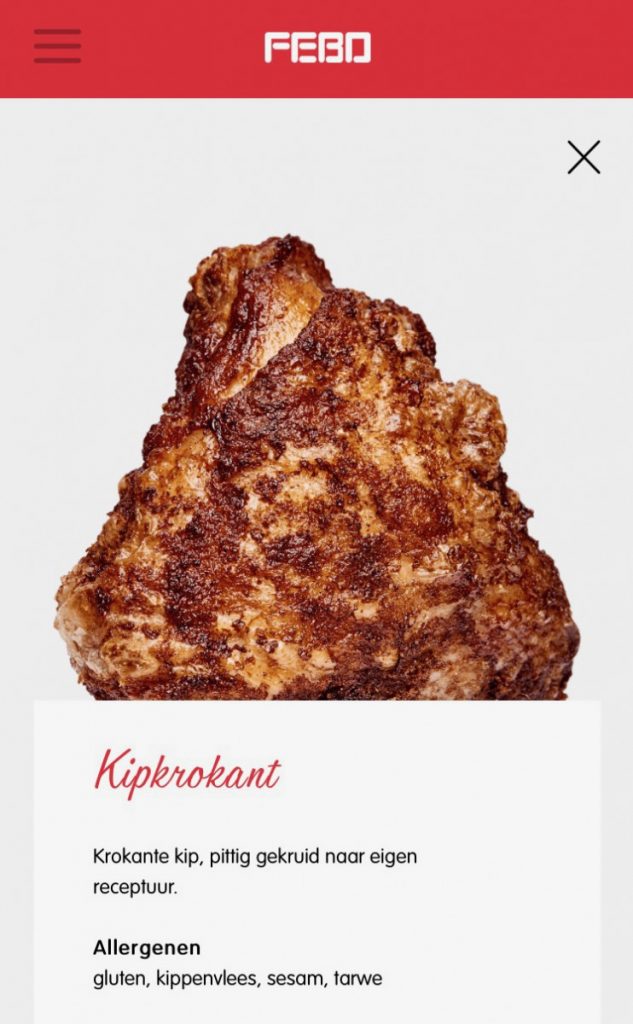 Febo Low-carb options: Kipperbout
Kipperbout is also a good low-carb option. For 100 grams, 1,7 gr of carbohydrates.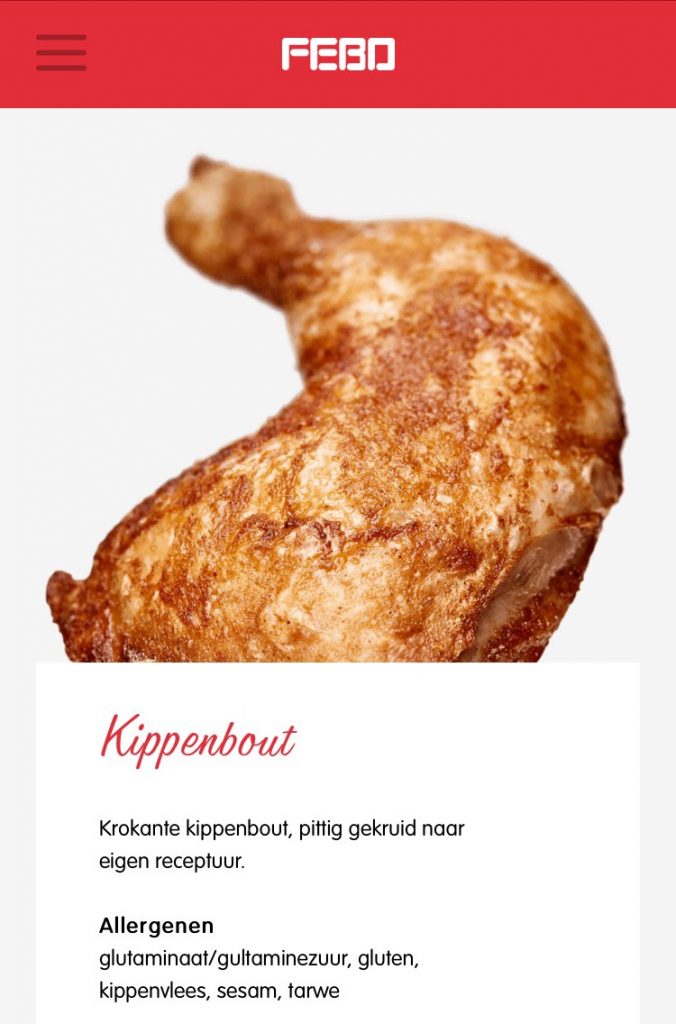 Febo Low-carb options: Berehap
The Berehap is a meatball with onion. For 100 gr, it counts 6,2 gr of carbohydrates. Maybe they put some amid or flour in the meatball. And for sure, the carbs is also given by the onion.
But who's counting the carbohydrates in the onion, anyway?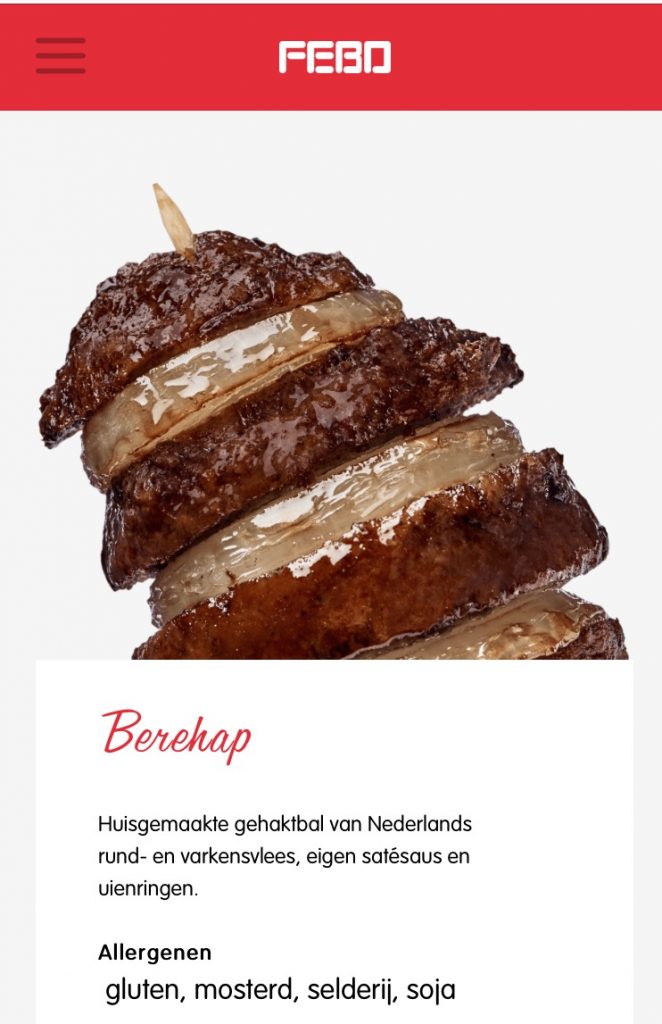 FEBO Burgers: just take out the bun
I am not a fan of throwing away the buns, because I end up paying for the bun, complaining about the unfair system, and just spend a weird night, but hey: this is also an option.
You can order then a burger and take out the buns. These are some example of nice burger ypu can eat, some have bacon, some cheese and some has a double burger.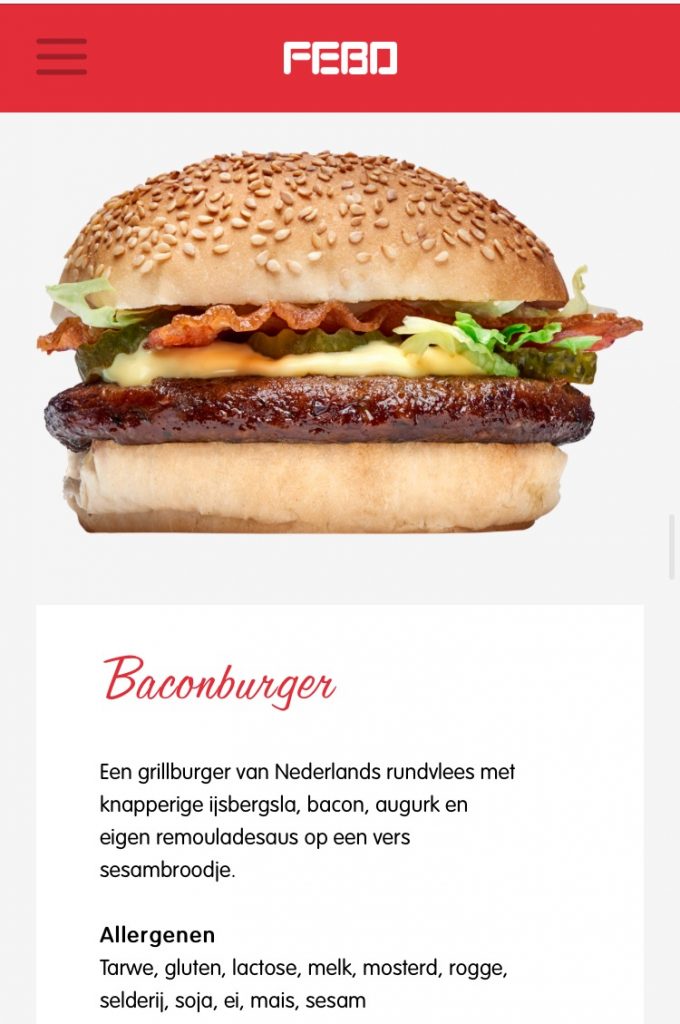 ---
I hope this post is useful to many of you. Keeping it updated.
You may find interesting also:
Eat Keto and low-carb in Amsterdam and in the Netherlands
Eat keto at IKEA
Keto products at Holland and Barrett
Keto products at HEMA
Keto at Starbucks
Keto meals at Vapiano
Keto products at Normal stores
Keto snacks at AH To GO
Order keto food at home in the Netherlands
---
---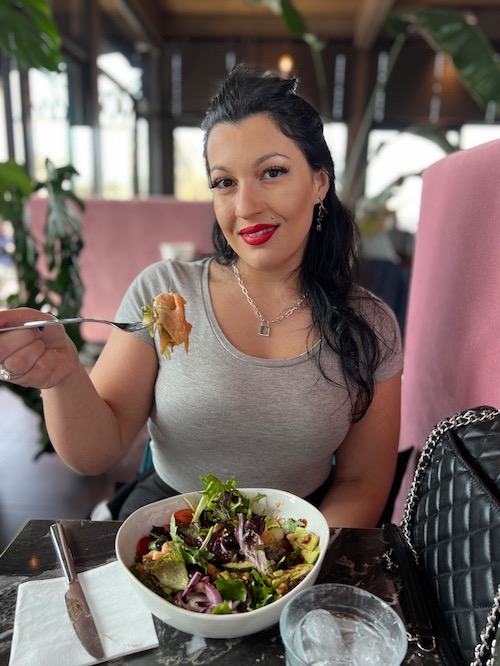 My name is Simona, a keto enthusiast, based in the Netherlands.
I live with my husband, my cat Newton, and a fridge full of cheese.
You find me on Instagram, Pinterest, and sometimes on Facebook.
I also write a lot of keto recipes on my Italian blog keto-with-simona.


Check also:
Keto products review
Discount codes
Keto favorite products
---
---
"This post may contain affiliate links. This means I will get a commission if you purchase through my links, at no extra cost to you. All the opinions are my own. Read the full disclosure here."
---