Navigate to where you want to go:
In this post, I will talk about the best keto and low-carb bread that you can find in the Netherlands. Although I don't miss bread in particular, from time to time I like to have some bites.
Below, are all my favorite options for keto bread that can be found in the Netherlands.
Read also:
Keto and low-carb bars in the Netherlands
Best low-carb Tortillas in the Netherlands
Low-carb and keto crackers in the Netherlands
Grass-fed meat in the Netherlands
Keto Bread mix
The bread mix is very convenient because you can store the package in the pantry for months and when you fancy bread you prepare it.
Also, cutting your own slices allows you to manage your portions. The taste is enjoyable, especially with some mayo and cheese on top.
How to prepare it
It's necessary to mix the content of the bag with warm water, work the dough and bake it. The procedure takes no effort and doesn't make a mess in the kitchen.
In the mix, you can also add optional ingredients if you want, like spices.
Tasty Basics
TastyBasics is a Dutch brand of low-carb products. Please notice: not all their products are suitable for keto. For sure they fit perfectly in a low-carb diet. You can check all the nutritional labels on their website.
The linseed bread has the lowest level of carbs:
7,5 net carbs (less than 4 net carbs per slice)
13,1 fat
22 proteins
14,2 fibers
The almond bread is tastier. But it's double the carbs than the linseed bread. I bought it a while, but lately, I have been avoiding it. This bread is great for you if you are following a low-carb but not keto.

15,2 net carbs (7,6 net carbs per slice)
8,4 fat
18 proteins
18 fibers
You can prepare a small sandwich by just cutting a slice in half. An easy idea for a fast appetiser is to cut the slices into small pieces. This bread is also convenient for a snack on the go, because is easy to buy and takes almost no space in the bag! When I open a package I store the remaining slices in the fridge to preserve the freshness.
You can find this brand in Albert Heijn, Plus, and Jumbo
The ingredients in this bread are not totally keto-friendly, because it contains regular flour. As you know from my Instagram, sometimes I use this bread, because I think is practical and great to take with me on holidays.
AH Low-carb bread
AH has 2 types of low-carb bread, freshly baked.
Jumbo Low-carb bread
Also Jumbo has its own low-carb bread. "Brood Van Soma" has 13 grams of carbs for 100 grams.
It is not keto legit because of the ingredients.
Fresh Baked Keto bread
You can bake your own keto bread, or cook it from scratch, following keto recipes.
---

I will update this post when I find new products. Let me know in the comments what is your favorite low-carb and keto bread in the Netherlands! For more products visits my keto favorites.
---
---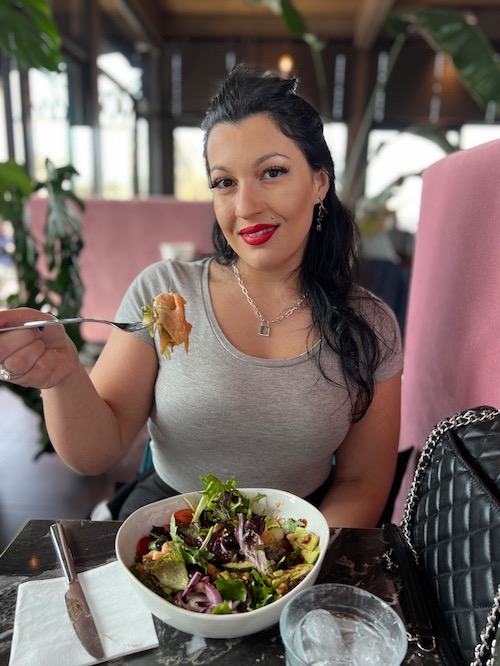 My name is Simona, a keto enthusiast, based in the Netherlands.
I live with my husband, my cat Newton, and a fridge full of cheese.
You find me on Instagram, Pinterest, and sometimes on Facebook.
I also write a lot of keto recipes on my Italian blog keto-with-simona.


Check also:
Keto products review
Discount codes
Keto favorite products
---
---
"This post may contain affiliate links. This means I will get a commission if you purchase through my links, at no extra cost to you. All the opinions are my own. Read the full disclosure here."
---
---
"This post may contain affiliate links. This means I will get a commission if you purchase through my links, at no extra cost to you. All the opinions are my own. Read the full disclosure here."