Low carb bars are very easy to find in the Netherlands and in Europe in general, but not all of them are keto approved.
In this post, I will walk through the most famous low-carb and keto bars. I will put in brief, which bars are the best for a keto diet and why.
Even if in the package you read that a bar is low-carb, highly proteic, no added sugar be careful: check the label and you will realise how many carbs even a small bar has.

Differences between low-carb and keto bars
All the keto bars are low-carb but not all the low-carb bars are keto. A low-carb diet is not as strict as a keto diet. Generally, a low-carb diet counts from 50 to 100 grams of carbs per day.
A keto diet, keeps the daily carbs under 50 grams per day (or even under 20!).
Hence, a proteic bar that counts 35 grams of carbs, can be suitable for a low-carb but not for a keto diet.
The net carbs in the keto bars are generally not more than 5 per portion.
How to choose a keto bar
If you know me, my keto is strict, but I can be flexible. I strive to keep my carbs under 20 grams per day and keep my nutrition as lean and clean as possible. But I won't cry or feel guilty if some day I eat something less clean or I surpass my daily carbs.
With that being said, I like to try different products, but my keepers are always the best. For me, the best products for keto diet have no Maltitol and contains as less carbs as possible.
Here's few guidelines to choose the best keto bar for you:
Don't trust the labels: even if KETO is on it, check the ingredients and the nutrition table.
Read carefully how many carb per portion and for 100 grams. Depending on how many carbs you allow yourself per day, a bar can be good or not for you.
Read the ingredients: if Maltitol is on it, I would avoid it. Check this article about sweeteners for the keto diet.
Snack bars in the keto diet: pros and cons
When I started keto, in the beginning of 2020, I couldn't find any worthy snack bar suitable for a keto diet.
Only recently, keto products are emerging and now it's quite easy to buy them in the stores or online.

I don't indulge much in the bars, but from time to time I need to have a bar. I love packaged products, because they can be stored for months in the pantry and they are easy to take with me, in the city, at work, during a trip.


Pros of bars
Bars are a ready product. You don't have to search for a recipe and destroy your kitchen in the attempt to came out with a treat.
Bars are very easy to find online, or in physical stores.
Bars are small and well wrapped, so very easy to carry in the purse.
There are a lot of flavors.
The tastes are great and they help us to stay away from a cheat meal.
They make us feel full and satisfied.
Cons of bars
If you are struggling to keep your carbs low, a bar is not any help.
If you count the total carbs a bar is a no-go: too many carbs.
Bars contain artifical sweeteners and the ingredients are not always the cleanest.
Eating too often bars can slow the weight loss down.
As always, research for information, find your way to proceed in the lifestyle and check if this is sustainable for you in the long term.
Low carb bars in the Netherlands
In the Netherlands, low-carb and protein bars are sold everywhere. Even in the supermarkets.

If you follow a low-carb diet, you can go ahead pretty much with all of them.
The most famous and easier to find are:
Grenade Carb Killa bars
You can find the Carb Killa bars very easily. The flavors are more than 12!
The Grenade bars counts 60 grams. Almost all of them has 2,9 net carbs, depending on the flavour.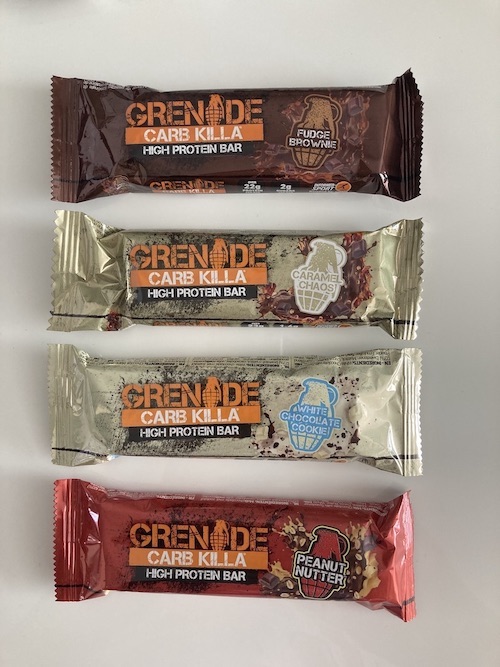 Fulfil bars
Another brand with a lot of choice and tastes. Fulfil produces vitamin and protein bars, in 9 flavors. The carbs are about 15 grams for a 55 grams bar.
Barebells bars
Barebells bars are very popular. They have few flavors, but good ones. Moreless, the carbs are about 16 grams per bar (55 grams).
Think High Proteins bars
Think bars counts around 20 carbs for a 60 grams bar.
Snickers Hi Protein bar
Available in 2 flavors. Snickers and Peanut Butter Snickers.
Normal Snickers has 20 grams of carbs; the Peanut Butter version counts 20,7 carbs.
All these 2 bars weight 55 grams.
Mars Hi Protein bar
The Mars Hi protein bar counts 23 grams of carbs for a 59 grams bar.
Pulsin bars
Pulsin bars are plant based. The bars weight is 50 grams.
PHD smart
Every PHD bar is 65 grams and for this amount, you have 2 or 3 net carbs, depending on the flavor. These bars are huge and tasty!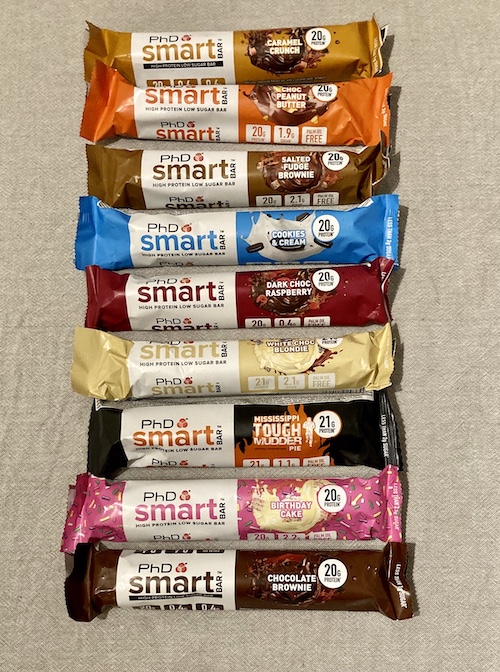 Keto bars in the Netherlands
My favorite place to find them is online. Body and Fit in particular, has always convenient promotions.
Another great place is Holland and Barrett. I also have a separate post where I talk about all the keto options at H&B.

All the bars below are the lowest in carbs and contains no Maltitol.

Keto Slim Fast bars

The Keto Slim Fast bars are one of my favorites. THEY Remember me of the Snickers. The taste is not artificial at all. This bar has 3 net carbs for 46 grams. They are sold in Body and Fit.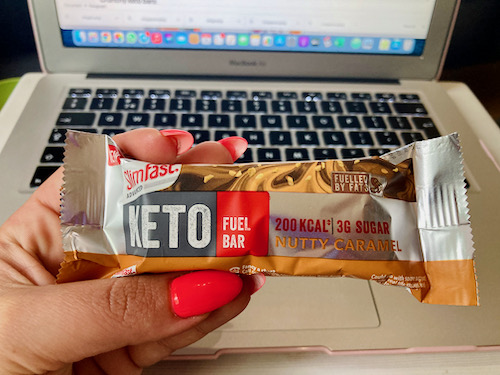 Quest Bars
The bars from Quest are sold in several tastes. Each bar counts 60 grams. For bar, 4 or 5 net carbs. They have at least 15 flavors.


Crunchy keto bars
These bars count 35 grams and have around 2,5 net carbs.
There are two flavors available at Holland and Barrett: Liquorice and Salty Caramel Nut.
All the sweeteners inside the bars are keto-approved.
Online you can find 2 more flavors. I bought mine from Lowcarbcenter: Raspberry Cheesecake and Cashew Nougat

Good To Go Soft Baked bars
These bars are not the ordinary bars, but small soft cakes. I consider them bars because they are packed as bars. They are Keto certified. Every bars is 40 grams.
They are sold at Holland and Barrett or online in websites, such as Afvallen met Bregje.
For now, 4 are the flavors available in Holland.
Cinnamon Pecan: 3,5 net carbs.
Raspberry Lemon: 3,6 net carbs.
Vanilla Almond: 3,5 net carbs.
Double Chocolate: 3,5 net carbs.
Please, don't ever ask me which one is my favorite. It's impossible to decide which one is the best.


Women's best protein bars
Women's Best Protein bars are easily available at Holland & Barrett and in Body and Fit website.
Each bar is 44 grams.

Coconut Crunch: 2,2 net carbs.
Chocolate Crunch: 2,9 net carbs.
Strawberry Crunch: 3 net carbs.
Hazelnut Crunch: 5 net carb

Pulsin Keto bar
Holland and Barrett has a lot of Pulsin Products. So far, the keto-approved bars (50 grams) are:
Mint Choc and Peanut bar: 4 net carbs.
Pulsin Choc Fudge & Peanut Keto Bar 4,1 net carbs
Planet Hemp Superfood Keto Bars
In Holland and Barrett, you will find also these keto certified bars.
All the 3 bars are high in fibre, high in protein and no added sugar and vegan.
All the bars are kind of chewy not crunchy. The taste of each flavour is very subtle – not too strong.
Overall I like them, although they are not my favorite so far. If I have to choose one, I would go with Sports recovery, that is cherry flavoured.
A bar weights 40 grams.
Hunger Control Chocolate Protein Bar: 3,6 gr of net carbs
Sports Recovery protein bar with cherries: 5,4 gr of net carbs
Slimming salted caramel protein bar: 3,2 gr of net carbs
Keto Collective bars
Keto Collective is a recent, small english company. These keto and low carb bars are available on their website or Amazon, so you can get also in the Netherlands. If you are on Europe, you have to order from the European website.
Take in consideration that you may pay the customs. The ingredients are clean and the bars are amazing! The flavours are, so far, 3:
Salted caramel: 2,8 net carbs
Classic coconut: 3,9 net carbs
Choc sea salt: 2,8 net carbs
GO Keto bar
Online, I found bars from the brand GO Keto.
This walnut cocoa ha 1,5 grams of carb for a bar.
Best places in the Netherlands to buy low-carb and keto bars
Physical stores
Holland and Barrett: read here my post about the keto options.
AH to Go: read my separate post on Ah To Go keto products.
Any supermarket
Online stores


As always, I will keep this post updated. From time to time visit this post to see if there are new entries in the world of Keto and low carb bars in the Netherlands.
---
"This post may contain affiliate links. This means I will get a commission if you purchase through my links, at no extra cost to you. All the opinions are my own. Read the full disclosure here."