Navigate to where you want to go:
Today I am going to talk about keto chocolate from the company Funky Fat Foods. I am a huge, huge fan of this chocolate, and this for 4 reasons:
They ship worldwide. The company is Dutch and as you can imagine I am so glad of this because dieting in the Netherlands is no joke.
Is keto-friendly chocolate. The ingredients are clean and I will tell you more: they have MCT oil on it.
Is available in many flavors.
It's vegan.
Let me tell you more about Funky Fat Foods.
The mission
Quoting their website:
The mission is to create tasty & functional foods high in healthy fats.
Louisa, the founder of Funky Fat Foods, is a keto follower and since she didn't find a high quality/ low carb chocolate, she created one. She even added MCT oil. Respect!
The flavours
I love every flavor: each one is unique. So far the flavors are 5:

75% Dark chocolate

71% Dark Coconut

70% Coffee

46% White + Bourbon Vanilla chocolate

71% Hazelnut
If you are ordering for the first time, I suggest you to buy a variety pack. In this way you can try them all!
My favorite is the White Bourbon Vanilla chocolate because it remembers me of the Galak… it's creamy and sweet and counts 0 net carbs.
If you liked Galak as children, you should definitely get this! You'll thank me later!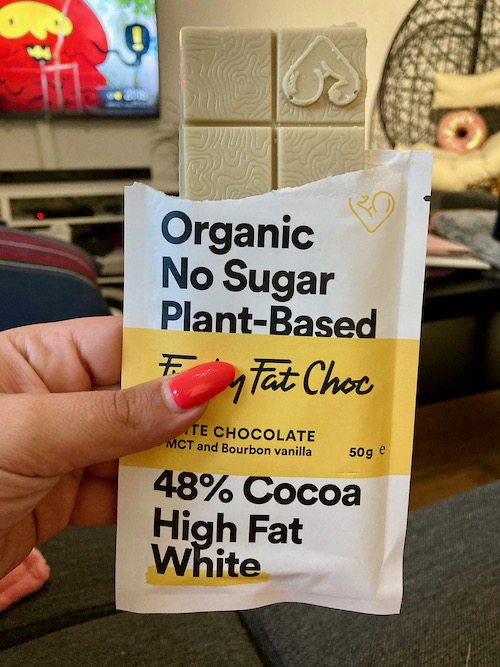 High quality ingredients
Funky Fat Foods uses high-quality ingredients and you can tell this at the first bite. The ingredients are absolutely clean and keto legit and they fit the macros. No sugars or bullshits.
Moreover, all the flavours are also suitable for vegans, adding a new snack ideas for our vegans friends.

Common ingredients of all the flavors are:
Cacao Mass + Cocoa butter, Erythritol, MCT powder with Acacia fiber.
The White doesn't have Cacao mass but has Coconut milk powder instead.
The packaging
Each package is minimal, colorful, and practical to take it everywhere. They can fit a small purse.
Every package contains 50 grams of chocolate (8 squares).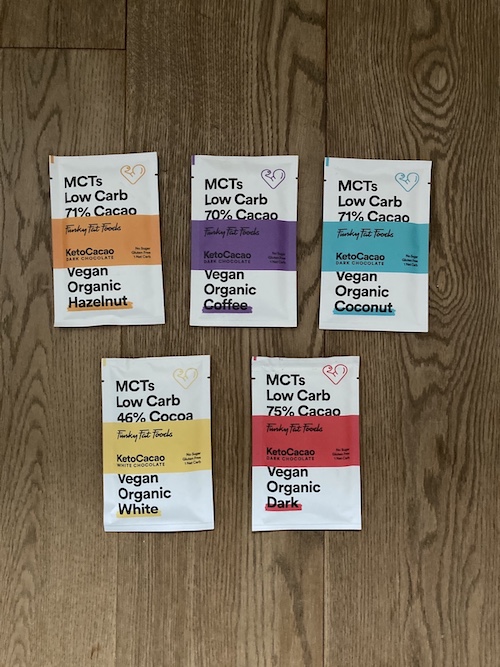 Social media
Their social media is not oppressive and I love their pics and ideas.
It makes me want to tag them every time I eat one.
No, I am not doing that, I am a chocolate lover, not a stalker.


The shipping
They are delivering worldwide, even USA and Canada. I love that everybody in the world can have access to their products.
Recently I ordered a variety box for a friend in Italy and he got it in 3-4 days.
Is Funky Fat Chocolate keto?
Yes. All the bars are free from sugar, artificial flavors and artificial sweeteners, therefore suitable for a keto diet.
Is Funky Fat Chocolate sugar-free?
Yes. All the bars are free from sugar.
Is Funky Fat Chocolate gluten-free?
Yes. All the bars are free from gluten.
Is Funky Fat Chocolate diary-free?
Yes. All the bars are free from dairy.

The price and a discount code for you

Talking about the cost, each box contains 10 chocolate bars and the cost is 35 euro. That makes 3,50 for a bar.
I know, is not cheap like a Mars bar. It took me weeks before I ordered my first box, because spending 35 euro in chocolate all in once is a big step.
But, I thought about this. How can they be cheaper if they are made of high-quality ingredients?
And the cost, actually, is helping me eat them in moderation. And moderation is always the key.

I can't eat a lot of this chocolate. I know it's expensive and I can't order two boxes per month.
Therefore, I treat these bars as a special treat. And boy if I am happy eating them.
I don't consume them every day and when I do it's a special moment.
HEY! I think you will love an extra 15% discount on the Funky Fat Foods keto chocolate!
Use my discount code at the checkout: TRUSTNOCARB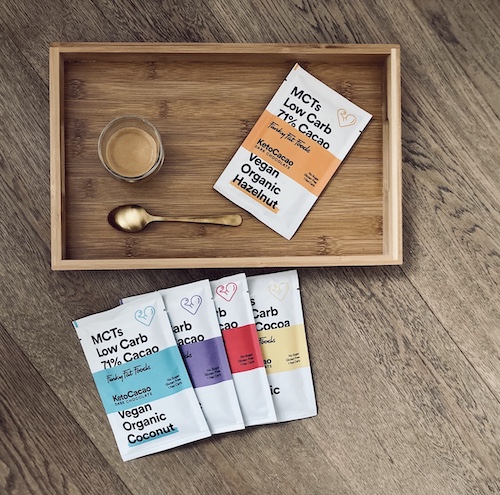 ---
---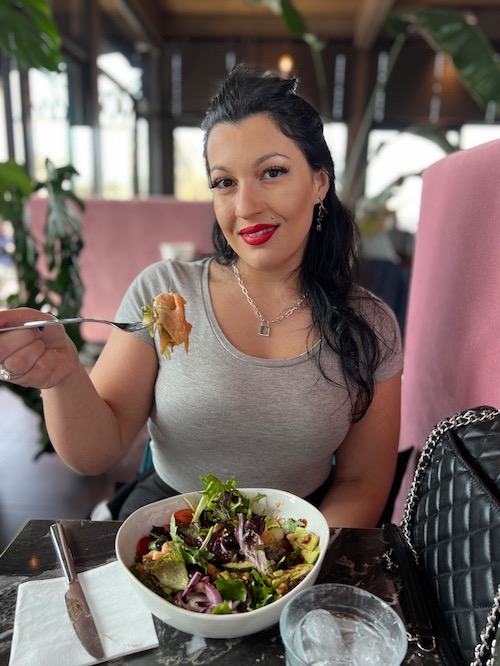 My name is Simona, a keto enthusiast, based in the Netherlands.
I live with my husband, my cat Newton, and a fridge full of cheese.
You find me on Instagram, Pinterest, and sometimes on Facebook.
I also write a lot of keto recipes on my Italian blog keto-with-simona.


Check also:
Keto products review
Discount codes
Keto favorite products
---
---
"This post may contain affiliate links. This means I will get a commission if you purchase through my links, at no extra cost to you. All the opinions are my own. Read the full disclosure here."
---