Navigate to where you want to go:
If you follow a keto diet you will meet, sooner or later, these 3 words: Exogenous ketones supplements. One of the most popular brands of ketones is KETO NAT by Pruvit. I froze in front of the price: around 150 Euro for 20 servings. There are many other brands out there, and they are not cheap. I've asked myself: What are they? Do I really need them?
What are exogenous ketones?
Ketones are chemicals produced by the liver, as a consequence of being in ketosis. Endogenous ketones are produced naturally inside the body, due to a diet poor of carbs. Exogenous ketones are ketones outside the body, sold in pills, powders, or beverages.

The exogenous ketones can be synthetic or naturally derived. They claim to support the ketogenic diet increasing the ketones level. They are also sponsored as a great ally to fight the keto flu, increase athletic performance, and promote weight loss by reducing appetite.
There are 2 types of EK supplements.
Ketone esters
These ketones are synthetic and the most powerful.
They are also very expensive and more difficult to find.
They don't contain electrolytes.
Salts
The salts are more affordable than esters.
They contain electrolytes, so keep in mind this if you already assume supplements such as potassium and magnesium.

Do I need exogenous ketones supplements?
Your body will go into ketosis if you follow a low-carb lifestyle, with or without exogenous ketones: these supplements alone won't bring you to ketosis if you don't commit 100% to the lifestyle. This means that you cannot have pizza and ice cream and stay in ketosis just because you are drinking ketones.

Research in exogenous ketones is still not clear about the role of these ketones in supporting ketosis and weight loss.
Researchers still need to investigate the safety: as a matter of fact, exogenous ketones are not evaluated by the Food and Drug Administration. So, at this time, we don't know if they are truly safe for humans.
You want my opinion? I'd rather invest this amount of money in pure MCT oil, which supports the state of ketosis and has proven benefits.
My experience with exogenous ketones
At the beginning of January, I bought my first EK, in the form of salt. I supported the Dutch Community by buying Ketones from a new company, Ketobalans.
Therefore, I just paid a reasonable amount of money in the name of science, and to finally update this post. And in the name of ketosis!
I tried the ketones for 1 week. The taste is just horrible. Maybe because of the aftertaste of stevia. I tried in the water and even in the coffee. That's a nasty drink, gents! I even tried to drink it all at once, without breathing. The result was nausea for a good half an hour.


Let's talk about the benefits: no benefits, whatsoever.


I haven't noticed any difference in terms of energy, reduced appetite, athletic performance, or mental focus. Nothing! For months now I have been fasting for 16-18 hours and a few times even 24 hours. In this week, the ketones didn't support me in any way or made me accomplish a longer fasting window. Even the ketone strips didn't show any difference from the days before. Bummer!

Somebody may say, I should have tried more days. No, I shouldn't have. Exogenous ketones claim to deliver benefits fast, and I am talking 30 minutes fast.


As reference: a pack of (these) ketones costs around 50 euros. The amount of salt is enough for max 15 days. That is 100 euros per month. So is cheaper than other brands.
Now, I can put my heart at peace. I have confirmed my opinion: it's wiser to invest money in products that are really proven to be healthy and with benefits, such as MCT oil or high-quality meat/vegetables.
Exogenous ketones: Why Yes
You want to test for yourself if they work
They are cool for the Instagram stories
You don't know how to spend your money
Exogenous ketones: Why Not
The benefits are not proven
Not enough research on safety and benefits
A pack of bacon and a bulletproof coffee brings you to ketosis faster
They are pricey

In conclusion: If you want to try ketones, try them! Maybe they will work for you, maybe not.
---
First published: 31 July 2020 – Edited 25 January 2021
---
---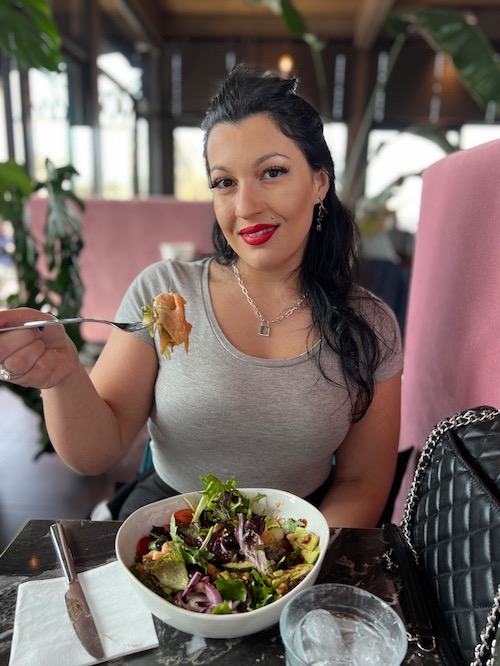 My name is Simona, a keto enthusiast, based in the Netherlands.
I live with my husband, my cat Newton, and a fridge full of cheese.
You find me on Instagram, Pinterest, and sometimes on Facebook.
I also write a lot of keto recipes on my Italian blog keto-with-simona.


Check also:
Keto products review
Discount codes
Keto favorite products
---
---
"This post may contain affiliate links. This means I will get a commission if you purchase through my links, at no extra cost to you. All the opinions are my own. Read the full disclosure here."
---