What's keto in my fridge? Everything. Today you will enter into my fridge – not literally, don't worry – and discover my favorite products, the ones that I have always at home.
Having your favorite products around gives you have less chance to open the UberEats app and order God knows what. But, if you want to order ready meals at home, make sure you read this post first.
WARNING
The following post contains sensitive contents which some people may find disturbing.
Lot of cheese!
Oh yes, if you follow me on Instagram you know I love cheese. Cheese is life.
Let's dive in.
Vegetables
I always have few packs of chopped lettuce, to prepare fast a salad. I love asparagus, great as a side for a burger or salmon. Celery for a snack with mayo. Ginger is full of benefits and I use it mostly to flavor the water. Read the 10 best vegetables for the keto diet.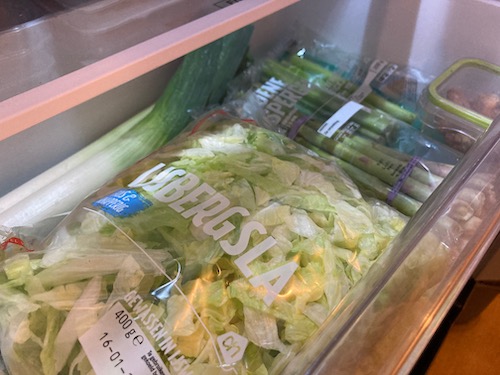 Dairy and cheese
Always in my fridge:
Grana Padano, the best dairy-free cheese.
Philadelphia to make sauces for fish or meat. Or a cheesecake.
Mascarpone for salty recipes but also for desserts, such as Italian Mascarpone cream, Keto cheesecake, Tiramisu.
Liquid heavy cream to prepare the whipped cream.
Cheese slices to make some cheese rolls or on top of burgers.
Babybels are useful as food on the go.
Shredded cheese for the keto pizza.

Occasionally I buy blue cheese and feta cheese.
More cheese
You thought it was over. I have more! If you need cheese, knock on my door.
Grass-fed butter, for bullet coffee, butter cookies or just on top of low-carb bread.
Mozzarella. And occasionally, Burrata.
Shredded cheese, to prepare the pizza crust.
Wow, I have all the best cheese for the keto diet in my fridge right now (Cheesepops in the pantry).
Meat and sliced meat
Lately, I have been buying the meat from a Dutch website, because I am tired of the poor quality in the supermarket. If I could, I would hunt myself.
I don't love meat in general, but I enjoy good quality meat. I always have a stock of lamb or black Angus hamburgers.
Is also good some variety, therefore I buy different cuts every month.

Regarding sliced meat, I buy often salami and Mortadella. I always have 1 pack of bacon, but I eat it occasionally.
Fish
I love fish. When is not a pandemic, I like to buy fresh fish from the store. In Holland, the quality of the fish is terrible in the supermarket.
I buy regularly salmon and shrimps. And my last addiction is keto sushi with smoked salmon.
Drinks
I keep my water in the fridge also in the winter. Water, when cold, makes you burn more calories, they say. I keep often a bottle with ginger, lemon, cucumber water. Read more about my hydration routine.
Even if I don't drink it every day, I have always a bottle of Pepsi Max. I also store iced coffee.
I always keep a bottle of white wine in the fridge.
Other products
Olives: I eat olives every day. I have always one can open in the fridge.
Boiled eggs: you should always have boiled eggs in the fridge. Why? Read my post about keto organization tips.
Berries: usually is blueberries, but I often buy also strawberries.
Zero carb Mayo.
Bread: I like to store the keto bread in the fridge. I wrote a post on the bread you can eat on keto (for the Netherlands).
Occasional or seasonal products
Below the products that I buy often but not always always will be in the fridge.
Low-carb jam: My favorite is the Strawberry jam from Lizza. Read more about the keto products from Lizza here.
Lasagna pumpkin sheets, Broccoli rice, Rutabaga fries: weird names, but they are veg cut in smart ways. One smart recipe you can prepare is Keto Pumpkin Lasagna.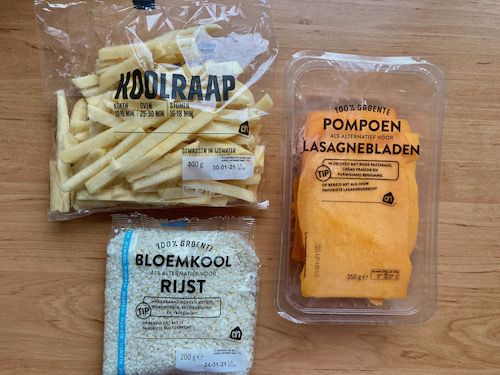 To conclude, these are the products I buy more often.
I hope you enjoyed my keto fridge tour. I will update this post if I will stop buying cheese my food habits will change. Watch my reels from the fridge!
---
"This post may contain affiliate links. This means I will get a commission if you purchase through my links, at no extra cost to you. All the opinions are my own. Read the full disclosure here."