Navigate to where you want to go:
These are the High-Protein Products I am Obsessed with lately. As you may know, this year I started a high-protein keto diet, and my way to buy groceries has changed a bit.
For example:
I replace fatty cheese with high-protein cheese or cottage cheese.
I replace processed meat with lean meat.
I get my fats only from seeds, chocolate, and extra virgin olive oil.
I have to say, with this approach, I am eating healthier.

But It is difficult to find high-protein products that are also sugar-free and low in carbohydrates.

Usually, high-protein products have fewer fats and slightly more carbs: not really a keto thing, right?
So I am doing my best to find the right compromise, trying to find a balance between fats, carbs, and macros.
I believe all the below products are great companions and they are helping in my protein intake goal, without kicking me out of ketosis. Read How I test my ketones at home with a Ketone Meter.
Bonus point: they are delicious.
High-Protein Cheese
Eatlean cheese has many kinds of cheese. Per 100 gr, the Original one (the blue packaging) has only 3 grams of fats per 100 grams and 37 gr of protein.
Notice that, for 100 gr, Parmigiano Reggiano has on average 29-32 grams of protein and 30 gr of fats. Read my full Eatlean review here.
You can find Eatlean on their UK or EU website.
When I eat it: as a snack to-go, during the afternoon.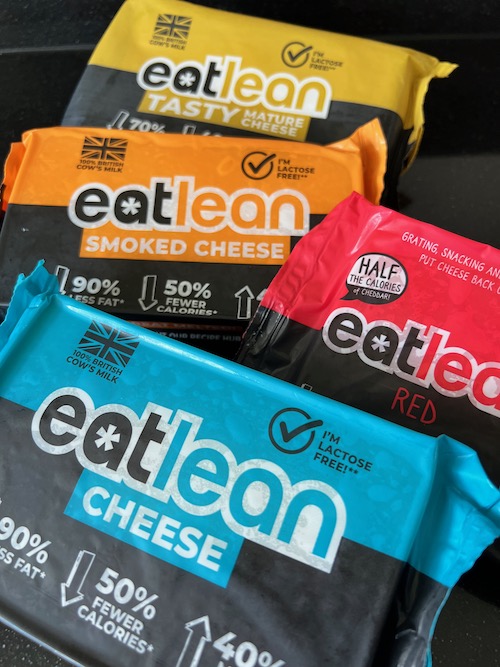 Biltong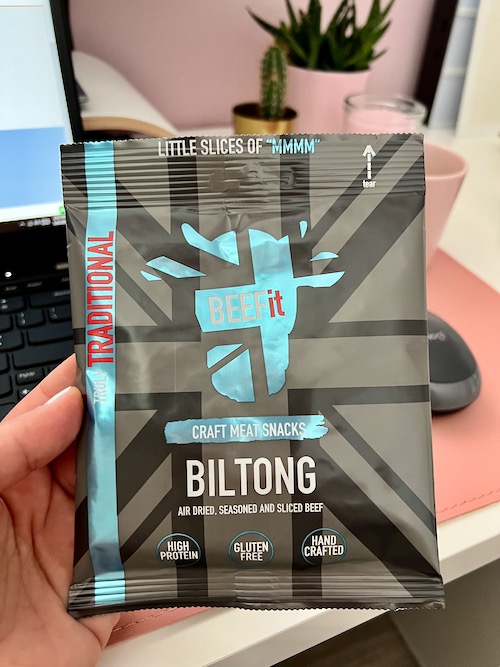 Biltong is one of the most protein products you can eat. It counts 52 grams of protein for 100 gr of products. I love that these bags are practical to take with me because are sealed and small.
Read more about Sugar-free Biltong in the Netherlands.
You can find this Biltong on Amazon.
When I eat it: as a snack to-go, during the afternoon.
Philadelphia High-Protein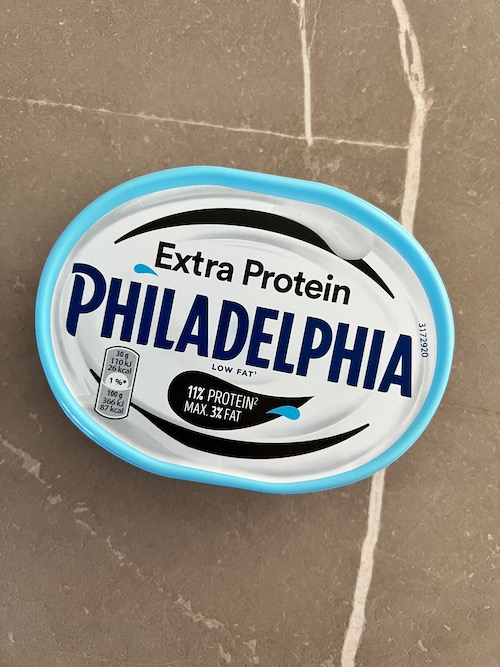 While a regular Philadelphia has 5,4 grams of protein – the High-Protein counterpart has 11 gr for 100 gr products. Proteins are more than double!

And the carbs?

Philadelphia Original has 4,3 grams of carbohydrates for every 100 gr of product.
The High-Protein Philadelphia counts a little bit more, only 4,9 gr.
I would say, this is a convenient compromise.
When I eat it: 50 gr together with my lunch or dinner, on top of veggies or low carb bread.
Alpro Mild & Creamy 0 Sugar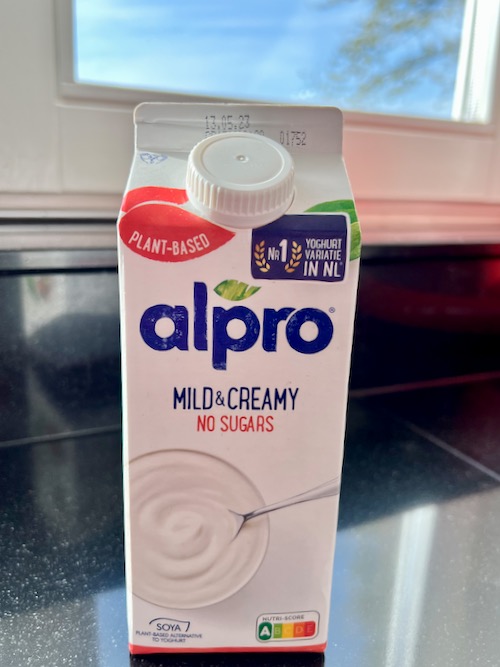 This is one of my favorite yogurts, even for a regular keto diet.
Per 100 gr it has 0 gr carbs, 2,3 gr fats, and 4 gr protein.

To increase that fat intake just add peanut butter, nuts, or seeds.
I usually enjoy it with a sweetener and a sugar-free aroma. I also use it to prepare protein treats (like muffins) or to prepare protein sauces (like pesto).
Read here about the best keto yogurts in the Netherlands.
When I eat it: morning, afternoon, or after-dinner snack.
Tenderloin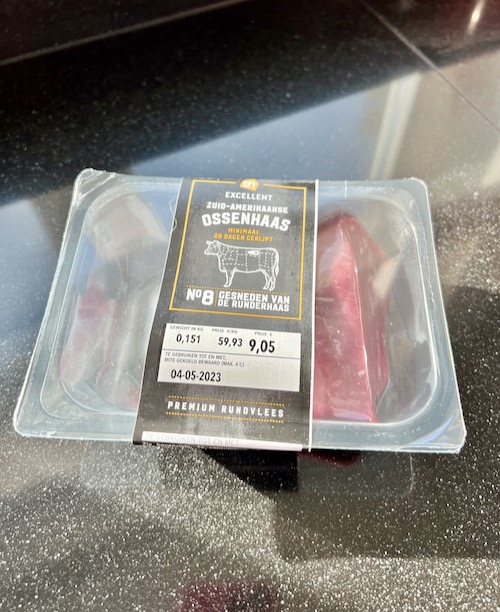 This is my favorite meat cut in Albert Heijn. Tasty, juicy, and super tender.
It is a lean cut, so the fats are minimal.
Notice that it is not grass-fed. Read here where to find grass-fed meat in the Netherlands.
When I eat it: lunch or dinner, usually with an egg and a protein bun on the side.
WHEY Protein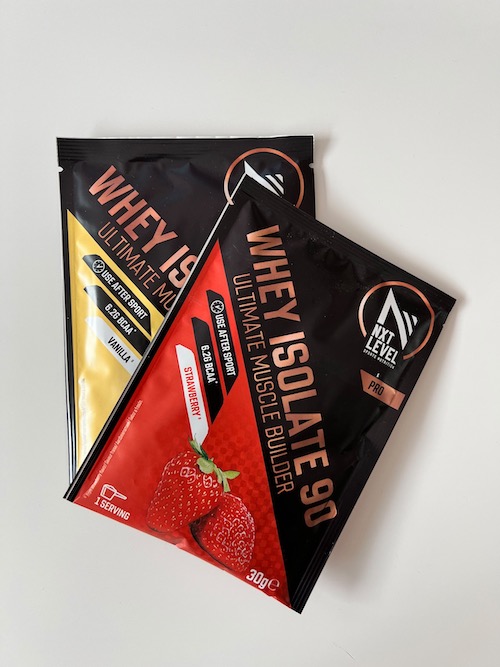 For quite some time now, WHEY is part of my daily life and post-workout routine.
A single serving of the right WHEY gives me between 25 and 27 grams of protein.
Insane.
In this post, I talk about my favorite Sugar-free Whey.
When I eat it: after my workout in the morning.
HiPro Danone Dark Chocolate Mousse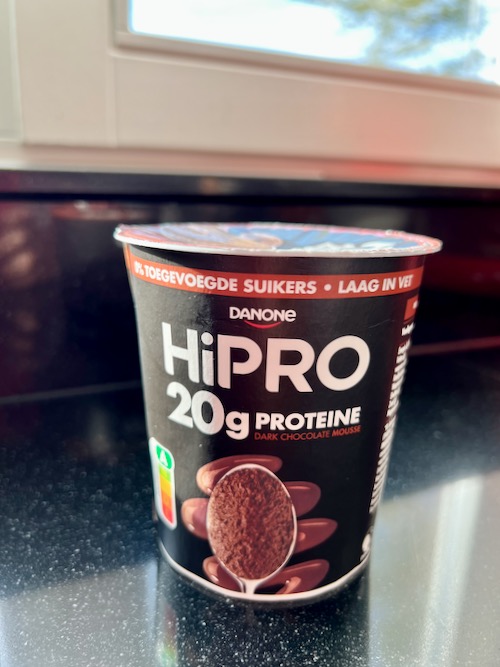 This is the only HiPro product I believe is acceptable for my lifestyle.
For 100 gr it has 3,7 gr carbs, 2,5 gr fat, and 10,2 gr protein.
Ok, the carbs are not super-low but often a bit of this mousse fits my macros.
Positive sides: a few spoons won't hurt, Nutriscore is A, the ingredients are keto-friendly and proteins are high. Plus, it's delicious.
Read here about Danone HiPro High Protein Products.
When I eat it: occasionally, a few spoons after dinner.
Egg Whites
Egg Whites: protein at its purest. I use egg whites in many recipes and I make these protein buns with it.
I also use them to replace an egg here and there.
I buy them at Jumbo or online at the same price delivered to my home the next day.
When I eat them: every day, for my recipes.
---
I hope you enjoyed this post about the High-Protein products I am obsessed with at the moment.
Have you tried any of them?
You may also like:
My Experience with High Protein Keto
How to Organize a Keto Barbecue
Keto Products always in my home for weight loss
---
---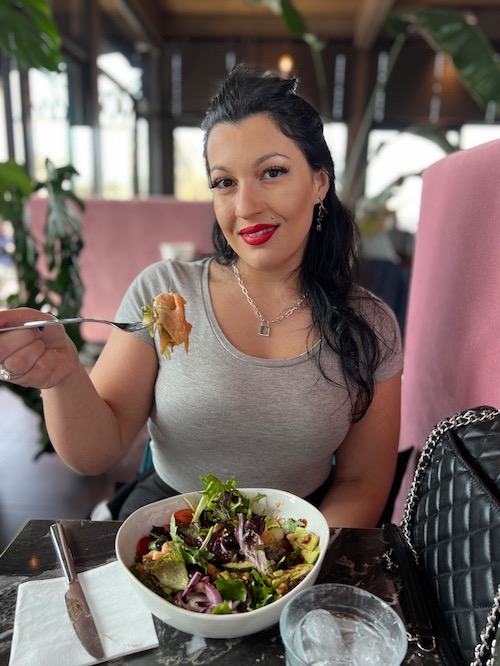 My name is Simona, a keto enthusiast, based in the Netherlands.
I live with my husband, my cat Newton, and a fridge full of cheese.
You find me on Instagram, Pinterest, and sometimes on Facebook.
I also write a lot of keto recipes on my Italian blog keto-with-simona.


Check also:
Keto products review
Discount codes
Keto favorite products
---
---
"This post may contain affiliate links. This means I will get a commission if you purchase through my links, at no extra cost to you. All the opinions are my own. Read the full disclosure here."
---