Navigate to where you want to go:


In a ketogenic diet, most of the carbs come from veggies. Not all vegetables are low in carbs: I've selected the 10 best vegetables for the keto diet.
To keep the carb intake low stay away from veggies that grow beneath the gran such as carrots and potatoes and focus on green and leafy ones.
Read also:
The best cheese for the keto diet
The 10 best vegetables for the keto diet
1.Lettuce
Green lettuce has 1,6 of net carbs (fibre 1,3). Is rich of vitamin A, C, K.
2.Asparagus:
Asparagus have 1,8 g net carbs (fibre 2,1). Rich of Vitamin A, C, K.
3.Celery
Celery has 1,37g net carbs (fibre 1,6). Contains Vitamin K and antioxidants.
4.Cucumber
Cucumbers have 1,46 net carbs (dietary fibre 0,7 ). Has anti inflammatory effects.
5.Avocado
Avocado has 2g net carbs (dietary fiber 7). High in Vitamin C and Potassium, it's one of the best food for keto because it's also high in fats.
Moreover, it's a great product to fight inflammation.

6.Courgette
Courgette has 2,1 net carbs (fiber 1). Rich in Vitamin C.
7.Mushrooms
Mushrooms have 2,3g net (1 fibre). They have Anti-inflammatory properties. 
8.Eggplant
Eggplants have 3g net carbs (3 fibre). Source of antioxidants.
9.Spinach
Spinaches have 2,5g net carb (dietary fibre 4,3). Contains Vitamin K and is good for heart health. You can consume them raw or cooked.
10.Cauliflower
Cauliflower has 3g net carbs (dietary fiber 2). Contains Vitamin C and K.

In my fridge, I have always lettuce because I like to prepare fast salads.
Also, cucumber because it's easy to chop and put as a side of any dish.





---
---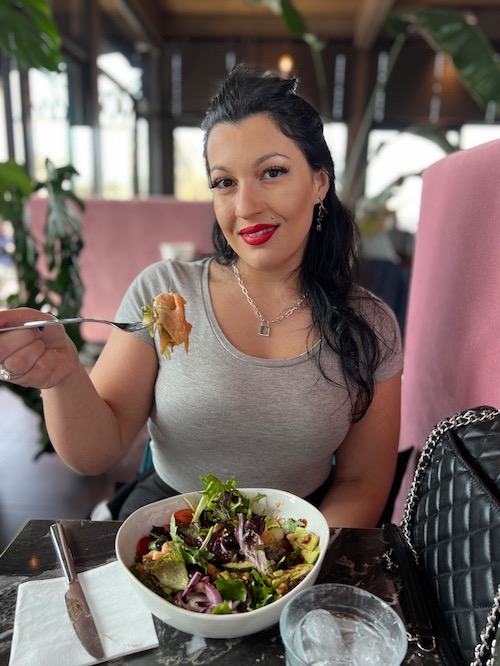 My name is Simona, a keto enthusiast, based in the Netherlands.
I live with my husband, my cat Newton, and a fridge full of cheese.
You find me on Instagram, Pinterest, and sometimes on Facebook.
I also write a lot of keto recipes on my Italian blog keto-with-simona.


Check also:
Keto products review
Discount codes
Keto favorite products
---
---
"This post may contain affiliate links. This means I will get a commission if you purchase through my links, at no extra cost to you. All the opinions are my own. Read the full disclosure here."
---