Read here where to find Bone broth in the Netherlands. I had my struggles searching for a decent and nutritious bone broth (ready or to make by myself), so I decided to dedicate a short post to this topic.
Why bone broth is essential?
Bone broth is full of nutrients, and is recommended in the keto diet. Not only is it weight-loss friendly but contains valuable components, such as:
Lots of vitamins and minerals
Collagen and gelatine, are essential for gut health, nails, and hair
Glucosamine and chondroitin, specific for joint health
Glycine enhances sleep quality
Where to find ready-to-eat bone broth in The Netherlands
Impossible finding high-quality broth in the stores. Hereby, all the best online options.
Babs
If you are familiar with Babs, you will know that is a web store with a lot of choices. Available broth of chicken, beef, pork, and pure bone broth. For the broth, are used only organic, high-quality bones sourced from local, organic certified farmers in the Netherlands.
Vlees Bij ons
In Vlees Bij Ons you will find their Bone Broth. It is grass-fed.
Zorgnatuur
Bone broth Zorgnatuur is certified organic. They grow up in nature reserves, are not fertilized, and have never had antibiotics. The drawn stock is therefore pure without artificial fragrances, colors, flavors, preservatives, additives, gluten, or yeast extracts.
Mattisson
Mattisson is selling its version of ready-to-eat broth, which is in powder. So it is actually almost ready, but it will take only 1 minute, by mixing the powder with warm water. Mattisson bone broth in powder.
Where to find bones to make your own broth in The Netherlands
If you want to do your own broth, you have to buy beef or chicken bones. In Dutch, runderbotten and kipbotten.
You can buy amazing Beef bones grass-fed online on the website Vlees Bij Ons.
Read also where to buy grass-fed meat in the Netherlands.
My keto-friendly bone broth recipe
I only did my broth once, and I was not a fan, because of the smell in the house. Plus, I am lazy to do my own.
I bought the beef bones from Vlees Bij Ons. I used a slow cooker. I read that the bones must be cooked for at least 12-24 hours. I don't want to do that. I think 5 hours is more than enough.
Preparation time: 10 minutes
Ingredients:
Beef/chicken bones (grass-fed if you can)
Veggies
Water
Vinegar (optional – but it helps the minerals)
Desired spices
Salt
Instructions:
Place the desired amount (usually I do 500 gr) of bones in the slow-cooker.
Add water, enough to cover the bones. Add the spices, and the veggies you want.
Set the timer for 5-6 hours, in low- mode.
After 5-6 hours, transfer the broth into glasses jars, and let them cool down.
After that, the gelatine and the broth should be divided: keep the gelatine in a jar apart, which can be used as fat to cook. Keep the remaining broth in the fridge (not more than 3 days) or store it in the freezer, like in practical ice-cubes trays. In this way, you have always practical mono portions available, ready to be heated and consumed.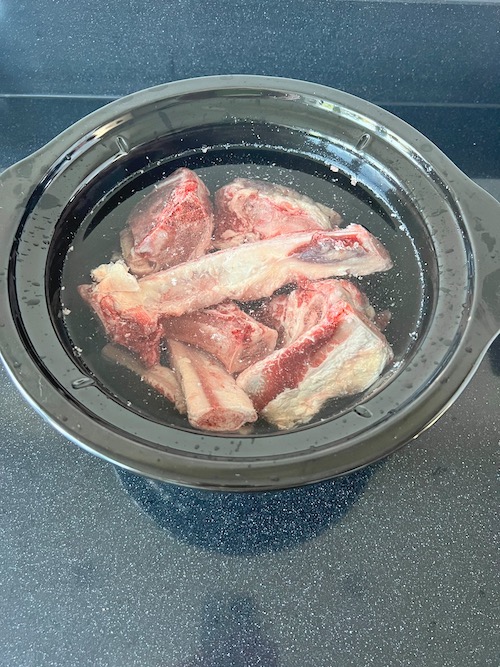 ---
I hope this article on bone broth in The Netherlands is useful.
More posts you may like:
Sugar-free Biltong in the Netherlands
Where to buy keto products in the Netherlands
Grass-fed meat in the Netherlands
---
---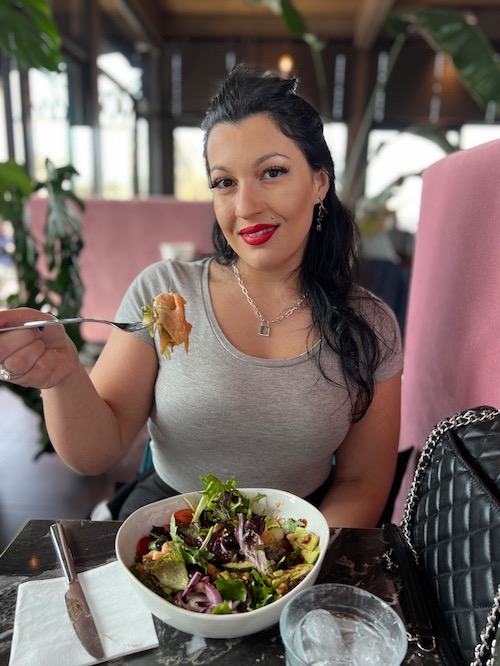 My name is Simona, a keto enthusiast, based in the Netherlands.
I live with my husband, my cat Newton, and a fridge full of cheese.
You find me on Instagram, Pinterest, and sometimes on Facebook.
I also write a lot of keto recipes on my Italian blog keto-with-simona.


Check also:
Keto products review
Discount codes
Keto favorite products
---
---
"This post may contain affiliate links. This means I will get a commission if you purchase through my links, at no extra cost to you. All the opinions are my own. Read the full disclosure here."
---