Navigate to where you want to go:
I recently spent a weekend in Venice, and in this post, I will write a few places where to eat keto in Venice.
Compared to other places I visited, like Malaga or Honolulu, Venice did not have many keto options. The center is full of pizzerias, gelato, and other high-carb snacks.
Keto Breakfast in Venice
Keep in mind that breakfast in Italy is mostly sweet. Don't be surprised to see more than one Pasticceria (pastry bar), where you can find only sugary pastries. Italians love sweet breakfast: pastries, cookies, bread, and jam.
If you want to enjoy a keto breakfast, I suggest signing up for the international breakfast in your hotel (this is what I did, and I am very happy with my choice).
This is the only way to have a big, fat breakfast, that probably will keep you full for a good half day.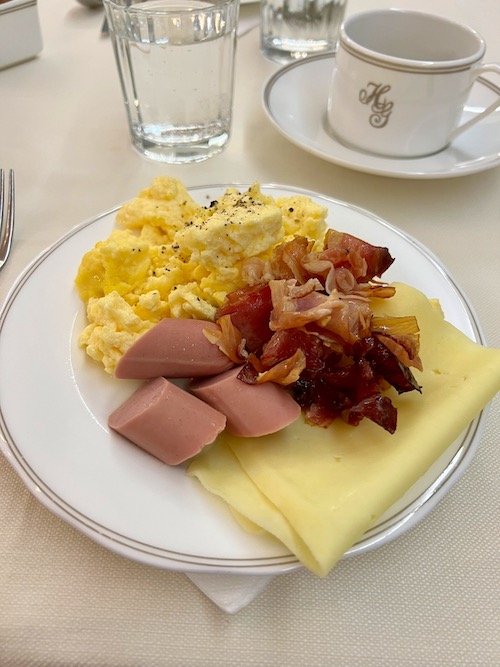 There are a few places serving English breakfast, and also customizable scrambled eggs and omelets:
A few Restaurants where you can eat keto in Venice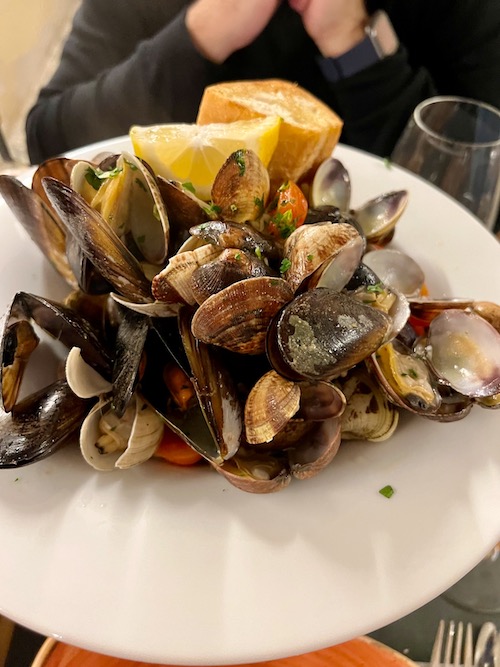 There are many many restaurants in Venice where you can enjoy many low-carb recipes. Here I will mention a few.
Taverna Remer a great place to enjoy a second course. Fish or meat, you will love everything.
They serve fish soup and baked fish.
A few meat suggestions:
Fiorentina in Lava Stone with Seasonal Vegetables
Lamb chops in a pistachio and broccoli crust
Sliced Beef
Low-cooked salmon with seared leek and celeriac cream
Deer carpaccio with pickled yolk and red chicory with raspberry sauce and Parmesan cheese flakes
Classic chateaubriand with vegetables and sauce
They change often the menu. You can find amazing recipes, fish and meat dishes, and salads here. There are a lot of choices for people on a keto diet.
You can find a lot of keto choices here. If you find potatoes, polenta, or fries as a side, ask to be replaced with salad or seasonal veggies.
A few keto choices:
Melanzana ripiena con carne di magro, pomodoro, mozzarella, basilico e pinoli
Pepata di cozze alla busara
Filetto di manzo alla griglia
Branzino o orata alla griglia con insalata mista
Gamberoni alla griglia
Situated in the heart of Venice, you can find here many keto dishes, both fish and meat courses.
Occasionally, they host also music bands. In this restaurant, they serve only fish dishes.
Al Timon, steakhouse.
La Prosciutteria: is not really a restaurant, but an informal place to have amazing trays filled with lunch meat and cheese. You can choose your own combination.
Are the Cicchetti keto-friendly?
Think of Cicchetti as the counterpart of Spanish Tapas. Cicchetti are not keto-friendly because they are served over bread.
If you leave the bread, most of the Cicchetti are keto-friendly and high in fat.
Is there sugar-free Ice cream in Venice?
Online I read that somebody found sugar-free ice cream in Venice. I checked out the suggested places and I haven't found any sugar-free ice cream.
Fast Foods with keto options in Venice
In Venice you will find the most common fast foods chains:

Burger King read here the keto options at Burger King in the Netherlands, and everywhere.
Mc Donalds read here the keto options at Mc Donalds in the Netherlands, and everywhere.
But I really suggest you eat the local food, especially fish.
Is spritz keto-friendly?
Spritz is the most common cocktail in Venice. It is served as aperitivo, happy hour, before a bigger meal, but can be ordered at every moment of the day.
Spritz is not sugar-free or keto, because is made with Aperol, a liquor containing sugar.
Keto options in the supermarkets in Venice
If you are looking for fresh veggies or fish, you will have to visit the Rialto market, which is one of the most tourist places in the city.
The supermarkets in the center are quite small, and you won't find epic sugar-free or keto products.
But rest assured you will find it in any supermarket cheese, lunch meat, nuts, and other common low-carb snacks.
---
If you liked "Eat Keto in Venice: you may also like:
---
---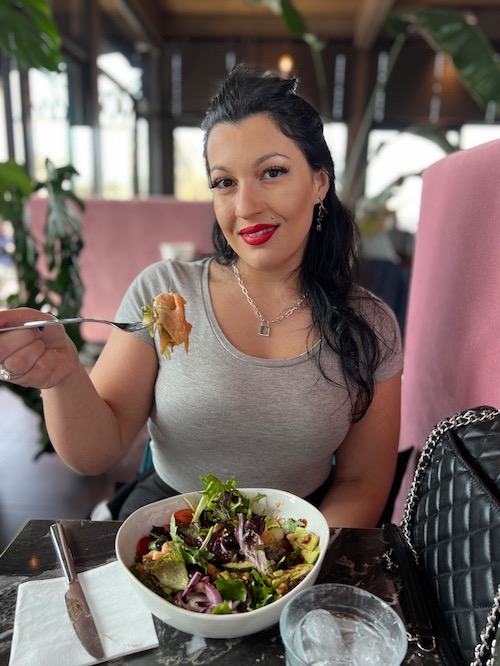 My name is Simona, a keto enthusiast, based in the Netherlands.
I live with my husband, my cat Newton, and a fridge full of cheese.
You find me on Instagram, Pinterest, and sometimes on Facebook.
I also write a lot of keto recipes on my Italian blog keto-with-simona.


Check also:
Keto products review
Keto favorite products
---
---
"This post may contain affiliate links. This means I will get a commission if you purchase through my links, at no extra cost to you. All the opinions are my own. Read the full disclosure here."
---