Navigate to where you want to go:
In this post, I will share how I make my keto protein buns. I recently started a High-Protein keto and I am always searching for ways to introduce more protein to my diet.
This bread is made with only 2 main ingredients, excluding salt and spices.

These buns are high in protein and low in carbs.
This bread is also suitable for egg fast.
This is one of my favorite types of keto bread. The bun is soft, the texture is similar to real bread, and if you spice it with enough salt and spices won't taste eggy, I promise.
Read also the high-protein products I am obsessed with.
Recipe Keto Protein Buns
With this quantity, you will get 12 buns. Alternatively, you can make 1 whole bread.
I prefer preparing the buns, because they need less baking time, and they are mono portioned.
Ingredients
Instructions
Preheat oven to 160C.
Whip the egg whites, using a stand mixer or hand mixer. Mix in the egg white powder, salt, and optional spices, and keep whipping, until firm.
Grease a muffin pan or a bread mold, and add in the mixture. Bake the buns for 15-20 minutes. The bread must cook for longer, about 30-35 minutes.

The bread is ready when the edges are lightly golden. Keep the bread for about 10 minutes in the oven, then remove it and let it cool down.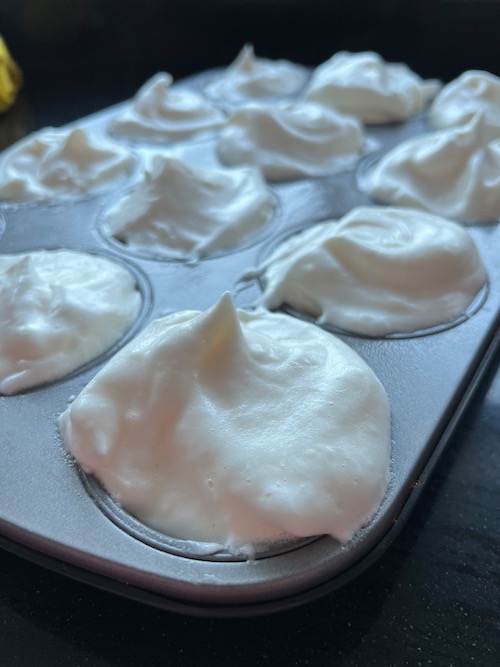 How to store the keto protein buns
The bread can be stored for 4-5 days, in an airtight container. I advise keeping it in the fridge and letting it out 15 minutes earlier.
I freeze the buns for up to 1 month, using a sealable bag.
Calorie and Macros
For 1 keto protein bun:
30 calories
Fats: 0,2 gr
Net carbs: 0,3 gr
Protein: 13,6 gr
Why I love these keto protein buns
This bread is amazing, and this is the best bread you can have on keto or any protein diet. It is suitable for the ketogenic, for any protein diet, and also for the egg fast.
A bun weighs less than 20 grams and has only 0,3 grams of carbs and 13,6 gr protein.
Follow my instructions and you will get a soft bun, the texture is similar to real bread, and if you spice it with enough salt and spices won't taste eggy, I promise.
I suggest consuming this bread with wet foods, like soup, or putting above some oil, cream cheese, or any keto sauce.
If you are into high-protein check this low-fat high-protein cheese out.
TIP: Keep a big glass of water nearby, because this bread is quite challenging to swallow.


Suggested products to make your keto protein buns at home
Egg whites – also available in Jumb/AH
Spices: I suggest using oregano or Italian spices.
---
Read also:
High-Protein Products I am Obsessed with
How I Prepare My Keto Fondue at Home
Best Sugar-free Whey in the Netherlands
Sugarfree Biltong in the Netherlands
---
---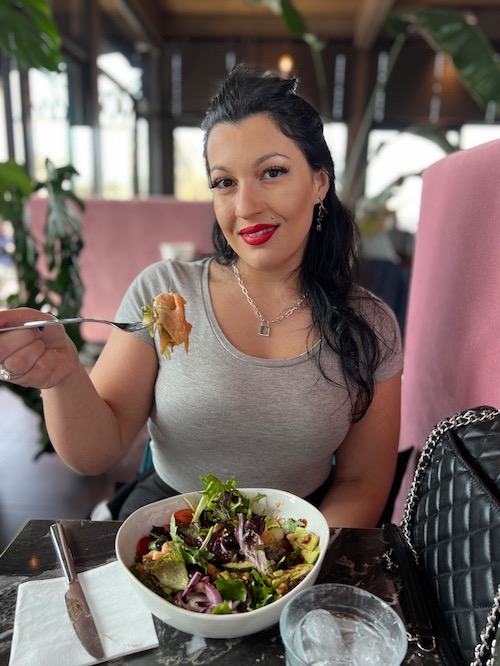 My name is Simona, a keto enthusiast, based in the Netherlands.
I live with my husband, my cat Newton, and a fridge full of cheese.
You find me on Instagram, Pinterest, and sometimes on Facebook.
I also write a lot of keto recipes on my Italian blog keto-with-simona.


Check also:
Keto products review
Keto favorite products
---
---
"This post may contain affiliate links. This means I will get a commission if you purchase through my links, at no extra cost to you. All the opinions are my own. Read the full disclosure here."
---