In this post, I will explain how I test my ketones at home with a Ketone Meter. In the past, I used urine strips, which are very simple in the use, but they are not always accurate.
The most accurate way to test your ketone levels cis testing your blood.
In the beginning, using a meter was challenging. In particular, I couldn't pinch my finger and get a decent amount of blood for the test.
Now that I finally learned how to do it, I am sharing my tips with you.
Necessary to test ketones at home with a Ketone Meter
Meter
The first thing you will need is of course a Ketone Monitor Kit. A Ketone Monitor (or Ketone meter) is a machine that in a few seconds examines the levels of glucose and ketones in your blood.
When you buy a device, you will have a full starter kit: a lancing device, ketones + glucose tester strips.
There are a lot of brands available in the market. I own a device from Keto Mojo.
Another famous brand is Go-Keto, available also at Holland & Barrett.
Go-Keto Meter at Holland & Barrett
Alcohol swabs
Together with a Ketone Monitor kit, you will need also an alcohol swab to sterilize the part of your finger that you will prick. It is always recommended to wash your hands, prior to starting the procedure.
How I test my ketones at home with a Ketone Meter
I start with washing my hands. I open the case of my Ketone Monitor Kit, and I take out the necessary:
The device, 1 lancing device, 1 ketone test strip (1 for the glucose), and an alcohol swab.
Assemble the lancing device, by adding a lancing in the pen. Select the depth of the lancing. I chose always a medium depth, 4.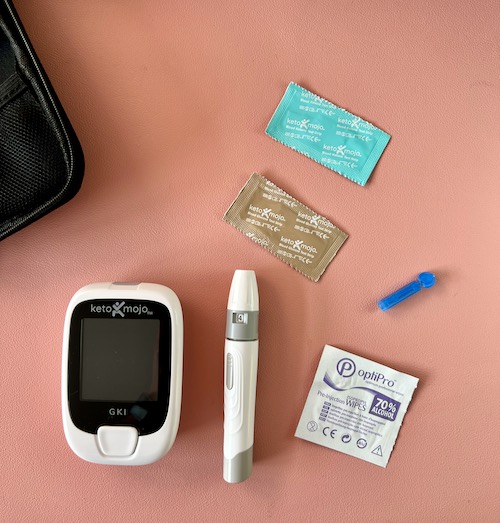 Remove the strip from the shell. Turn on the machine. Insert an unused strip in the device's hole, leaving the blood monitor outside (see photo).
I rub a swap in the part of the finger I will prick. I suggest you to prick the softer part of your finger, to get more blood.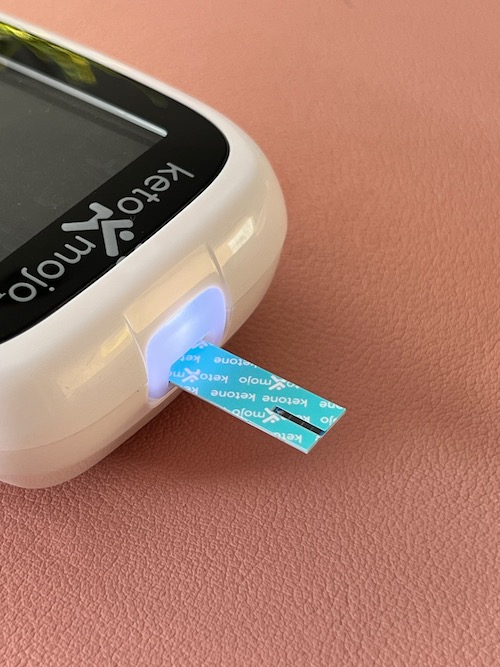 Prick your finger, and massage to push blood out. Deposit 1 or 2 drops of blood into the ketone strip. A countdown will start and in a few seconds, you will have the results.

Do the same with the glucose strip.
You can also sync the device with the app and then you can save your results on the phone.
Syncing in the app is very useful because a number in the machine won't tell you anything about your ketone situation.
In the app, you will also find the explanation of your ketosis and you can keep track of your levels.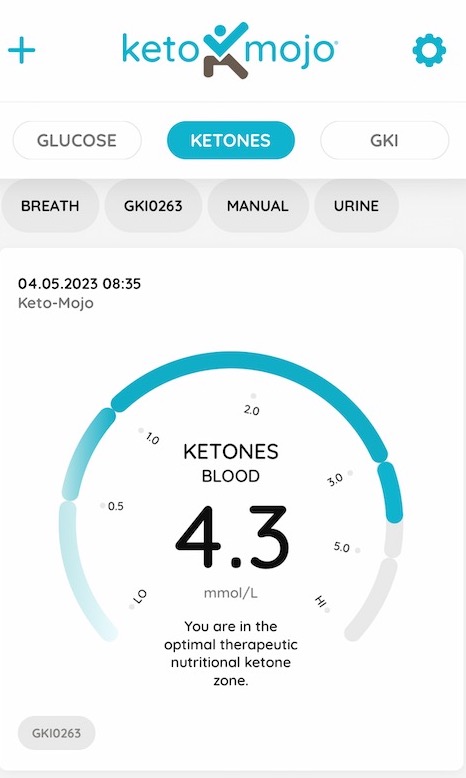 And this is how I test my ketones at home with a Ketone Meter. The ketone meter is my favorite because is the most accurate.
Useful links
Simple tutorial on the Keto Mojo website.
What should your ketone levels be?
What should your glucose levels be?
---
Read also:
Intermittent Fasting, weight loss, benefits and tips
My experience with high-protein keto
Grocery list for the Keto diet
---
---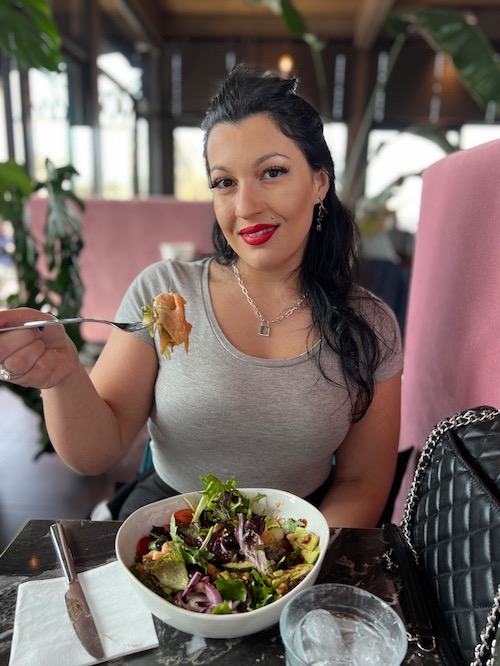 My name is Simona, a keto enthusiast, based in the Netherlands.
I live with my husband, my cat Newton, and a fridge full of cheese.
You find me on Instagram, Pinterest, and sometimes on Facebook.
I also write a lot of keto recipes on my Italian blog keto-with-simona.


Check also:
Keto products review
Discount codes
Keto favorite products
---
---
"This post may contain affiliate links. This means I will get a commission if you purchase through my links, at no extra cost to you. All the opinions are my own. Read the full disclosure here."
---