Navigate to where you want to go:
In this blog post, I will review all the high-protein cheese from the brand Eatlean. As you know, I recently started High-Protein Keto – and since cheese is very fatty, I had to avoid it. Since I love cheese, I have missed it as I did in the traditional keto. Luckily, a friend told me about Eatlean – and I couldn't believe it.
Usually, cheese is very high in calories and fats. But Eatlean produces high-protein, low-fat, and low calories cheese.
Read also: High-Protein Products I am Obsessed with
Products
All the cheese is low-carb, low-fat, low-calories, and high in proteins.
The main ingredients are: Pasteurized cow's milk and salt.

The cheese is available in: blocks, grated, slices, and cream. There are several flavors of cheese, but my favorite is the original because is the lowest in fats.
Original Cheese
This is the most popular Eatlean cheese. It is the lowest in carbs and calories. This cheese is available in blocks, slices, grated, and cream.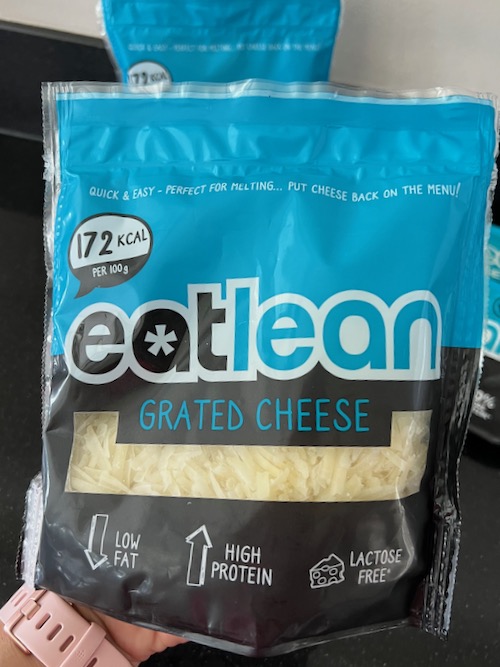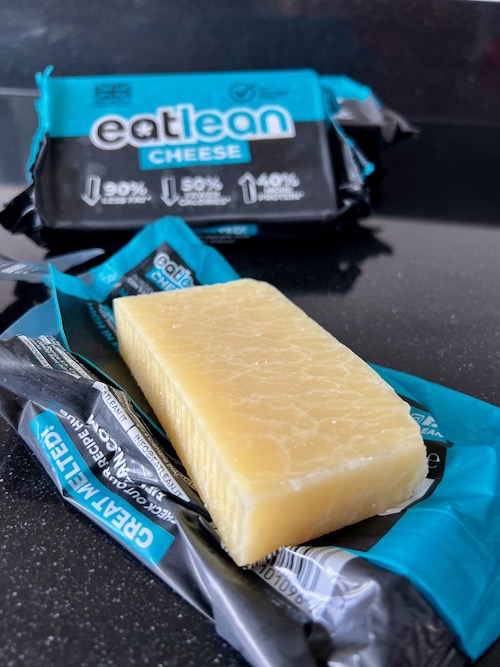 The flavor is described with a naturally strong Cheddar flavor, but honestly, I don't taste cheddar. Is more of a mild no fatty cheese. Incredible that is so low-fat.
The nutritional values per 100 gr:
169 calories
37 gr protein
3 gr fats
0,5 gr carbs
Spreadable Cheese
The spreadable cheese is quite creamy and tasty. Compared to Philadelphia Extra Protein it has more protein, but also more carbs and fats, so keep this in mind. The taste is stronger than the Philadelphia and the texture is creamier.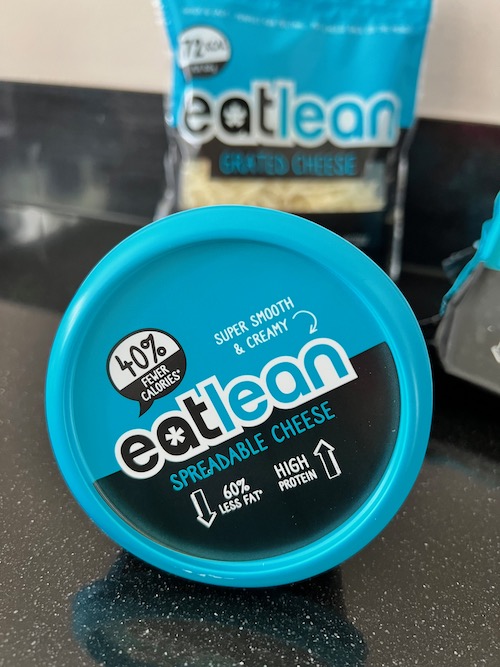 The values for 100 gr:
138 calories
17 gr protein
5,8 fats
4 gr carbs
Tasty Mature Cheese
Mature cheese is available in blocks and slices. This cheese has more fats, calories, and carbs than the Original, but overall, fits perfectly a high-protein or keto diet.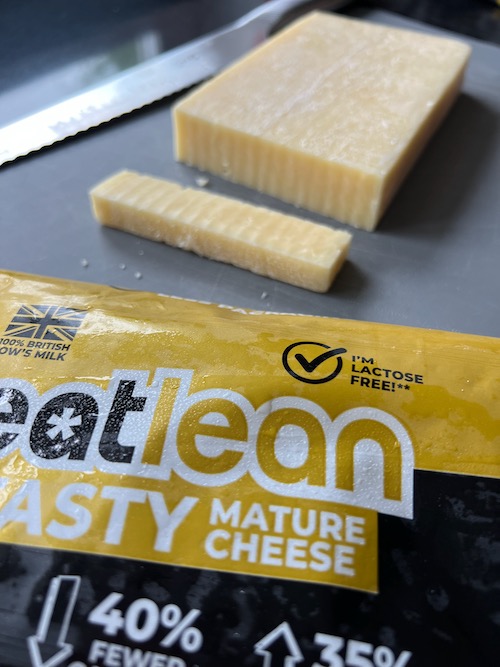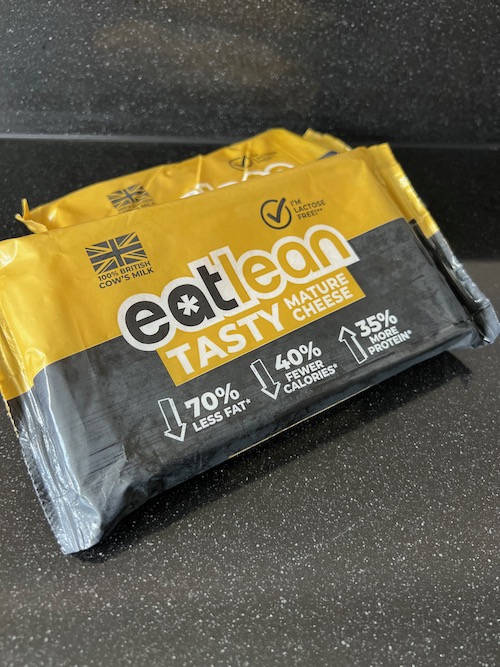 The nutrition per 100 gr
237 calories
34,1 protein
10 gr fat
2,4 gr carbs
(The values are for the blocks – keep in mind that the grated cheese has similar values but more carbs).
Smoked Cheese
Only available in blocks.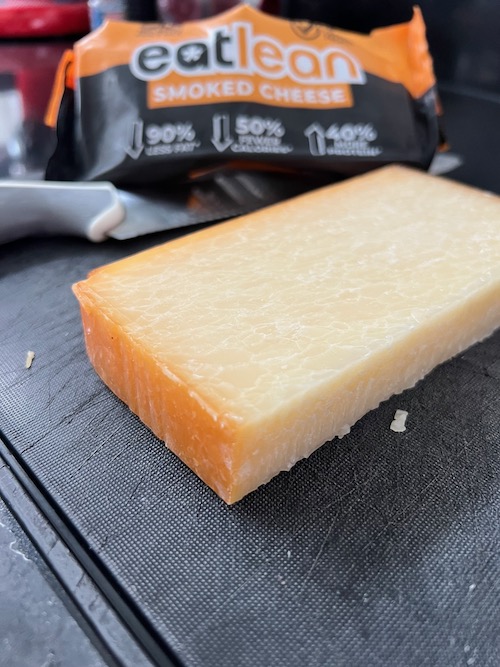 Per 100 gr:
169 calories
37 gr protein
3 gr fats
0,5 gr carbs
Red Cheese
Only available in blocks.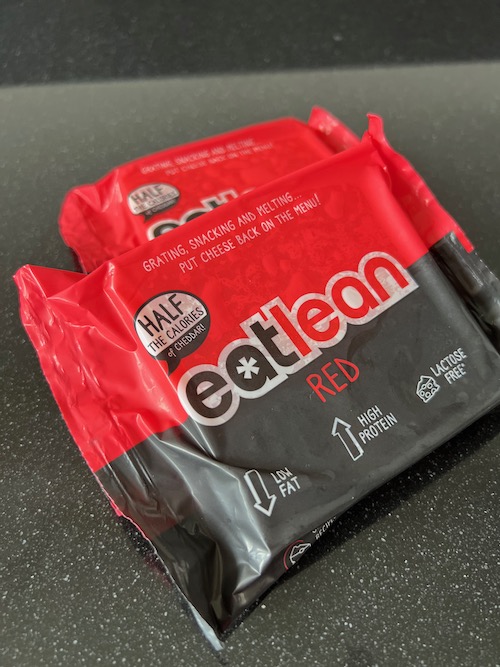 Per 100 gr:
169 calories
37 gr protein
3 gr fats
0,5 gr carbs
Where to Order Eatlean products
You can order on their European website or the UK website.
With the code TRUSTNOCARB you will get also a 10% discount on your entire order.
Is Eatlean cheese ok for the keto diet?
Yes, Eatlean cheese is okay for a keto diet and it is high in protein.
Is Eatlean cheese ok for the high-protein diet?
Eatlean cheese has more protein than regular cheese and it is perfect for an high-protein diet.
Is Eatlean cheese gluten-free?
Eatlean does not any contain wheat or gluten, so it is safe for a gluten-free diet.
My opinion on Eatlean High Protein Cheese
Definitely, this is my favorite discovery of 2023. As I started high-protein, I was missing cheese so much and now I found a great replacement. I am so happy because the texture and flavor are great – and I don't miss the fatty cheese at all!

For all the cheese lovers willing to increase their protein intake without all the fats, I strongly suggest you try Eatlean – and thank me later.
If you have to choose one, go with the Orginal, since is the one with the best values. I love that you can choose among blocks, grated cheese, and slices, so you can also make amazing high-protein recipes. I am looking forward to re-adapt my keto recipes on high-protein.
---
Read also:
High-Protein Products I am Obsessed with
Best Sugar-free Whey in the Netherlands
Sugar-free Biltong in the Netherlands
---
---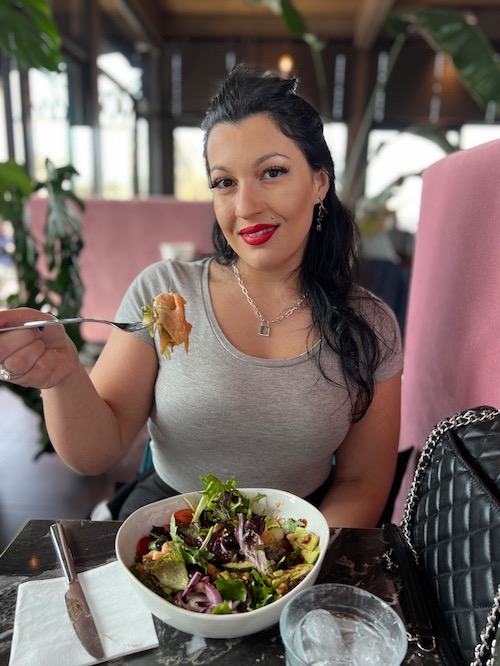 My name is Simona, a keto enthusiast, based in the Netherlands.
I live with my husband, my cat Newton, and a fridge full of cheese.
You find me on Instagram, Pinterest, and sometimes on Facebook.
I also write a lot of keto recipes on my Italian blog keto-with-simona.


Check also:
Keto products review
Discount codes
Keto favorite products
---
---
"This post may contain affiliate links. This means I will get a commission if you purchase through my links, at no extra cost to you. All the opinions are my own. Read the full disclosure here."
---