Navigate to where you want to go:
In this blog post, I will talk about my favorite home workouts. Even if I have 2 gym memberships, from time to time I still like to have a sweaty workout at home.
I worked out at home for many years. I started working out at home when I was a young teenager, with a book by Jane Fonda, (if you are curious about the exercises, I found a video here).
In my late 20s, I tried Jillian Michaels's workouts, and in the past years, I tried A LOT of home workouts.

I home-trained so much, that I decided to share with y'all my favorite workouts because there is good stuff out there – you don't need a gym to have a badass workout.
Why I love working out at home
Can give amazing results.
Is cheaper.
Doesn't involve going out.
You can go straight to shower, in your house.
You can exercise anytime, and a small space is required.
Nobody is watching you, besides family or pets.
My essentials from working out from home
Here are my essentials for a proper home workout:
Mat: don't save money on the mat, you need a good one, that will stay in place. Gamechanger.
Dumbbell set: If you have money and space to invest, I suggest you a full set.
Elastic bands: for booty gains, trust the elastic band.
Fitbit: This is essential to my life, not only during my workouts. It keeps track of my exercise, steps, calories burned, and much more.
Jump rope: I have to use it often, I admit it, but the jump rope is one of my favorite tools to use in the summer.
My Favorite Home Workouts
I have divided the workouts into categories: no equipment needed and equipment needed. The workouts are also different types: HIIT, weight lifting, yoga, pilates, rope, or just walking.
My favorite Home Workouts – No equipment needed
The following video doesn't require equipment. I always suggest having a mat with you, wearing shoes, and having water with you.
10 Min Core Workout – Carolyn Girvan
20 Min Core Strenght – Heather Robertson
10 Minutes Kickboxing with Andrea Taylor is short but sweaty!
15 min dance party Workout do you like to dance? You will love this fun workout. I usually burn around 150 calories in only 15 minutes.
30 Min Pilates Yoga Workout -Move with Nicole
20 min cardio workout kickboxing is perfect if you feel are in the mood of kicking and punching
20 min Kickboxing grit with Utah Lee
30 Minutes Cardio Kickboxing with Heather Robertson
30 Minutes Walking with Leslie Sansone is amazing for beginners. Just to hit your daily steps goal (indoor).
30 Min Pilates with Heather Robertson
45 Min Tabata HIIT – Nicole Yco
My Favorite Home Workouts – Equipment Needed
You need basic equipment for these videos: a mat, at least a set of dumbbells, a rope, and an elastic band.
Miscellaneous
15 Min Jump Rope Workout – a rope is needed, but I also did it without a rope
20 Min full body workout – no-repeat – Carolyn Girvan
35 Min OPUS – Jillian Michaels
25 Min Kickbox – Jillian Michaels
Upper body
20 Min Biceps Workout – Carolyn Girvan
15 Min Tricep Workout – Carolyn Girvan
15 Min Chest & Shoulder – Carolyn Girvan
15 Min Standing ABS + Core + Arms – Carolyne Girvan
Lower Body
15 Min Compound Leg Workout – Carolyn Girvan
20 Min Glute Workout – Carolyn Girvan
20 Min Quads Workout – Carolyn Girvan
30 Min Glute + Outer tight workout – Carolyn Girvan
40 Min Leg Workout – Carolyn Girvan
40 Min Leg Day – Eather Robertson
---
I hope this post will be useful. Have you tried any of these workouts? Let me know!


Read also:
Benefits and tips of Intermittent fasting
My Experience with High Protein Keto
Best Sugar-free Whey in the Netherlands
---
---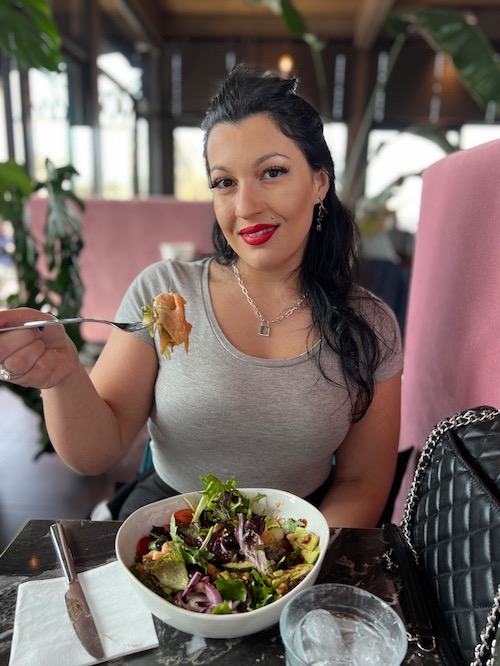 My name is Simona, a keto enthusiast, based in the Netherlands.
I live with my husband, my cat Newton, and a fridge full of cheese.
You find me on Instagram, Pinterest, and sometimes on Facebook.
I also write a lot of keto recipes on my Italian blog keto-with-simona.


Check also:
Keto products review
Keto favorite products
---
---
"This post may contain affiliate links. This means I will get a commission if you purchase through my links, at no extra cost to you. All the opinions are my own. Read the full disclosure here."
---