Navigate to where you want to go:
I recently had a lovely keto meal at Barraca a Brasilian Restaurant Grill & Bar in Hoofddorp. What's special about Barraca?
The high-quality meat and the very special serving style. And of course, it is so easy eating keto and low-carb at Barraca!

Read also:
Eat keto and low-carb in Amsterdam
Where to find grass-fed meat in the Netherlands
To know about Barraca
Halal and vegetarian options are available upon request.
They are closed Monday and Tuesday
Rodizio is the basic package, but they have several packages. Read here all of them.
High-quality meat at Barraca
There is a lot of meat variety: beef, lamb, chicken, and pork.
The quality is amazing and is cooked in the typical Brazilian churrasco grill.
On the table, you will find also a guide on the several meat cuts they serve.
Serving experience at Barraca
The concept is very simple. In short, you can fill up your plate at the buffet with the side dishes and starters. At the table, you will be soon visited by the passadores, walking around with skewers with freshly grilled meat or fish.

You can let them know that you would like some meat or that you would like to take a little break using the red and green coins on the table.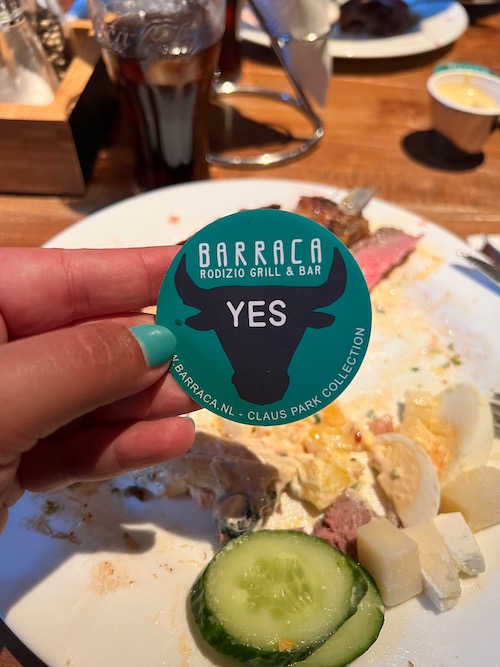 All the keto options at Barraca
Barraca is full of keto and low-carb options.
Meat and fish keto options at Barraca
All the meat and fish is keto-friendly. The way is grilled is au natural, meaning they are not putting sauces on it.
They put a few spices, but no sugary stuff.
Depending on your package, you can also have grilled fish.
Starters and side dishes keto options at Barraca
At the buffet, you will have a lot of keto options. A few of them:
Cheese blocks, several types
Mozzarella balls
Boiled eggs, in oil
Lettuce, salades, veggies
There are sauces, but there is no description. I suggest staying away from them.
You can instead use olive oil.
Small tip: do not fill too much of your plate with the side dishes. Enjoy the amazing grilled meat.
Notice: the buffet selection may vary. I visited Barraca in May 2022.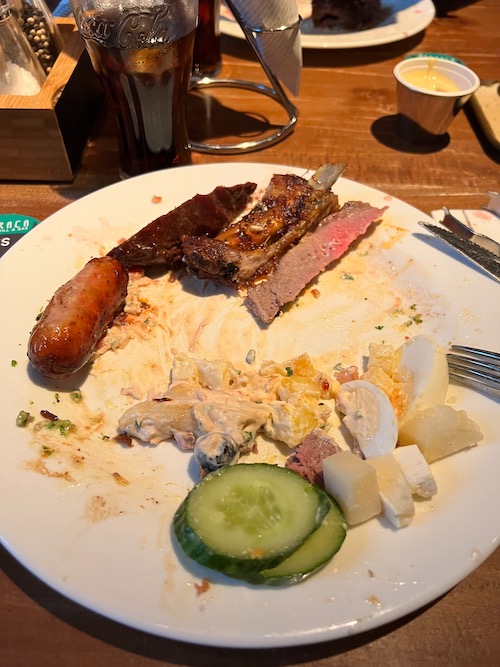 Barraca: my opinion
I had a great time at Barraca Brasilian Restaurant, and I am happy that it is so easy to eat keto here. The environment is cozy and very friendly.
Amazing meat. The only negative note that I found is that you cannot really ask how cooked you want your meat. Some cuts will arrive medium rare – and if you want your meat well done, this is not really the place for you.
Overall, amazing place that I recommend.
---
More articles you may like:
Where to find grass-fed meat in the Netherlands
Where to buy keto products in the Netherlands
---
---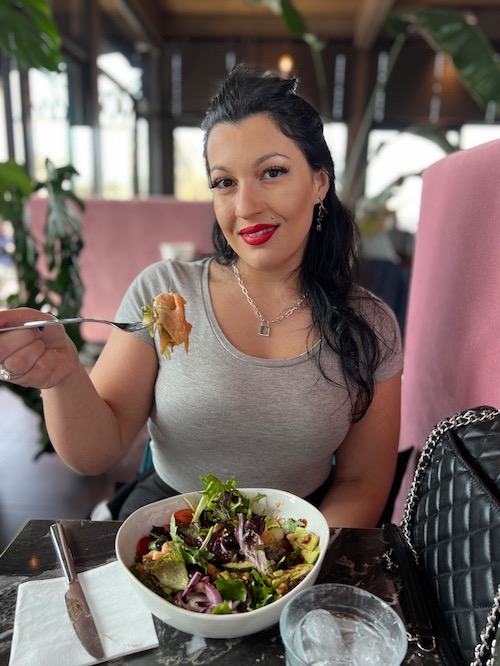 My name is Simona, a keto enthusiast, based in the Netherlands.
I live with my husband, my cat Newton, and a fridge full of cheese.
You find me on Instagram, Pinterest, and sometimes on Facebook.
I also write a lot of keto recipes on my Italian blog keto-with-simona.


Check also:
Keto products review
Discount codes
Keto favorite products
---
---
"This post may contain affiliate links. This means I will get a commission if you purchase through my links, at no extra cost to you. All the opinions are my own. Read the full disclosure here."
---