Navigate to where you want to go:
I recently spent a few days in Malaga, and I loved eating keto in this lovely city. Eating keto in Malaga, or in Spain in general, is very easy. Think cheese, fresh fish, and amazing meat. Spain is amazing for us keto lovers.
If you like to travel, read also:
Where to eat keto in Malaga
It's amazingly easy to eat keto in Malaga. Spanish cuisine uses a lot of good-quality meat, seafood, and olive oil. Being a Mediterranean diet, Spanish cuisine is also very healthy.
In every place you will visit, I am sure you will find some keto or low-carb options.
Restaurants where you can eat keto in Malaga
Learn 2 words: Chiringuito and Marisqueria. These are the best places where you will eat keto in Malaga.

A keto must-do in Malaga is having lunch or dinner in one of the numerous Ciringuito that you can find on the beachfront in Malaga. A Chiringuito is a beach restaurant, where you can have a fresh meal, usually tapas and fresh fish, cooked on the beach.
Seriously guys: imagine yourself sitting on the beach, with your sunglasses on, sipping white wine, and ordering some fresh and delicious seafood.
I suggest the Playa la Malagueta, for a long walk on the seafront followed by serious, fresh fish.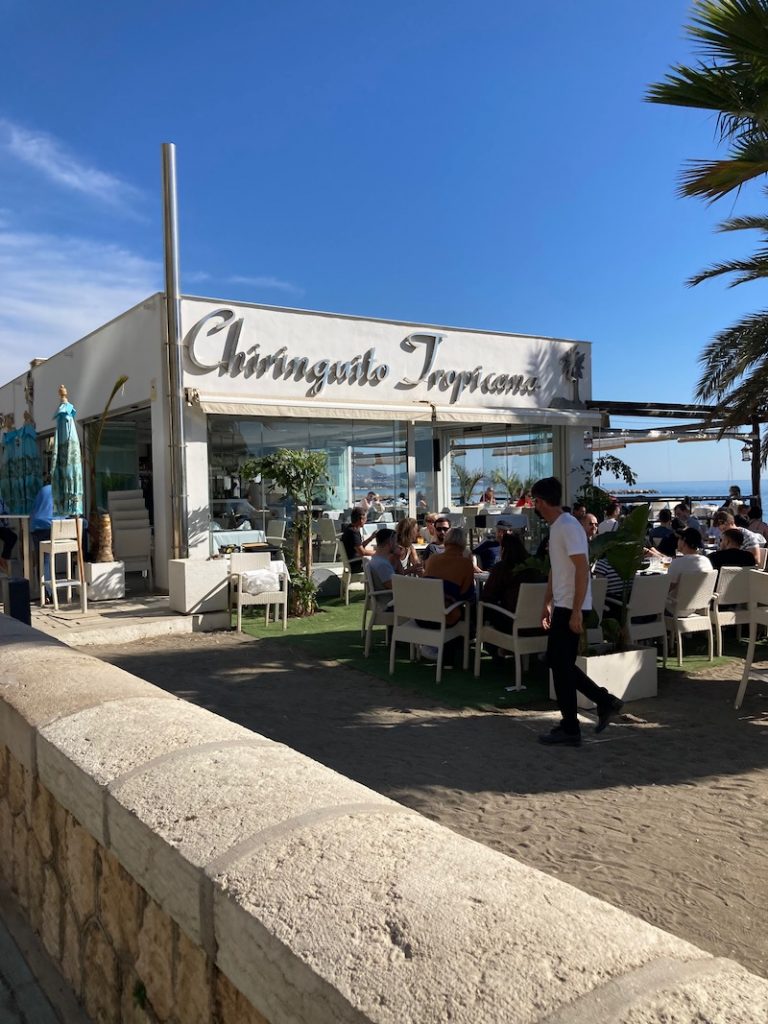 Marisqueria, which is any seafood Restaurant, and in these places you can also eat fresh fish! They are a little bit more formal than the Chiringuito on the beach, but you know, you can dress up how you want!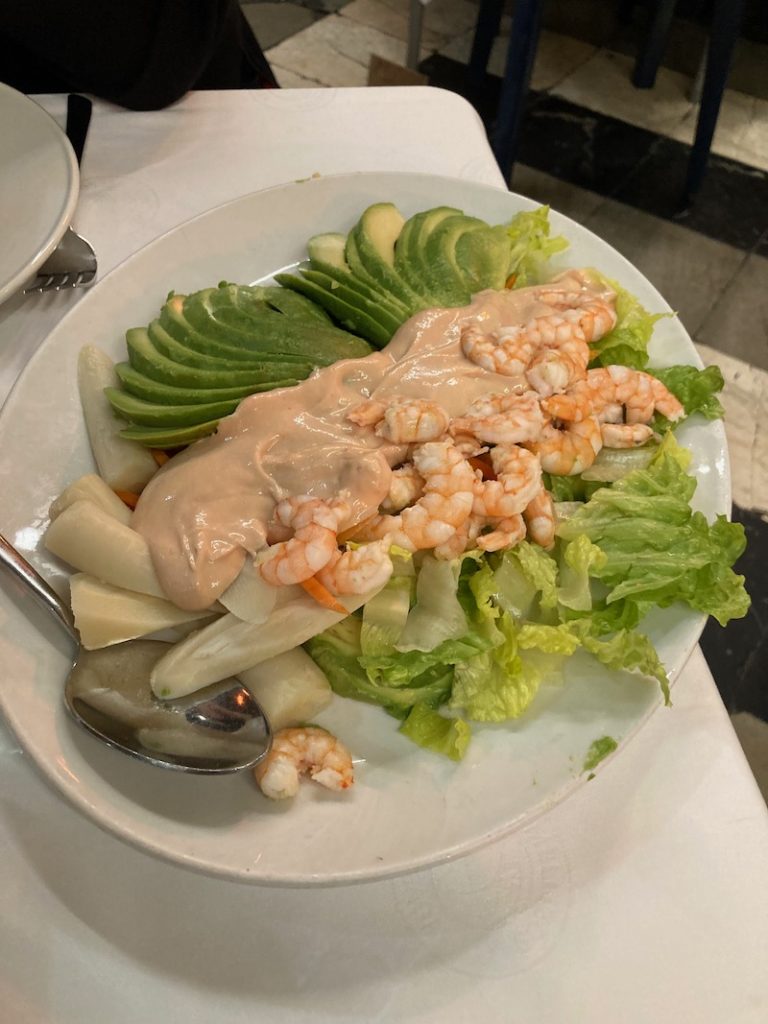 Overall, I suggest eating in a Chiringuito for lunch, and in a Marisqueria for dinner.
The restaurants I liked more in Malaga:
Chiringuito Tropicana – P.º Marítimo Pablo Ruiz Picasso, s/n, 29016 Málaga, Spain
Marisqueria Los Mellizos – C. Sancha de Lara, 7, 29015 Málaga, Spain
Places to eat keto near Malaga
If you are up for a drive, I suggest the Keto Royal Kafé, a bar serving low-carb and keto options. It is situed in Marbella, 1 hour drive from Malaga. They cook low-carb and gluten-free.
They have really interesting recipes, such as keto bread and keto muesli. I really suggest you to visit this amazing place.
Keto products to try
Here are a few keto products that are a must-try in Malaga(and in Spain in general):
Pimiento de padrón, in English Padron Peppers, a variety of peppers from north Spain. Many restaurants serve them.
Jamon, dry-cured ham typical of Spain
Pescado, of course, the fish is amazing! Order it grilled and you will have great memories.
Queso! Because the Spanish cheese is life!
Tapas, of course! Small snacks based on meat, cheese or fish. Be careful to not order the ones that contain the carbs!
Keto products you can buy in the supermaket
Spanish supermarkets are surprisingly full of keto products. I will move to Malaga just for this. Even the smallest supermarket has a lot of qualities of fresh fish. And also Jamon.
Cheese, berries, nuts, 0 carb drinks. I found a torrone with only 8 net carbs: not bad, for a tiny tiny market.
But what I loved more is Octopus and mussels in a can. In a can!!!!!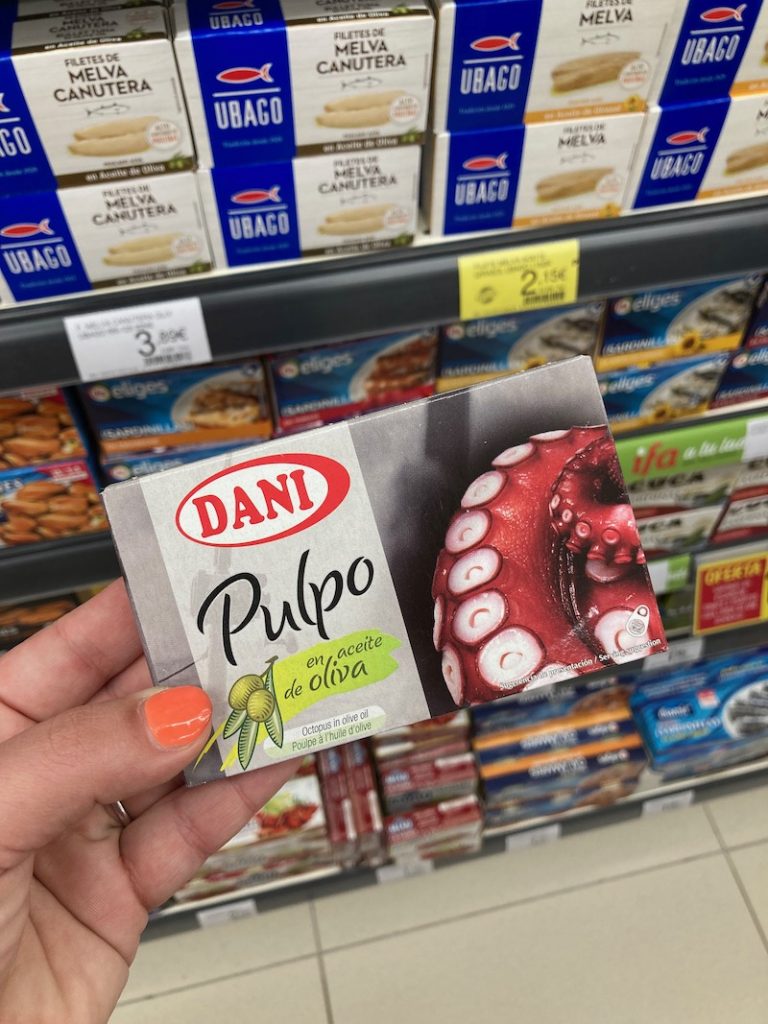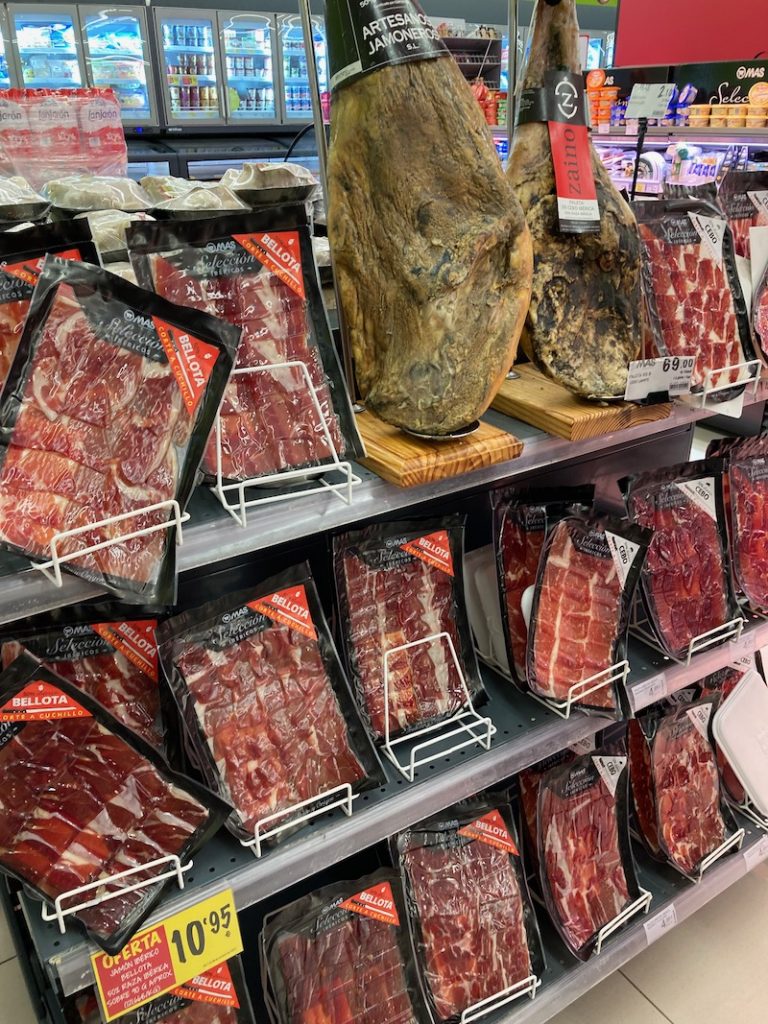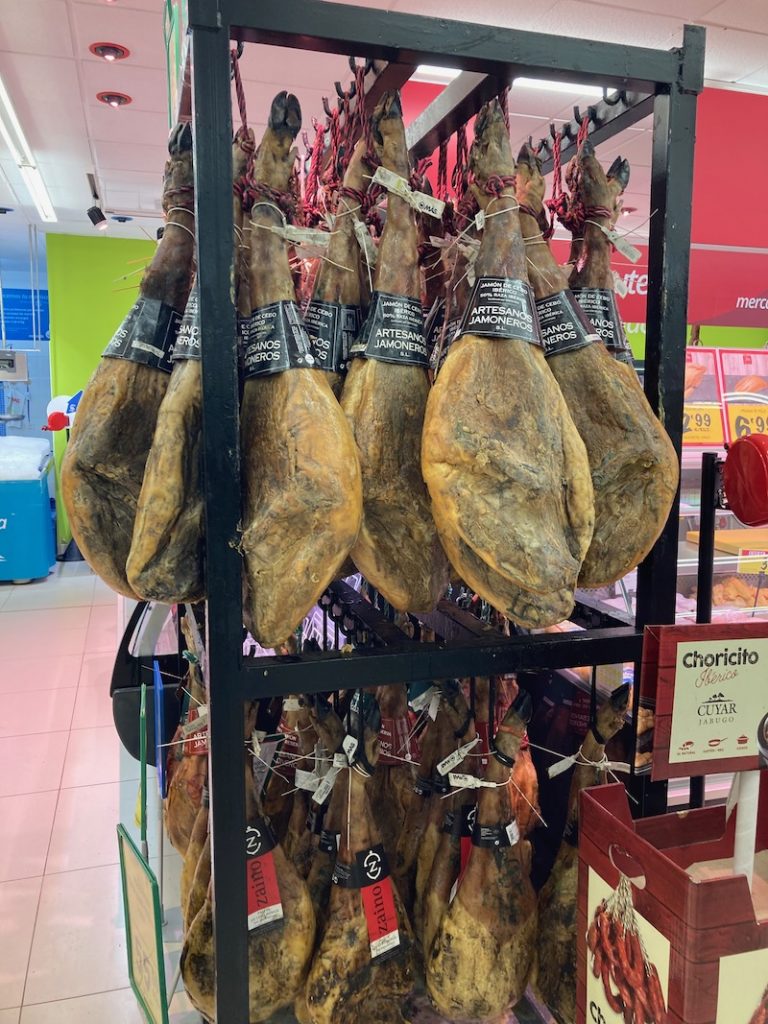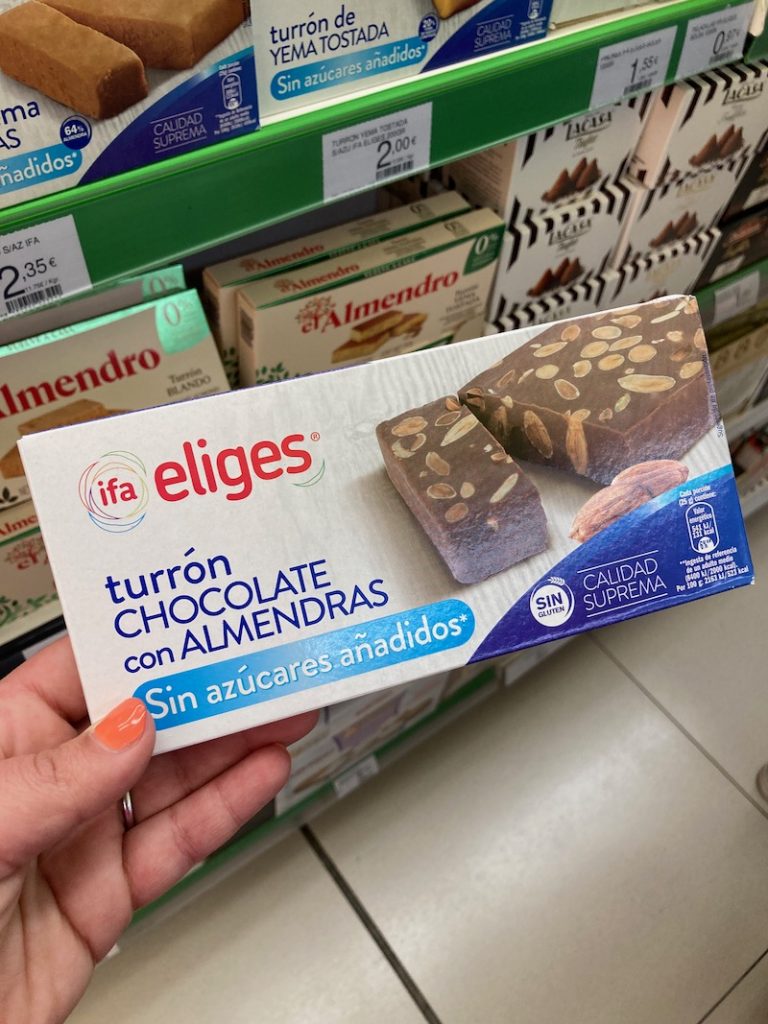 Keto delivery in Malaga
If you are renting an apartment, check Holaketo, a company that delivers ready-to-eat keto food in Malaga. If you have an accomodation in Malaga, this can be a useful option. Check the menu on Holaketo Instagram profile.
Low-carb Souvenirs
Exploring the city, I found a pleasant place, selling interesting low-carb souvenirs. This can be useful if you have friends in keto or low-carb and you want to gift them with something Spanish, but still, that will suit their diet.
The shop (but is actually a chain) is called Sabor a Espãna. You can find cute gift boxes of several kinds of nuts, that are just perfect. I found also some variety of torrone, without sugar (but with Maltitol, but still, quite nice).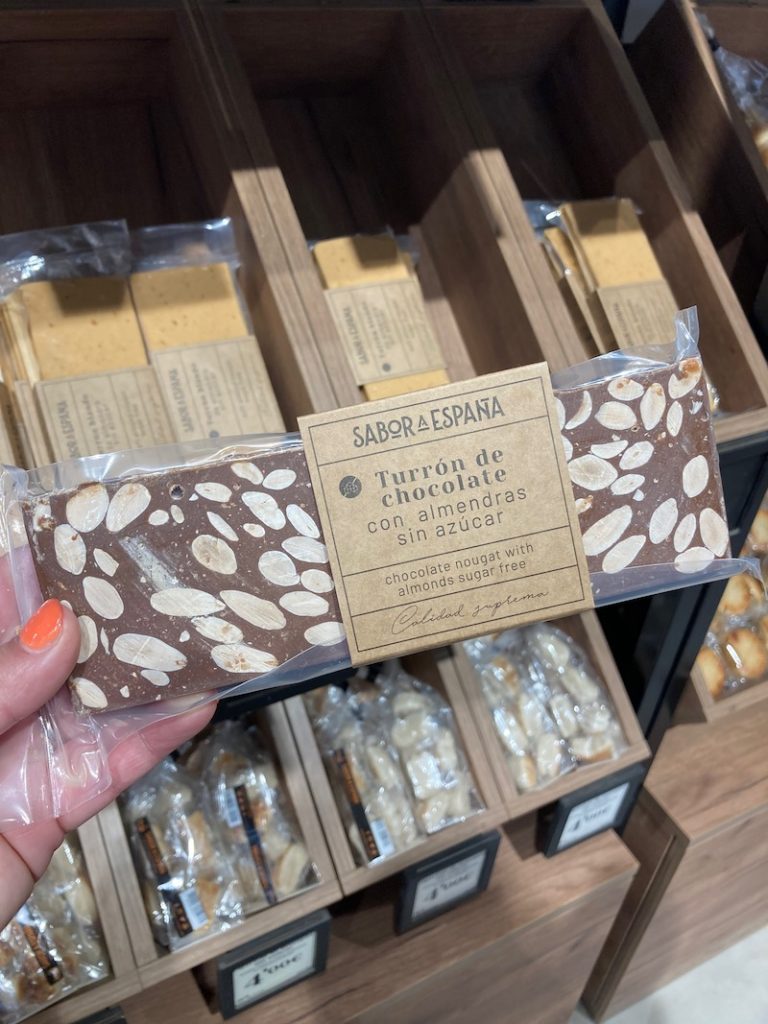 In the center of the city, there are many typical shops, selling high-quality Jamon and cheese, and I think these make wonderful gifts, even for friends not on a specific low-carb diet. Well, for sure they are great gifts for us!
Tips for a keto stay in Malaga
Focus on eating fish and meat. After all, the Spanish quality is one of the best.
If you have your breakfast in the hotel, for sure you will find eggs, cheese and veggies.
If you are renting a house/apartment for your stay, make smart shopping: buy also small snacks to take with you during your tours in the city.
Bonus tip: don't eat the bread, even if you will pay for it. They write "bread" but they mean the extra charge for your table (tablecloth and cutlery).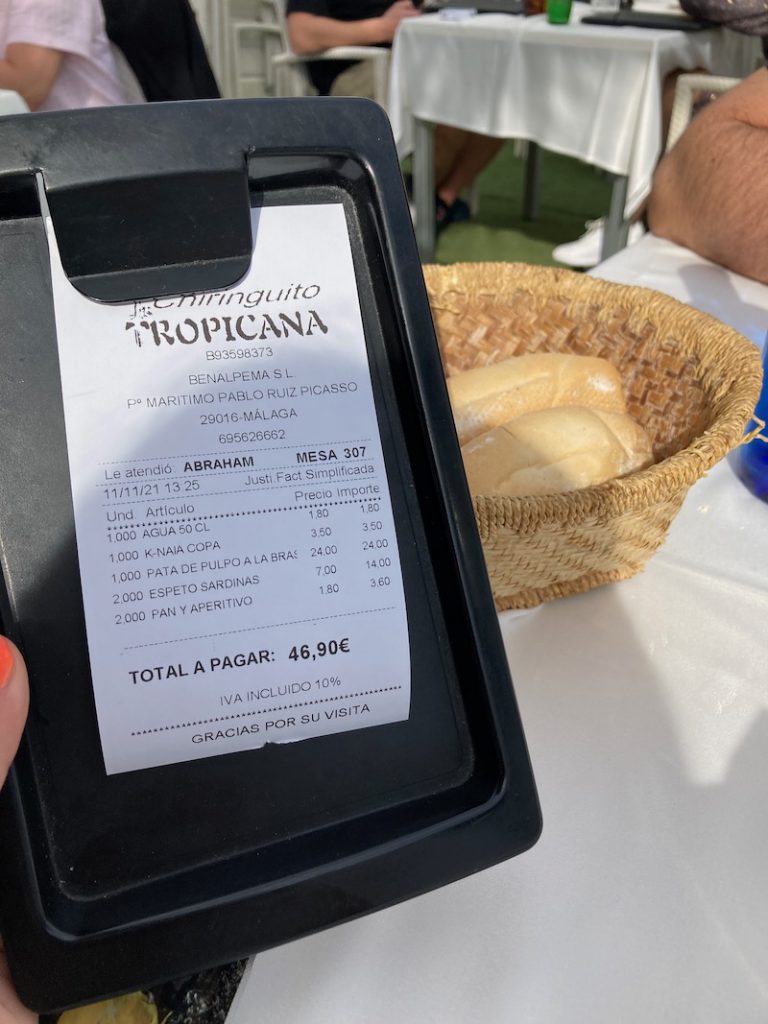 Conclusion
Malaga is a wonderful city to spend a few days in, and eating keto here is very easy, thanks to the abundance of places where to eat very fresh seafood and meat.
Read also:
Keto products to pack for a trip
Tips to eat keto during a holiday
---
---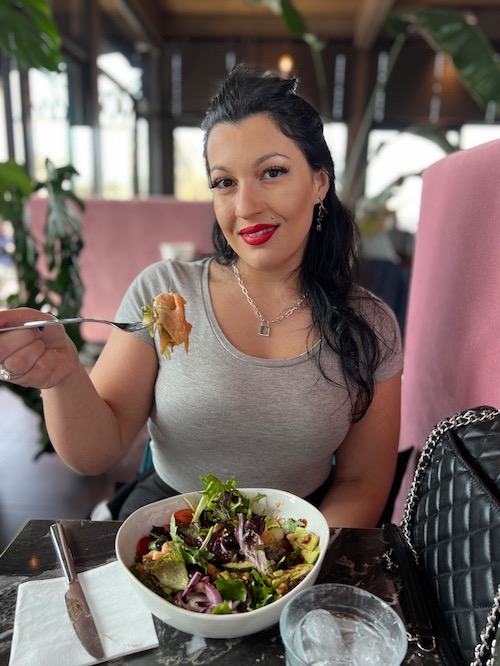 My name is Simona, a keto enthusiast, based in the Netherlands.
I live with my husband, my cat Newton, and a fridge full of cheese.
You find me on Instagram, Pinterest, and sometimes on Facebook.
I also write a lot of keto recipes on my Italian blog keto-with-simona.


Check also:
Keto products review
Discount codes
Keto favorite products
---
---
"This post may contain affiliate links. This means I will get a commission if you purchase through my links, at no extra cost to you. All the opinions are my own. Read the full disclosure here."
---