Navigate to where you want to go: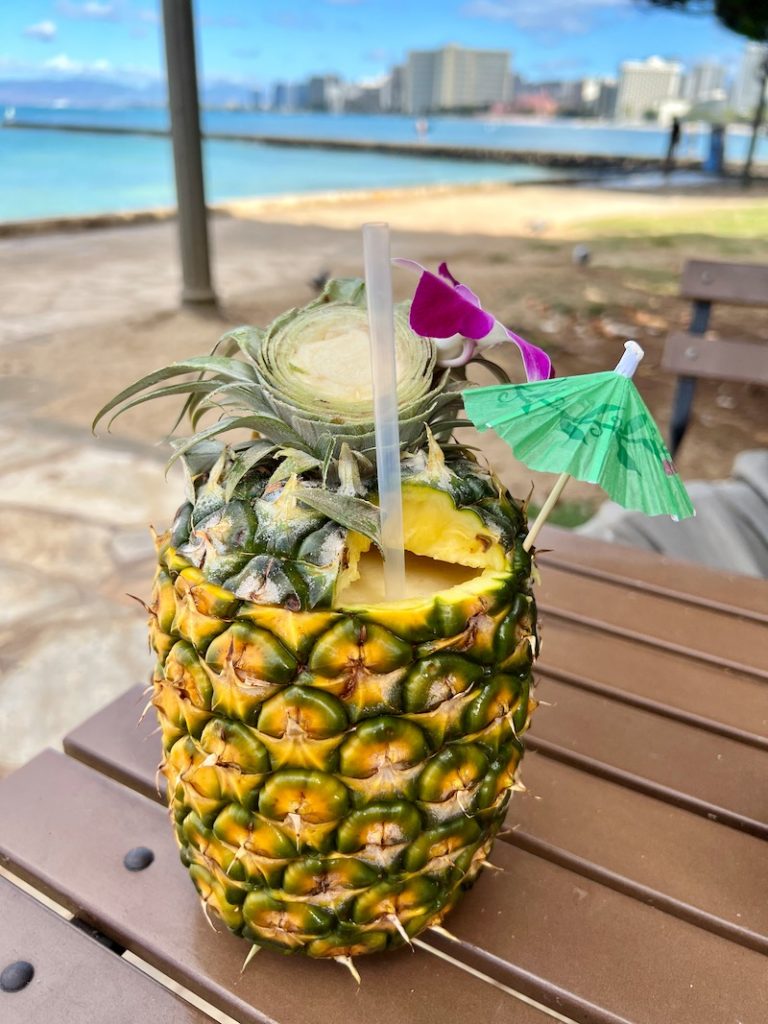 In this post, I will talk about how to Eat Keto in Hawaii, with a focus on Oahu. I visited Hawaii in mid-September and October 2022, and although I enjoyed multiple Mai-Tai's and pineapple juice, I often ate keto.
I found no blog posts regarding keto eating in Ohau prior to my departure, so I decided to write one myself.
If you like to travel, read also:
In this blog post, you will find my tips and everything you need to know about keto in Hawaii focused on the island of Oahu, Honolulu, and Waikiki.
Is it easy to eat keto in Hawaii?
Eating keto in Hawaii is not hard! The thing is, the meals you will find in restaurants, shacks, food trucks, and diners include always a side recipe like rice or mashed potato.
If you are able to switch these sides with a salad or a cabbage side, then your meal is entirely keto-friendly.
Supermarkets have a lot of packaged goods (cookies, bread, snack bars, …) that are keto certified and sugar-free. An idea is to bring with you your keto bread and replace it with the one they serve you in the restaurants.
Typical Hawaiian food that is also keto
Did you know that many Hawaiian recipes are keto? Skip the rice and all the following Hawaiian recipes are keto-friendly.
Lau Lau chicken
Kalua Pork
Poke bowls
Shave Ice (sugar-free options)
Loco Moco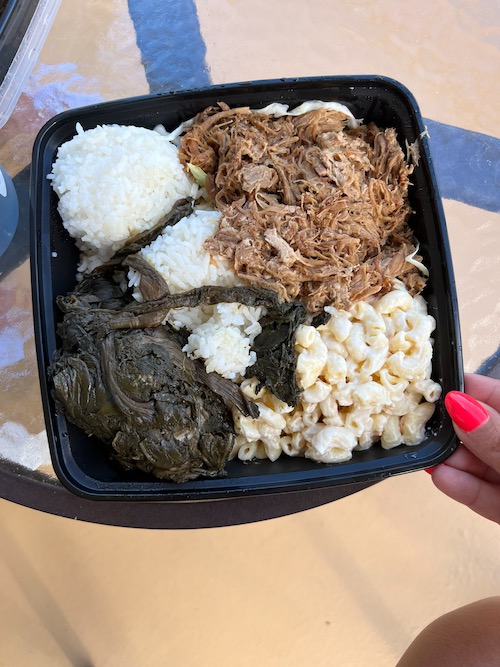 Where to eat keto in Hawaii
In Hawaii, you can find a keto option almost everywhere. Restaurants, food trucks, coffee shops, and supermarkets always have a few keto and low-carb options.
Where to have a keto breakfast in Hawaii
The American breakfast is unfortunately sweet, so pancakes are king.
You can find a place where they do an English breakfast. My tip is to skip any bread and rice, and replace it with salad, or bring keto bread with you (read below where to find it!).
Here are a few places that I visited for breakfast, with easily customizable keto options:
Egg and Things (Hawaiian recipes with eggs and meat)
Danny's diner (American recipes)
Barefoot cafe (Hawaiian recipes)
Starbucks (You will love the egg bites)
Mc Donalds (Serves Hawaiian recipes as well!)
Keto lunch and dinner in Oahu
There are a lot of restaurants, food trucks, and diners all over Oahu, especially in Honolulu and Waikiki areas.
Below you will find the best ones and the ones that I tried. Remember always to switch the carbs for a salad or another carb-free option.
Restaurants with keto options in Oahu (Informal)
Helena's food
Ono Seafood
Red Lobster
Chipotle
Egg'n'things
Danny Diner
Cheesecake Factory
Subway (here you can order the "no bready bowls")
Duke's
Izakaya Danij
Kono's (Pick up or delivery only)
Papa Johns's (Pick up or delivery only- here you can have the Pizza Bowls)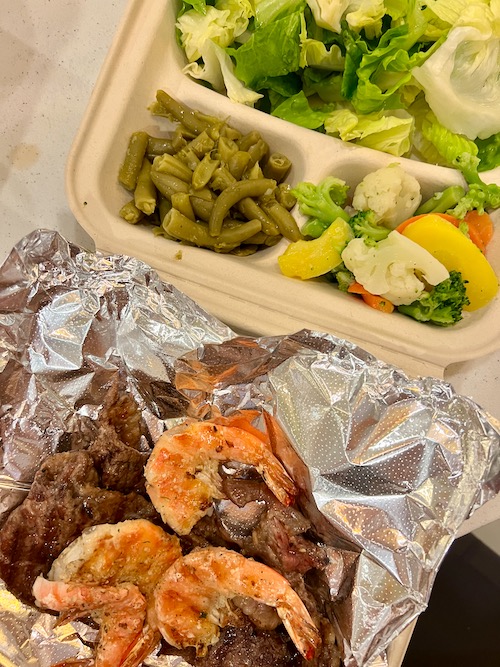 Restaurants with keto options in Oahu (Formal)
Orchid
By the Sea
Hy's steakhouse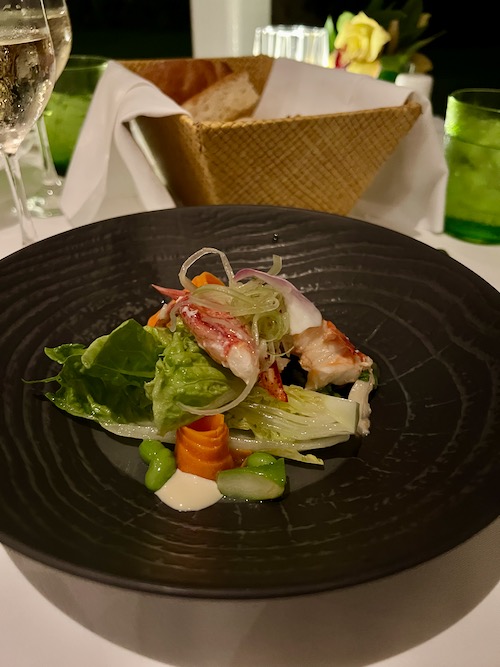 Food trucks with keto and low-carb options in Oahu
In Oahu, food trucks are popular. Imagine you just finished a hike and you are starving, but you are too far from the city. Food trucks are usually chains, and they have several trucks around the island.
You will find trucks everywhere when you are away from Waikiki, and some of them are very famous on the island.
I am not kidding: in the high season, the queue can be up to 1 hour!
The most famous food trucks are serving Hawaiian recipes, especially fish recipes. Yes, you should order the garlic shrimp.
Top-rated food trucks to eat keto and low carb in Oahu:
Giovanni's
Ono's food
Romy's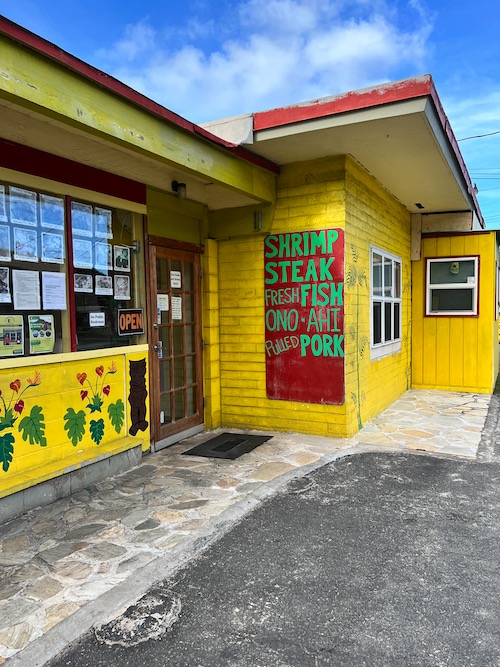 Supermarkets that sell interesting keto products in Oahu
Foodland
Down to Earth
Costco (membership required)
Walmart
I could only visit Foodland and Down to Earth.
FOODLAND. My favorite store is Foodland. I was impressed by the many keto-friendly brands to choose from. Bars, chocolates, crackers, ice cream.
They have also keto bread, keto cereals, and keto ice cream. I was going crazy!
Foodland sells the Dutch brand Good To Go (I found the bars and the jam jars).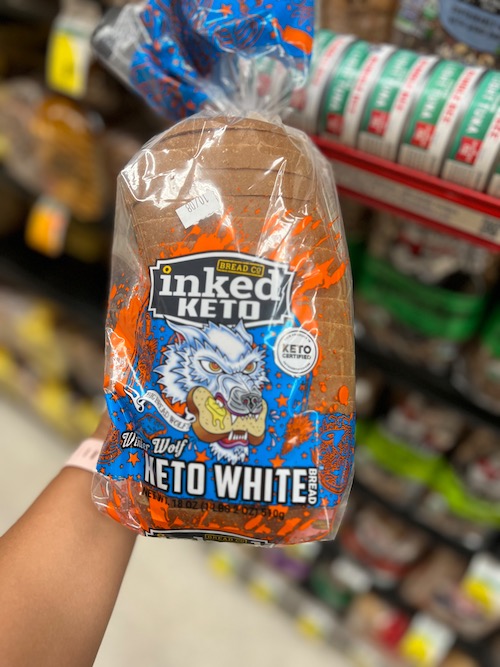 One of the greatest things about Foodland is that you can find ready-to-eat meals, easy to combine with keto bread or veggies.
Roasted chicken
Fresh salads that you can mix and match
Poke bowls (they are famous for the poke bowls! The fish is fresh and tasty! Just skip the rice)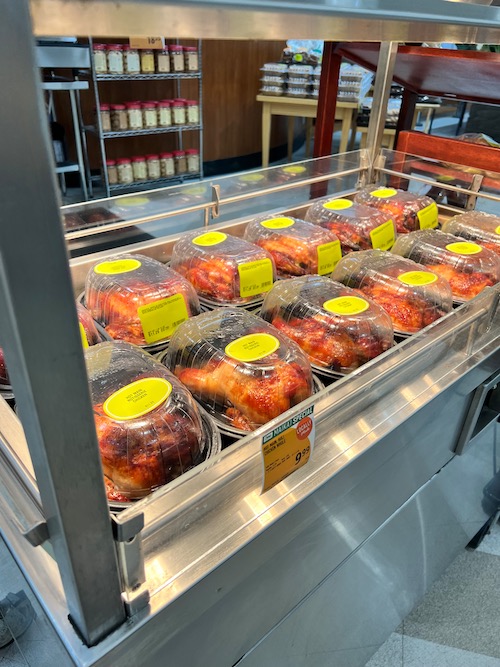 DOWN TO HEART. Down to Earth is also a great store to buy keto things. They have a lot of bars, chocolate, snacks, cereals, creams, and low-carb bread.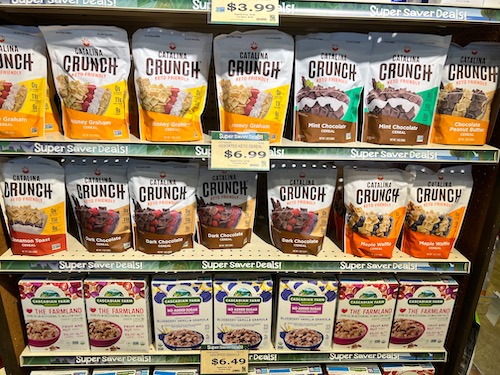 Other stores with keto options in Hawaii
Target

Long Drugs
7/11
ABC stores
TARGET. Target is a combination of a department store with also a small supermarket department. At the time of my visit, I found 3 flavors of Rebel keto ice cream and several packaged keto products.
They sell lunch meat, cheese, boiled eggs, and a few keto products.
They also have the same egg bites that we find at Starbucks!
I have the impression that Target doesn't have a permanent keto collection, they just sell what they have at a particular moment.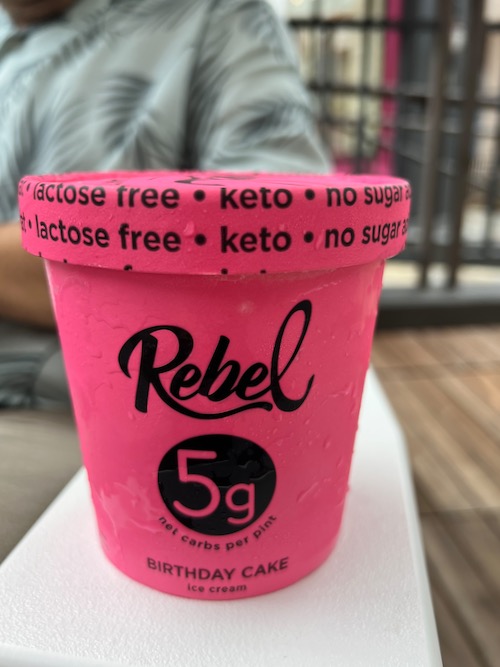 LONG DRUGS. Longs Drugs is a drugstore, with many keto and sugar-free products.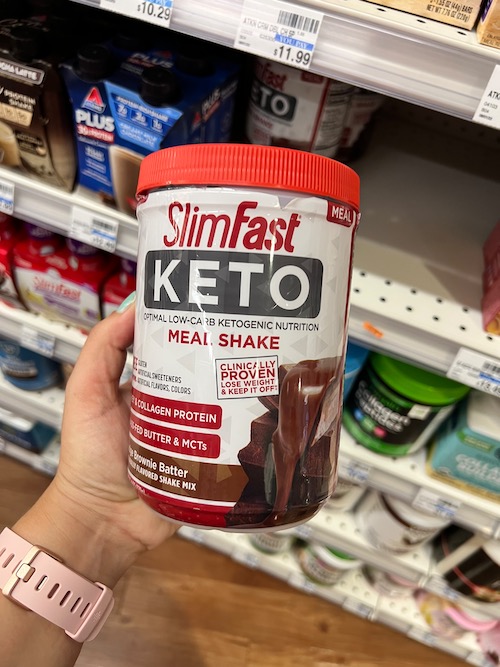 7/11. The 7/11 are small convenience stores, generally open 24 hours per day. They are great to grab a few snacks or a quick meal on the go, or just to grab a fresh drink.
During my visit, I haven't found many keto packaged products, but I found interesting the Lau Lau & Kalua pork combo (with no rice), typical Hawaiian recipes, and basically 0 carbs.
In 7/11 you can also find a keto sour soup, I am not sure you can find it in every store.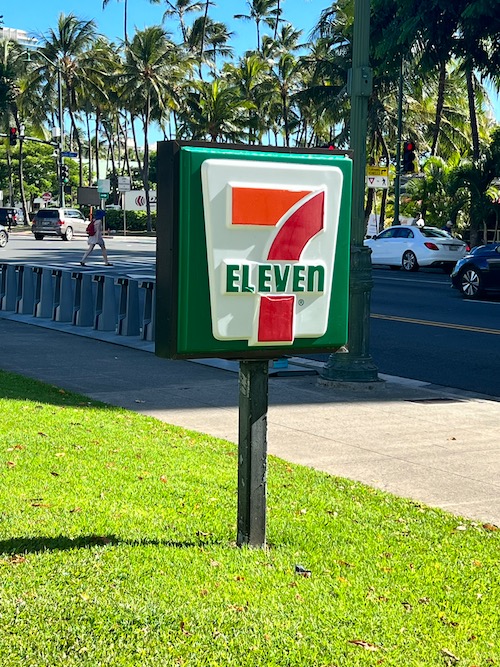 ABC Stores. I think ABC is the biggest chain in Oahu. Every corner, you will find one. Heck, you will find one every 50 steps, I swear. The ABC stores sell basically everything. Souvenirs, liquors, sunscreen and they have also food and beverages.
They don't have any keto brands, but here you can find small snacks such as nuts, cheese, and beef sticks. They don't have much, but you can find something to fix a small meal, like salads, berries, boiled eggs, and grilled shrimp.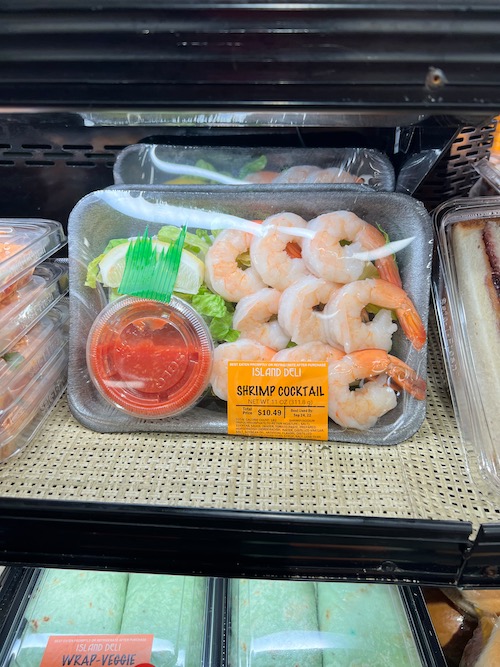 Coffee with keto options in Oahu
In Hawaii as in every part of the world, the rules for keto coffee are the same. Stay away from high-carb milk, syrups, and sugary arrangements.
If you ask for an iced coffee make sure is only coffee and ice.
Where you can have a keto coffee in Oahu:
Starbucks
Kono's (try the macadamia iced coffee)
The coffee bean and the tea Leaf
Mc Donalds (they also have flavored sugar-free iced coffee)
ABC, Longs Drugs, Target have many iced-coffee ready to drink
A small tip: be mindful, when you ask for a warm coffee/cappuccino it will be VERY WARM. I burned my tongue a few times before I understood that it was better to order only iced coffee.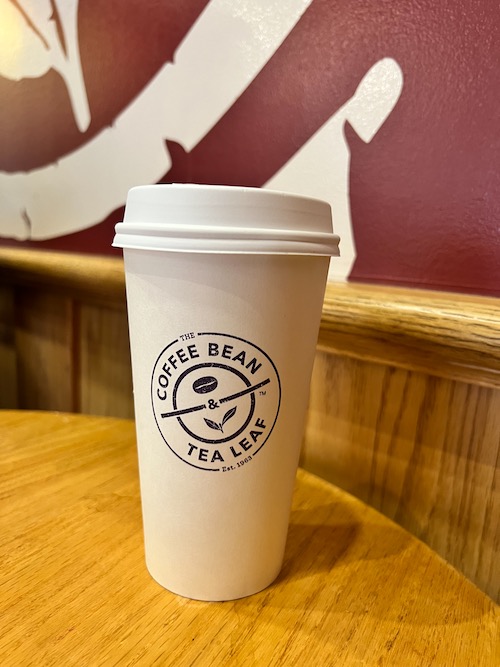 Best place to have a fast keto snack in Oahu
For a quick snack, I suggest visiting any supermarket and grabbing a snack bar, chocolate, nuts, or anything keto-certified. Unfortunately, almost all the snacks on the island are full of sugar.
ABC STORES. For a quick snack, you can also visit one of the numerous ABC stores or 7/11. They don't have many keto things per se, but they have nuts, pork rinds, and meat. They also have sugar-free drinks and coffee.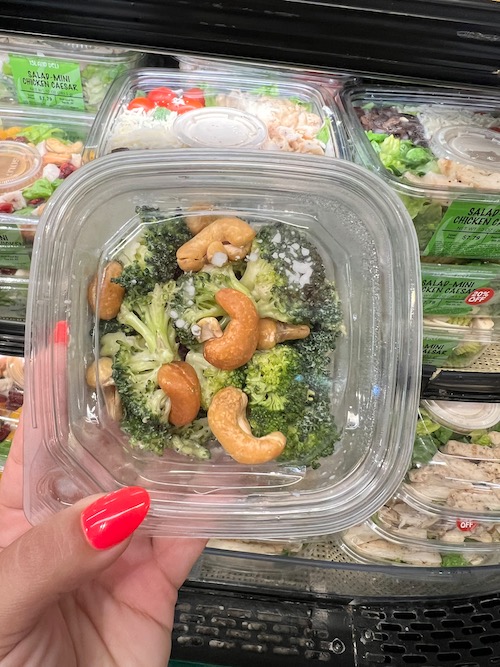 STARBUCKS. I love the egg bites from Starbucks, available in a few flavors and even the ones made with only egg white. In the fridge, you will also find small bites with nuts and cheese (remove fruit and crackers).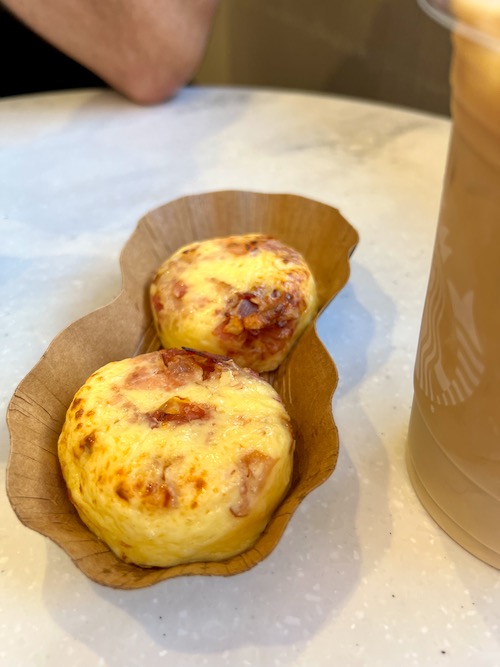 MATSUMOTO. If you want to try the famous Shave ice, try the sugar-free one in Matsumoto. They have more than a few sugar-free options!
KETO ICE CREAM. You can buy a tube of keto ice cream in Target or Foodland, a pack of compostable cutlery, and dig in! I know I did it!
7/11. A few fast snacks in 7/11 are nuts, cheese, and salami.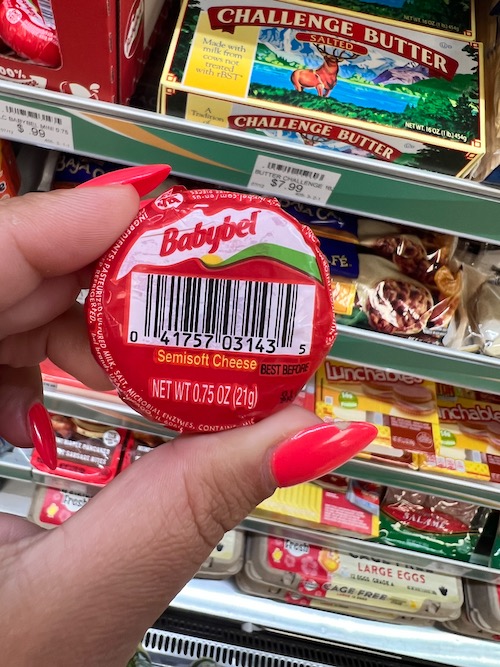 Keto Meal Prep in Hawaii
The Keto Prescription is offering a keto meal prep service.
Keto products that I suggest bringing home from Hawaii
Kava coffee (they also have it flavored, like hazelnut or macadamia)
Keto brand you cannot find in your country
Macadamia nuts (several flavors available)
Conclusions
Whether you will eat keto or not at all, I hope you will enjoy your time in Hawaii.
---
More articles you may like:
---
---
---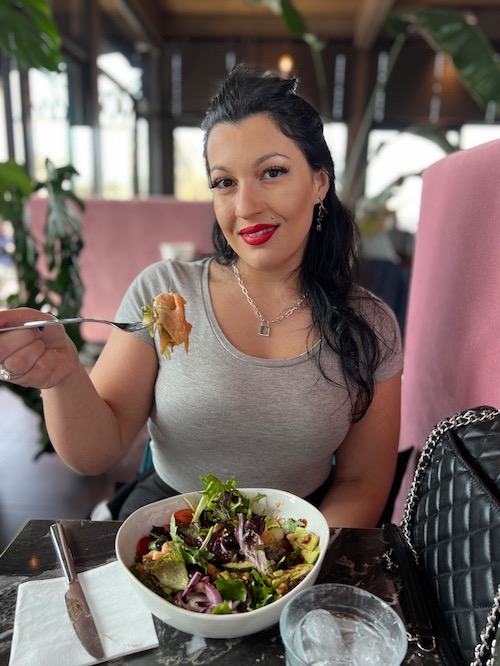 My name is Simona, a keto enthusiast, based in the Netherlands.
I live with my husband, my cat Newton, and a fridge full of cheese.
You find me on Instagram, Pinterest, and sometimes on Facebook.
I also write a lot of keto recipes on my Italian blog keto-with-simona.


Check also:
Keto products review
Discount codes
Keto favorite products
---
---
"This post may contain affiliate links. This means I will get a commission if you purchase through my links, at no extra cost to you. All the opinions are my own. Read the full disclosure here."
---