I believe it's fundamental to pack some keto products for a trip or a holiday stay. Packing the essentials and the favorite keto products helps not to fall off the wagon.
It's also keeping us from starvation in case the place you chose for your stay doesn't have many low-carb options.
Okay, who do I want to fool? We won't starve, of course! Basically everywhere we can get a steak, some grilled fish, and some cheese. But we keto followers, we are little spoiled brats, and we demand our treats.
In many places, keto products are still unicorns: I strongly advise you to bring your favorite products with you.
Whether you planned a trip on the road, booked a luxury stay at the Maldives or going for a week of camping, here's what you have to aim to bring with you:
Products sealed in packaging
Foods and products that can last many days
Products that can stay outside the fridge
Mono portion products
Keto products to pack for a trip
I will write the best keto products to pack in your luggage and with a reasonable shelf life.
Consider the following points.
During transportation, shit can happen, and bottles or containers can break. Wrap everything with extra care.
Be very careful taking with you a big amount of powders and capsules. The ideal, in this case, is to bring, sealed packaging, and not risk any problem at the security.
Be mindful of the temperature of your destination: some products can melt!
Bars
Bars are very practical: mono-portions, can stay outside the fridge and they have a long shelf life. Be only mindful that many can melt with high temperatures.
Read my post about the best keto and low-carb bars.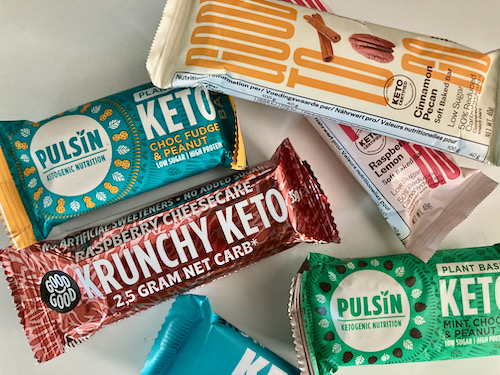 Nuts
Like the bars, nuts are also perfect. You can buy the nuts in small bags and no fridge is needed. They resist to high temperatures. Read the best nuts for the keto diet.
Bread
The best bread to pack for a holiday is a packaged bread. My favorite option is Lizza's toasties because they are packed in a sealed 2-pack. In this way, you don't have to worry to consume them asap, since they won't spoil before opening.
A great alternative is the Tasty Basic bread and the B&F proteic bread. Sealed in a 5 slices pack. Less than 4 net carbs for a generous slice.
Carbzone tortillas: tasty tortillas, 4 net carbs each. You can stuff it as you wish.
Alternatively, you can do your own bread or use a bread mix, and pack it. Consider that the bread has to be consumed in some days and then is no good anymore. Not recommended for long stays.
If you have an house with oven, consider also a bread mix. But why should you bake bread while on holiday?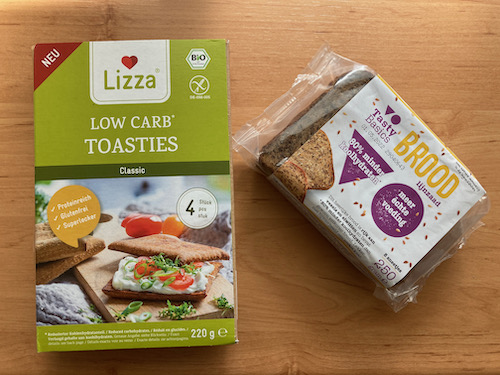 Jams and spreads
If you are having a breakfast with toast and jam bring your favorite low-carb jam.
I am not a big eater of jams or spreads, but for a vacation of 2-3 weeks, they may be convenient. My advice is to pack a closed and sealed jar (in checked baggage). Remember that you'll need a fridge to store the jar after opening.
Check that they don't have added sugars!
My current favorite: Fruitspread Gymqueen
Low-carb Chocolate
Be careful with the chocolate: depending on the destination or the length of the journey, can melt.
My favorite is from Funky Fat Foods. If you use the code TRUSTNOCARB you will have a 15% discount.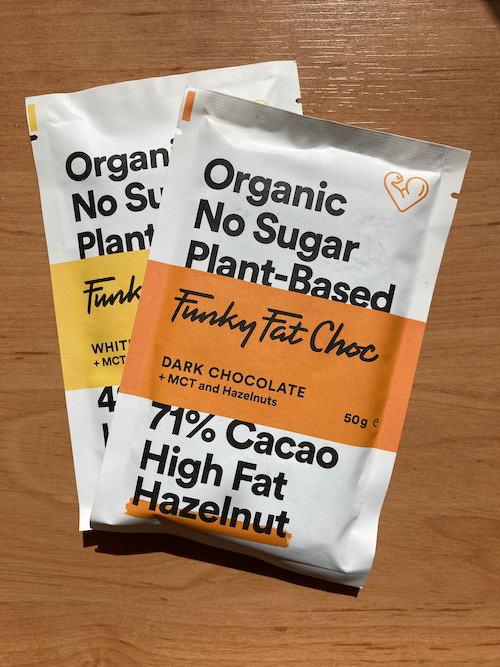 Other useful keto products to pack
Oils
Decide how much oil you need for your stay and fill a small bottle with it. For sure you won't need a liter.
If your trip is short and you only have cabin luggage, fill a small cosmetic bottle of a max of 100 ml.
You can do this for the MCT oil, not really findable in every hotel. You can do the same with olive oil if you are getting used to a brand in particular.
Low-carb milk, creamer and shakes powder
If you know that during your trip you won't find any shop selling low-carb milk, you can take it in the checked luggage. Consider also heavy cream in small bricks, the ones that have a long shelf life before the opening.
Powder keto creamer is even better.
I like the one from Vital proteins because they come with a nice range of flavors.
Vital proteins collagene creamer
Pasta
Do you think you can miss the pasta on your stay? If your accommodation has a kitchenette then take some pasta with you. My favorite alternatives:
Lizza has a low-carb pasta
Adam's Fitness Food Pasta alla Eva
Shirataki 0 carbs
Read more about low-carb pasta.
Supplements
Don't forget to take your supplements with you. You need them. Especially away from home, with different routines. Read the most important for the keto here.
Which keto products are you going to pack for your holidays or a trip? I will update this post when I find some ore interesting options!
---
"This post may contain affiliate links. This means I will get a commission if you purchase through my links, at no extra cost to you. All the opinions are my own. Read the full disclosure here."