Navigate to where you want to go:
Pure the winery is here to save us all with their sugar-free, keto-approved, low-carb wines. And for once, we can benefit from a keto product even here in the Netherlands! Blessed day!

How many times have we had to keep our daily carb low just to enjoy one (or a few) wines?
How many extra workouts to burn those glasses?
Btw, read this blog post to make sure to choose always the best low-carb wine.

Now we can say those habits goodbye.
"Hello wine, goodbye sugar,!" it's their motto, and it's clear that this wine is 0 sugar.
And oh yes, we make our wines without the use of animal resources. The wines of PURE are 100% vegan!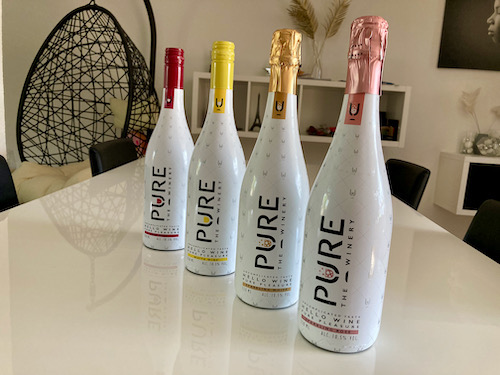 The company
Pure the winery is founded by a group of wine lovers. The winery is in Piemonte, Italy.
Pure the winery was founded on the premise that drinking wine is great, but not always is possible to enjoy it because of the calories and carbohydrates, caused by unfermented sugars.
Unfermented sugars are not necessary for the taste and like this, a wine with no extra, that you don't have to enjoy but you can always have.
Wine innovation
By combining unique and traditional fermentation techniques, they found a way to naturally convert all sugars into alcohol. Pure wines have 0 grams of sugar and 0 grams of carbohydrates and fewer calories compared to other wines.
They count 58kcal per 100ml. The alcohol percentage is 10.5% alcohol and the taste is still fantastic.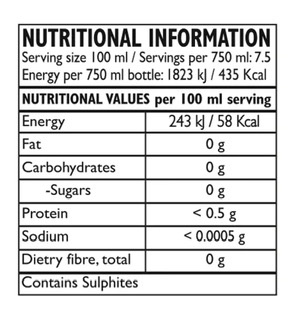 Pure wines
PURE wines are made by experienced winemakers from the winery in one of Italy's most respected wine regions, De Piedmont.
They use the best grapes: Pinot Noir, Pinot, Chardonnay, Sauvignon, Barbera, and Merlot.
Pure the winery has 4 different wines, and all are suitable for a keto lifestyle: Red, white, sparkling white, and sparkling rosé.
My favorite Pure wine
I tried all 4 wines, using the intro offer with an 11 euro discount.
In my opinion, if you have to buy one, I suggest trying the red one. Well, if you love red wine of course.
Why? Usually, red wines have more calories and carbs than white wine.
Pure red wine has still 0 sugars. This is great for red wine lovers like me.
Usually, my to-go choice is always white wine, because I know it has fewer carbs.

Thanks to Pure the winery now, I can enjoy more often the taste of my beloved red wine.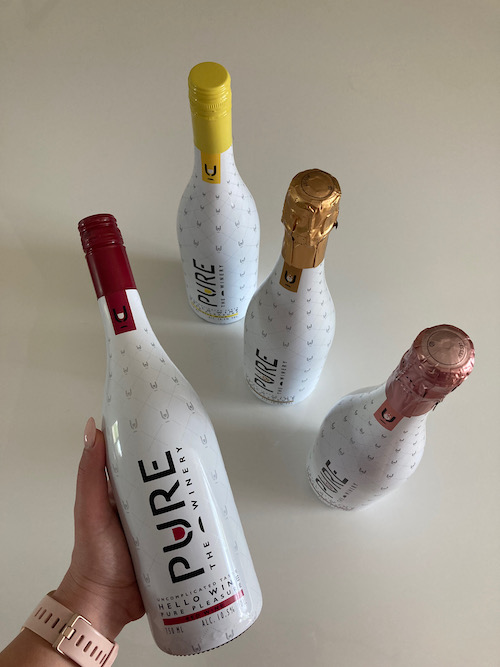 The price
The price for a single bottle is 12 euro.
They are currently running an intro offer on their website, and you can buy the 4 wines for 39,99 – 10 euro per bottle, and this is a great start to try them all and choose your preference.
Conclusions
I am so happy that Pure the Winery delivers also in the Netherlands. Usually, all the best keto choices are not available here.
These wines are not the cheapest on the market, but for all the reasons above, I strongly believe they are worth it.

They make also a great gift for our friends on a low-carb/ketogenic lifestyle.
Have you already tried these wines?