Navigate to where you want to go:
In this post, I will talk about keto places and options in New York. I visited NYC in August 2023, and I did my best to eat mostly keto and low-carb.
I discovered many restaurants and places where I could have a keto snack or meal.
I was impressed that in every shop or place, I could find something keto.
In NYC you won't have any trouble following your keto lifestyle.
If you follow keto/low-carb and you love to travel, read also:
Is it easy to eat keto in New York City?
Eating keto in NYC is not hard! Almost every place has one or more keto/low-carb options on the menu.
Yes, very often the meals include a side recipe like rice, pasta, or bread.
If you are able to remove or switch with a salad, then your meal is entirely keto-friendly.

Typical NYC food that is also keto
Typical NYC food is high in carbs, for example, cheesecakes, bagels, and pizza, cronut.

A popular NYC dish that can be modified as keto in 2 seconds, is pastrami: just remove the bread, and you have yourself a high-protein keto-friendly meal.
Best pastrami place in NYC? They say Katz's Delicatessen. I tried it and I enjoyed it. The slices of bread are very thin compared to the amount of pastrami they put in! You will be happy, full, and satisfied.
Bonus info: in this restaurant, they shoot the famous scene in "When Harry Met Sally".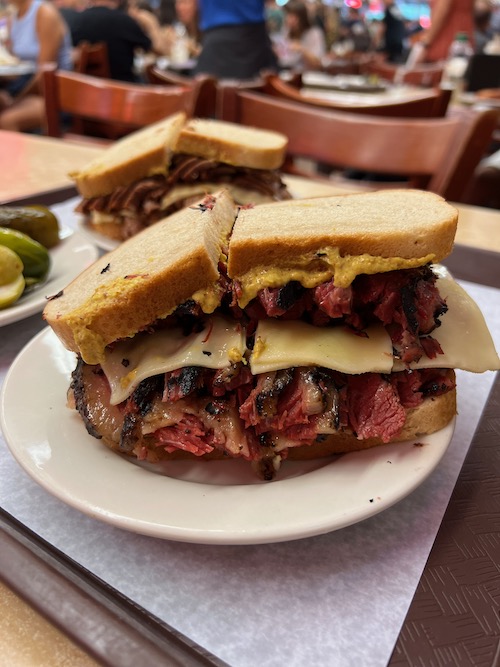 Keto Breakfast in New York
My suggestion is always to book accommodation with breakfast included. Nowadays all the hotels commit to providing various breakfasts, and you can find their eggs, cheese, and all the keto options you need.
Remember that starting the day with a nutrient, protein breakfast is the goal to keep your day flawless.
If you could not manage to have a breakfast included in your accommodation, just search in Google for an International or English breakfast near your location for a diner.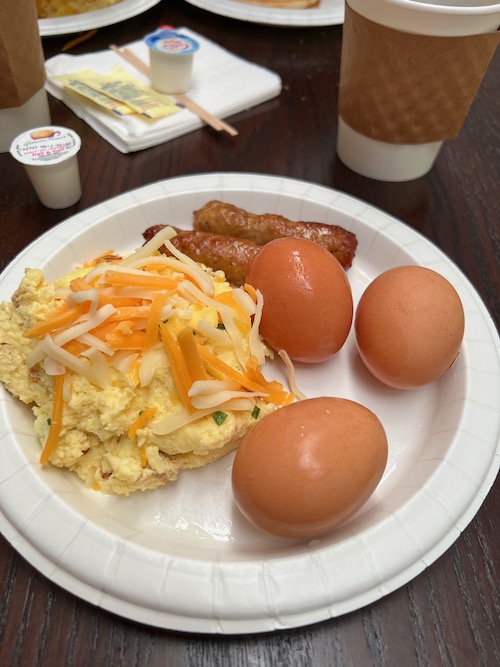 Starbucks: you can have a coffee and their wonderful egg bites, are totally keto-friendly.
Fast Foods, such as Mc Donalds and Wendy's serves breakfast sandwiches filled with eggs, burger, and bacon. Just remove the bun, and you have yourself a keto option.
Hutch + Waldo, serve breakfast all day + salads. You may need to remove the bread and other no-keto options.
If you fancy a sweet breakfast, visit a keto bakery (see a few chapters below) or buy keto cookies/brownies/bars in any supermarket to make sure you have your keto breakfast.
Where to have a Keto Lunch and Dinner in New York
NYC is huge, so I could not possibly mention all the places where you can have a keto meal.
Below you will find the most popular ones and the ones that I tried.
Remember to switch the carbs for a salad or another carb-free option.
Bare burgers I had one of my best meals here. You can replace the bread bun with a keto bun! Also, their burgers are all grass-fed. Trust me, and try this place.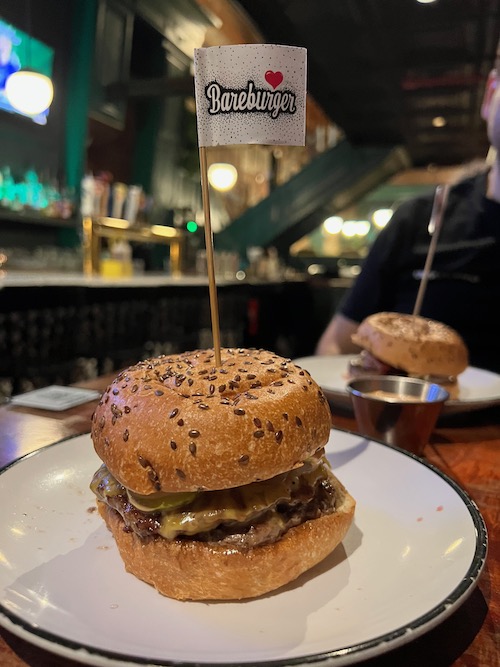 Tacos N 1 has several locations in the city. Ask for the Quesa-Taco (it's a secret item – so you won't find it on the menu!!!) and choose your toppings as you would do with a normal taco.
The shell is made entirely of cheese, by piling shredded Monterey cheese until it melts and is ready to be used as a taco! I asked for it in the location in Times Square and they had it – so it is not only in Chelsea Market!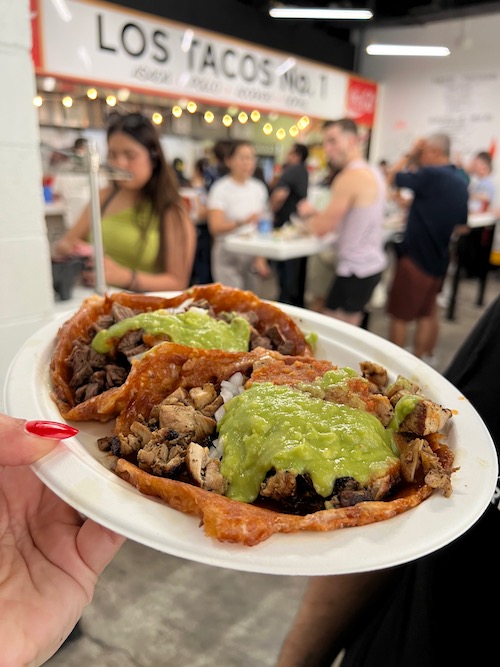 Chipotle: Chipotle is a popular chain that serves Mexican food. You have here the option to build your own bowl. I made mine with salad, chicken, tomatoes, and cheese. Very spicy meal, but so good!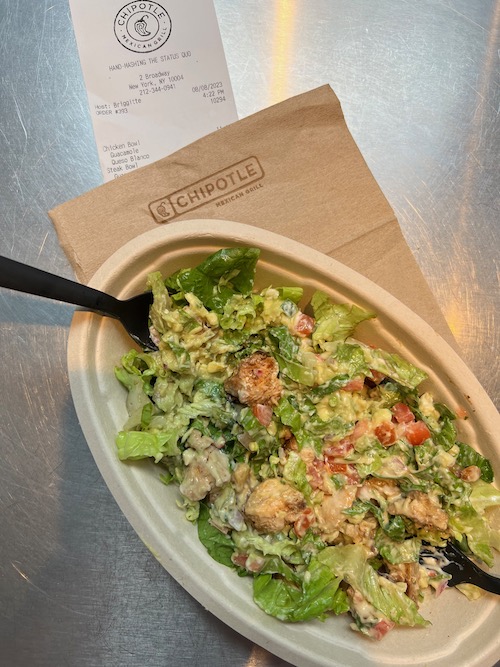 FIVE GUYS: One of my favorite fast food, as a menu option you can ask your burger wrapped in lettuce instead of a bun! They make it so easy! Also, you can choose the toppings you want.
Read my full review here.
Trattoria Il Corallo where they can make you an Italian pasta with keto-friendly zoodles.
Hawaiian Bros. You can choose any plate lunch and replace the rice and macaroni salad with seasoned vegetables for $1 extra. I could not find this place. I guess their place is inside another place.
Springbone Kitchen is a place in New York that produces healthy bowls and bone broth. You can order from their menu for delivery or pickup through food delivery services.
Just Salad is a chain with multiple locations in NY. You can compose your own salad or warm bowl.
On the menu, they also have a keto salad, called The Keto.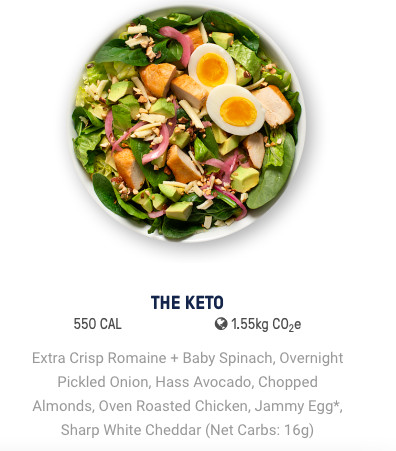 Other places with keto and low-carb options:
Olea meditterean taverna in Brooklyn.
Mc Donalds: choose a bunless option!
Wendy's: Avocado Chicken Salad or a bunless burger.
Emporio: trattoria in lower Manhattan.
Oath Pizza: you can build your own salad.
Brooklyn Pizza Masters cauliflower pizza, but almost surely made also with flour – so not keto-friendly.
Food stands with keto and low-carb options in New York
The food stands in NYC are many. Unfortunately, they serve high-carb meals. Unless you ask to remove the rice, bread, and potatoes, you won't get a low-carb meal.
Keto Bakeries in New York
I thought NYC would offer more keto bakeries, but well, not really. Many bakeries closed recently, I guess the pandemic hit hard on them.
These 2 are still open:
The Protein Bakery serves Keto Friendly brownies, blondies, and cookies high in protein and low in sugar. Unfortunately, I could not try this bakery because they open at 12:00 pm and I couldn't be in their area so late. Have a try for me if you can. Notice: the baked goods are sweetened with stevia but also maltitol.
InKETOble! They produce Keto treats and they are open for delivery. I went to their place to see and try but honestly, the place seemed to me a bit sad, I expected something else, and I didn't feel to go in.
If somebody tried please let me know in the comments.
Supermarkets that sell interesting keto products in NYC
Wholefood Market
Trader's Joe
A few products:
Products in the fridge:
Cheese, salami
Smart bacon, sugar-free + vegan
Sugar-free yogurts
Products not in the fridge:
Brownies/Muffins/Pancakes bake mix (from many brands, such as Carbonaut, Keto and CO, Birch Benders,…)
Choco Zero Chocolates
Sugar-free Jerky
Palmini pasta
Rhythm Broccoli or Mushroom chips
Mooncheese cheese bites
Navitas Cauliflower flour
Nuts
Keto granola and cereals
Lakanto Monkfruit
Lily's chocolate chips
HighKey cookies
Enlighted syrups
Cando keto bars
Think keto bars
Pork rinds
Shops and stores with keto snacks in NYC
TARGET. Target is a combination of a department store with also a small supermarket department. You will find many keto products, be prepared. In the fridge salami, cheese, and even egg bites.
In the freezer, they have even the Rebel ice cream, keto and low-carb.
Make sure to visit all the departments, you can find many keto package products that you can take home with you.
CVS: CVS sells primarily personal hygiene products and cosmetics, but they have a great department with keto and sugar-free products.
Nordstrom: I visited the mall situated near Central Park has a pop-up area with healthy, sugar-free, and keto-friendly food. I found there Catalina's Crunch cereals, Good Good sugar-free jam, and many sugar-free products.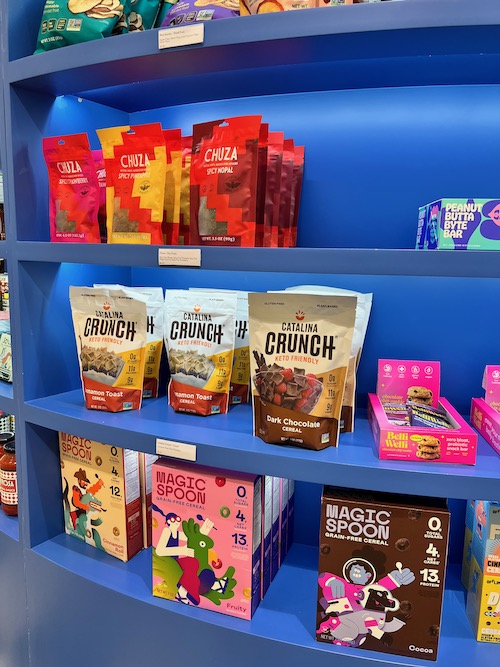 7/11. The 7/11 are small convenience stores, generally open 24 hours per day. They are great to grab a few snacks or a quick meal on the go, or just to grab a fresh drink.
Pret a Manger. You will find a lot of locations in NYC. They are coffee shops that sell bites and snacks. You can find here many low-carb/keto options, such as wonderful salads. They also have boiled eggs.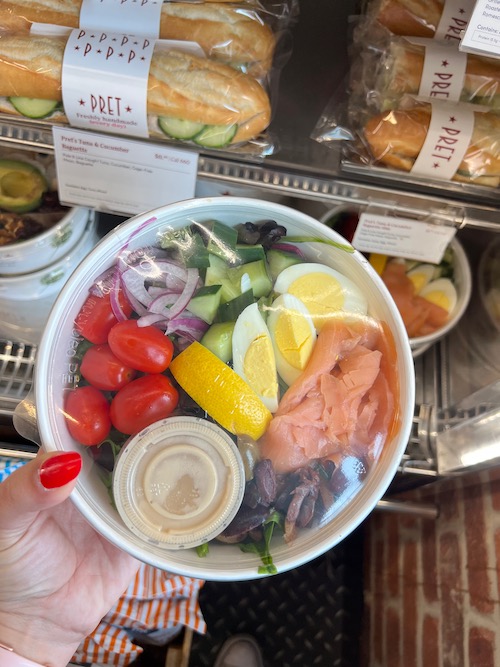 Coffee with keto options in New York
In Hawaii as in every part of the world, the rules for keto coffee are the same. Stay away from high-carb milk, syrups, and sugary arrangements.
If you ask for an iced coffee make sure is only coffee and ice.
Where you can have a keto coffee in NYC:
Starbucks
Mc Donalds
DUNKIN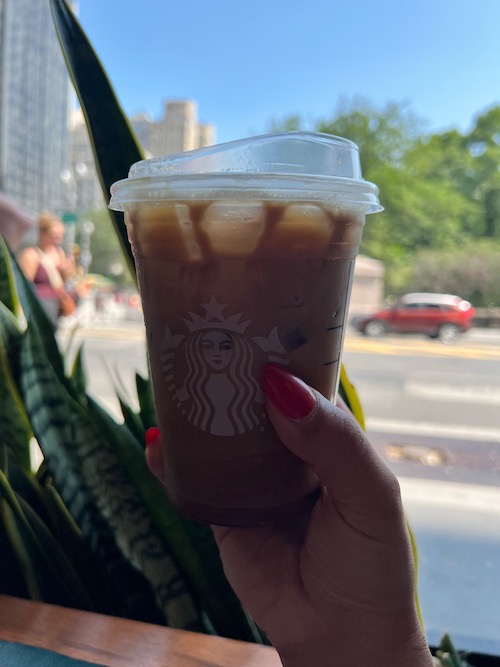 Keto products that I suggest bringing home from NYC
Many products are only available in the USA, so if you are living in Europe like me, I suggest you spend some bucks on keto products. I spent more than 100 dollars, didn't bring home much though, because the keto products are quite expensive.

A few products I recommend buying, not available (as for now) in Europe:
Ultima – sugar-free electrolytes, I found the single packaging at Whole Foods.
Cando keto bars, they are delicious
Lily's sugar-free chocolate chips
Quest Protein Chips or Tortillas
Highkey cookies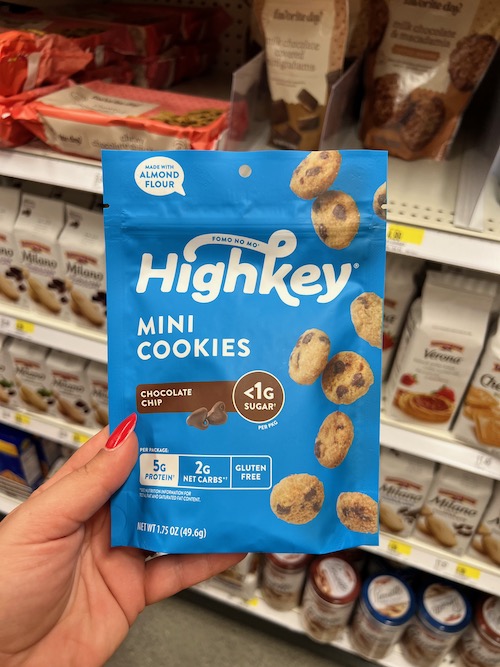 Conclusions
Enjoy NYC, whether you will eat keto or not at all. I have to say that besides a few treats (chicken & waffle, 1 hotdog, and one very cheesy pretzel) I ate mostly keto, and I had fun searching for all the keto options available in the Big Apple!
---
Any keto restaurant or food that you love about NYC? Let me know in the comments!
---
---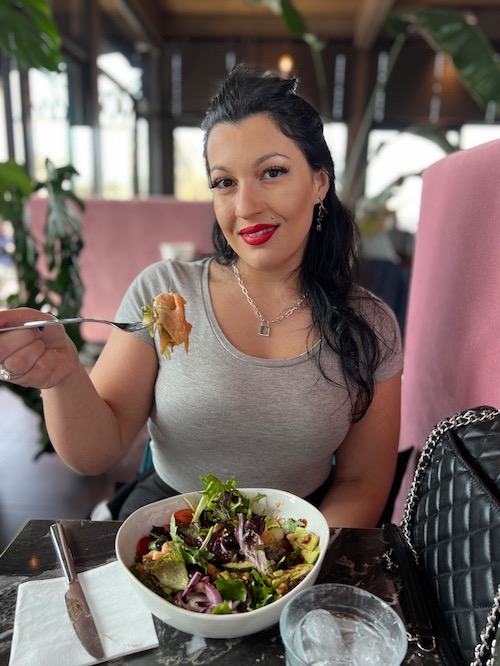 My name is Simona, a keto enthusiast, based in the Netherlands.
I live with my husband, my cat Newton, and a fridge full of cheese.
You find me on Instagram, Pinterest, and sometimes on Facebook.
I also write a lot of keto recipes on my Italian blog keto-with-simona.


Check also:
Keto products review
Discount codes
Keto favorite products
---
---
"This post may contain affiliate links. This means I will get a commission if you purchase through my links, at no extra cost to you. All the opinions are my own. Read the full disclosure here."
---