Navigate to where you want to go:
In this post, you will find the best gift ideas for your friends or family members following a keto lifestyle.

Everybody has at least a friend on a keto or low-carb diet, and man, they are strange! They eat a lot of bacon and mayo and talk only about carbs.
I know that it's not easy to surprise them with a gift, that's why I will give you some ideas to make sure they will love your gift more than a piece of cheese… if this is even possible!
Read also my post on keto gift baskets, where I talk about the best low-carb products to give as a gift.
Let's dive in.
Keto snacks
Organize a basket with a few things, like baking products, bars, and sugar-free beverages. I can ensure you are very appreciated.
Keto bars
Keto bars are amazing because are portable, they don't expire soon and they are yummy.
Read here where to find the best keto bars.
Keto Chocolate
What's better than a bag full of keto chocolate? As you know already my forever favorite is the Funky Fat Foods chocolates. Why? They have MCT oil, they are keto-friendly, they come in 5 tastes and the packaging is perfect for presents. Oh, and with the code TRUSTNOCARB you will get 15% discount.
Keto Cereals
In Europe, the only brand of Keto cereals you will find is from GrandmaCrunch. Read my review and get with the code SIMONA10 a 10% off.
Other keto products
Keto-friendly pasta (like this one from Palmini)
Coffee capsules/ sticks and tea bags
Pocketable sweetener dispensers, like this one
Nuts, I love this nice box with mixed nuts.
Cheese
Wines and spirits
Keto Baking products
Baking products and special products: I recommend Steviala, because they are high in quality.
Keto beverages
Read here where to find Sugar-free beverages, perfect for keto.
Books
Keto gift ideas – Kitchen tools and machines
Kitchen tools are very popular among keto eaters. A few ideas:
Lunchbox
I would be lost without my lunch boxes. There are many of them there. They sell them everywhere and also online. I love the quality of Monbento.
Meal-prep containers
Mugs
But first BULLETPROOF coffee mug

Airfryer
Airfryer: I don't want to remember my life before I bought this baby.
Food scale

A new kitchen scale. Digital, of course. To track the macros like crazy!
Egg cutter

An egg cutter is really needed in a kitchen of a keto follower.
A funny apron
People on a keto diet are spending lot of time in the kichen. Look how cute is this avocado apron or this bacon apron.
Soda stream
I had this as a gift from my friend, and I love it. If your friend likes sparkling water, this is the gift! And make them read my hydration routine.

A blender
This from RH is so practical, and the price is so good for the quality.

Coffee machine
There is a lot of choices. And pair of course a package of coffee.


Slow cooker
Is the best, because I can set ahead the timer to start cooking while I am at work. You can do basically any meal with a slow-cooker. You put the things in the pot, you forget it and then the machine is calling you on the phone, informing you that the dinner is served. I have this one for years.

Stand mixer
This is the one that I own. It is really a life changer.
Keto gift ideas – Sport and fitness
Almost for sure, a keto follower will love a gift fitness related!
If the person exercises at home think about tools such as resistance bands, jump rope, and abs roller. You can find many things in Decathlon or every other sport store.
Yoga mat
A good quality yoga mat, to use in the garden or indoor to not make much noise it's a great and useful gift. Just do your research: out there is full of yoga mats, and some qualities are really bad. For me, a good gym/yoga mat is good quality if it's smooth and especially if doesn't slip on the floor.
Kettlebells/Dumbbels set
If you want to spend more money think about a dumbbells/kettlebells set or more expensive equipment.
Sportwatch

A Sport-watch it's a great, great gift. i don't go anywhere without my Fitbit.
Gym set
For people going to the gym: you can combine a gym set: bag, towel, and drink bottle.
Hydracy water bottle with time marker
Gym clothes
I love these yoga shorts with pocket.
Oh, and if you know your friend shoe's number, why not a pair of gym shoes?


Do you have better ideas for a gift? Let me know in the comments.
---
This post may contain affiliate links. This means I will get a commission if you purchase through my links, at no extra cost to you. Read the full disclosure here.
---
---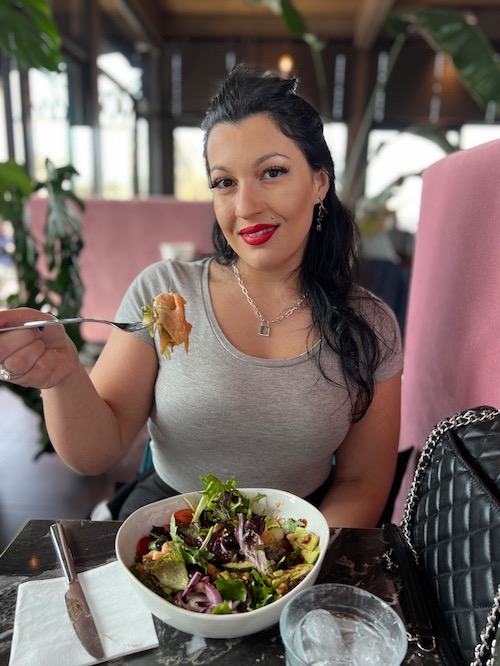 My name is Simona, a keto enthusiast, based in the Netherlands.
I live with my husband, my cat Newton, and a fridge full of cheese.
You find me on Instagram, Pinterest, and sometimes on Facebook.
I also write a lot of keto recipes on my Italian blog keto-with-simona.


Check also:
Keto products review
Discount codes
Keto favorite products
---
---
"This post may contain affiliate links. This means I will get a commission if you purchase through my links, at no extra cost to you. All the opinions are my own. Read the full disclosure here."
---