Navigate to where you want to go:
A gift basket is a perfect present to give to a low-carb follower: it's easy to assemble one with keto products. Not only during the winter festivities but also for other special occasions, like a birthday, a promotion, or a new house.

Do you have a friend following a low-carb diet and you have no idea where to start? This is the gift! I promise you that all the keto followers will like a keto gift basket!


Moreover…it doesn't have to be a basket! You can use a box, or a paper bag, a present bag,…
Just like the advent calendar it's so simple and fun to prepare one.
Keto gift basket: what you need
The first thing you will need is simple: a basket or a box to contain the food.
In many stores selling house essentials, you can also find nice baskets and boxes, from traditional ones to more modern ones. Use your own creativity: you can pick whatever can contain food!

Small hint: before buying a box think first about what you want to put inside. This will guide you in the choice of the right size.
It would be a pity to leave out a bottle of MCT oil because the basket you chose is too tiny!

What to put inside a Keto gift Basket
Inside we put….many keto things. Put the things that you know the person loves. I would add also things that this person never tried or products that are always useful in a keto diet.
Of course, we won't put perishable products but products that can stay out of the fridge and won't expire soon.
Avoid:
Berries
Avocado (I know, it's the perfect gift, but we know it will last 2,5 hours)
Vegetables
Tuna (wait- why we should give tuna?)
Here are some ideas:
Sweetener bag
Cheese pop box
Keto bars, read here the low-carb and keto bars
Nuts
Coconut oil
Nuts butter (peanut, almond,..)
Keto Cereals: In Europe, the only brand of Keto cereals you will find is from GrandmaCrunch. Read my review and get with the code SIMONA10 a 10% off.
Almond flour bag
Aromas
Spices
Keto chocolate (for example FFF)
Sugar-free candies
Low carb alcoholics
Keto-friendly pasta (like this one from Palmini)
Coffee capsules/ sticks and tea bags
Sugar-free chewing gum (sugar-free energetic boos like Grizz Gums)
Examples of Keto gift basket
I've combined some baskets to give you (and myself) some inspiration.
Sweet Basket
I add several packages of low-carb candies.
Here I've mixed low-carb candies, with chocolate and keto bars.
Here I've mixed chocolate, a fancy bag of Erythritol, one pack of candies and aromas.
There is no rule! Put everything that is sweet! I love to add a big bag of sweetener and aromas or a tea or coffee bag to make the basket fuller. You can also mix sweet and salty, adding nuts, bread, and nuts butter.
Coffee Lover Basket
Wha't best than a coffee lover set? Put all the kind of cofee you want. Chocolate pairs good with coffe.
The person is more a tea person? Switch with the tea.
Remember: doesn't have to be a basket
Sometimes there is no time to search for a basket. A big basket is not really practical to transport. Fear not: A gift basket is a nice present even in a paper gift bag.
A small gift envelope fits perfectly some chocolate.
A tiny and cute gift!
You can also use a mug and fit some keto goodies inside.
Other basket ideas
Oil basket: Put some bottles of oils with different tastes. I saw particular oils in Oil & Vinegar. To make the basket fuller add a nice box of olives and/or some keto bread.
Stock basket: You need a big box for this. In the stock basket, we can put some big keto products. Think about a box of almond flour, a heavy jar of coconut oil, 1 bottle of MCT and one box of sweetener. The stock basket is a perfect encouragement gift for somebody starting the keto diet.
Final notes
Always add a small card to your basket: write some love and sign your gift! Don't forget to decorate the basket as you prefer.
Cover the empty space with colorful tissue paper or some seasonal decoration.
If the basket has a low height add some transparent film on top to make it safe for transportation.
---
---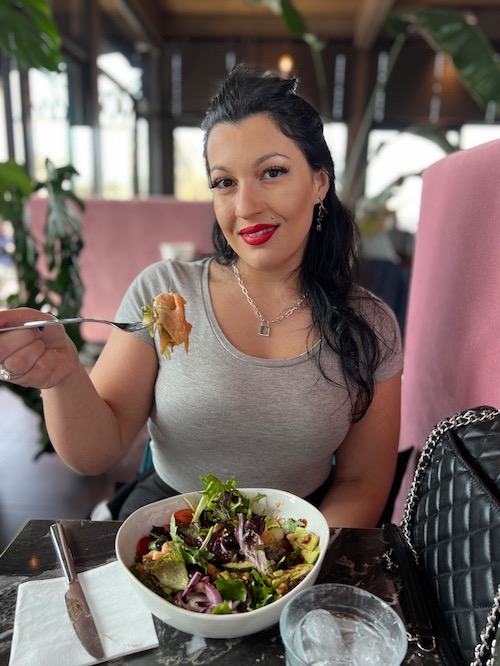 My name is Simona, a keto enthusiast, based in the Netherlands.
I live with my husband, my cat Newton, and a fridge full of cheese.
You find me on Instagram, Pinterest, and sometimes on Facebook.
I also write a lot of keto recipes on my Italian blog keto-with-simona.


Check also:
Keto products review
Discount codes
Keto favorite products
---
---
"This post may contain affiliate links. This means I will get a commission if you purchase through my links, at no extra cost to you. All the opinions are my own. Read the full disclosure here."
---