A keto Christmas Advent Calendar can be difficult to find, especially in the Netherlands, still a country throwing some challenges to people on low-carb.
But don't worry, because you can do easily your homemade sugar-free, low-carb and keto Christmas Advent Calendar.
The best part of a homemade advent calendar is that we can put what we want!
Bonus part: it's so much fun to fill it!
I celebrated my first Christmas on Keto by creating my own Keto Christmas Advent Calendar.
You can prepare it for yourselves or for a loved one (in the photos you'll see the one that I have created for my boyfriend).

Where to buy an empty Christmas advent calendar
What you need is a empty advent calendar and/or tags.
In the Netherlands, you can find them in shops like Xenox, Action, Praxis, at IKEA or more easily, online.
I recommend Aliexpress, because they have a lot of choices and the prices are honest.
You have to order from this website having in mind that will take some time to deliver.
Some styles I like:
Advent tags (the same I own)
Advent calendar set de Bijenkorf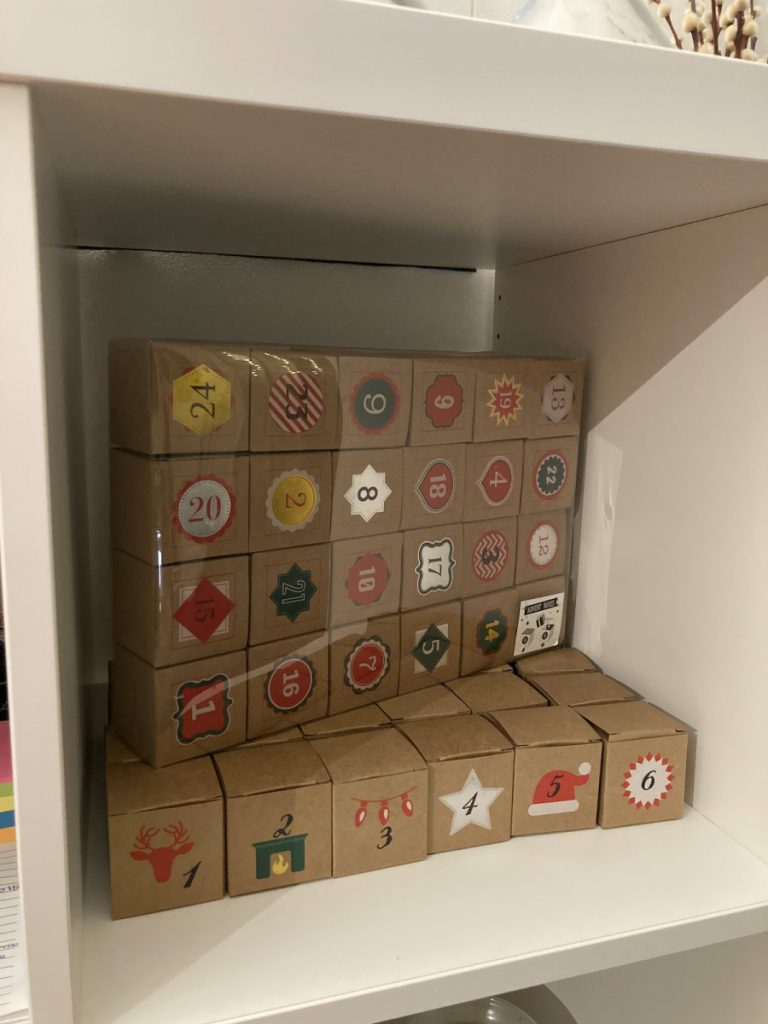 If you are crafty, you can also create your own bags and tags with paper, small boxes, and recycled materials.
What to put inside an advent calendar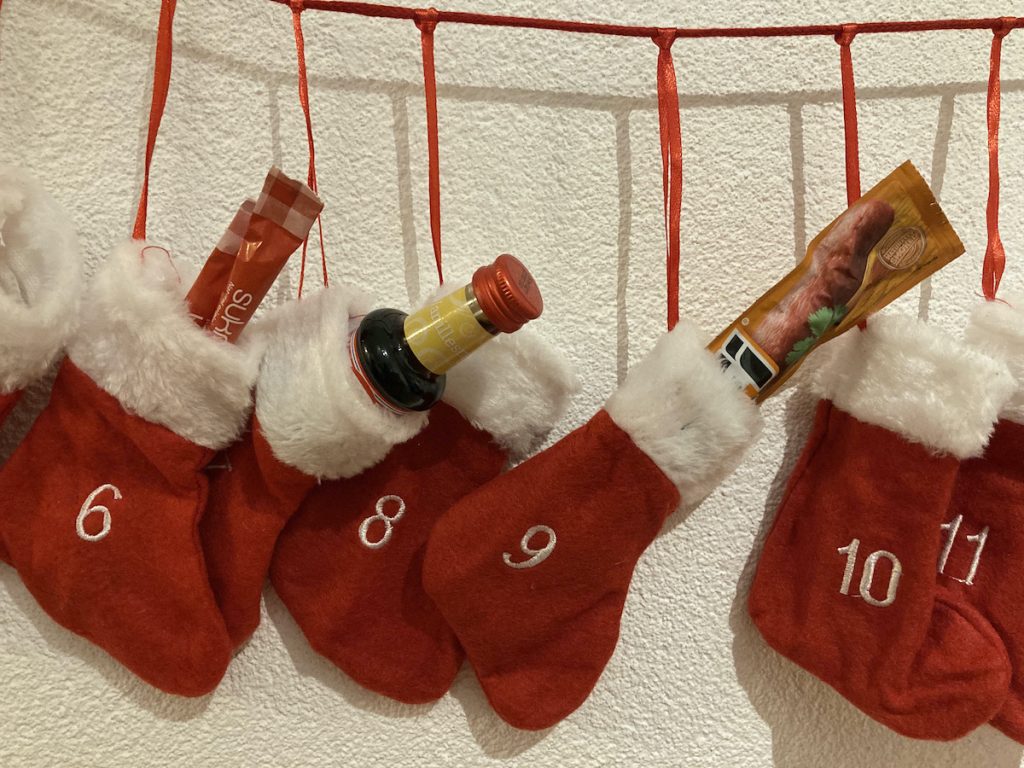 Inside an advent calendar, you can put several things: food, small kitchen or useful tools and messages.
Food

If a product is keto, pocket-size, wrapped individually, and doesn't need to be stored in the fridge: is perfect.
If a product is not individually wrapped (like 2 squares of chocolate for example) consider wrapping it in aluminum foil.

Food ideas
Small bags of nuts
Cheesepops
Low-carb chocolate (you know already my favorite chocolate)
Low-carb and keto bars (read which bars to buy)
Sugar-free chewing gum box (searching for a sugar-free energy boost? Try Grizz Energy Gum)
Sugar-free candies (keep in mind that 99% of the sugar-free candies has Maltitol on them)
Sweetener sticks (I have the sticks from Sukrin)
Small chocolate chips bags
Spices jars
Small nut spread jars
Aroma drops, like My Protein, or B&F
Tea bags
Coffee capsules/ sticks
Bolero sticks
Small tools
If a tool is small to fit the calendar boxes, and is helping the life of a low-carber, it's perfect.
Some example:
Cookies cutter, Aliexpress has all the cutters you want!)
Small silicone mould (Like this small Christmas's tree ball mould)
Egg cutter
Supplements holder (this is so cute, and this is very practical!)
Messages ideas
I think is nice adding messages to your calendar.

You can write something nice:
Keto on!
Almost Christmas!

You can write a challenge:

Go for 30 minutes run!
Drink 3 l of water today!
You can write a promise or a nice intention:
Today I will cook the dinner!
Let's bake some (keto) cookies together!
You can write an idea for dinner or for an afternoon snack:
Keto pizza for dinner!
You can even organise a Treasure hunt:
Check under the couch for another hint!
Next hint next to the coffee machine!
A treasure hunt is not only funny but allows you to include in the calendar something big that doesn't fit the bags and also some products that must be kept in the fridge.
Of course, a treasure hunt is easy to organize if you and the person you give the Calendar are living together.
---
"This post may contain affiliate links. This means I will get a commission if you purchase through my links, at no extra cost to you. Read the full disclosure here."