In this post, you will find all the advent calendars in the Netherlands that are suitable for a low-carb diet, and some even for a keto lifestyle. But keep in mind that not all are keto-friendly.

I love the advent calendars because you get to have one little surprise every day, for one whole month!
They make also a great low-carb gift for your friends.
Last year I made my own keto Christmas advent calendar because there weren't options here in the Netherlands.
But this year I am noticing that there is more choice.
This year even some fitness/dietary products companies made their own!
Cheese advent calendar
One of my favorites. This cheese advent calendar has 24 mini pieces of cheese inside.
Coffee Advent Calendars
For all the coffee lovers on a keto diet, I recommend this Nespresso-compatible capsule advent calendar. For the cost and the idea, I think this is a great calendar, and it offers 24 different capsules.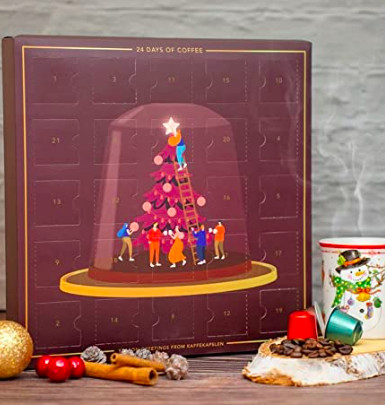 Tea advent calendars
You can find many tea advent calendars, such as:
Pukka 24 tea bags calendar green version
Check out also this 24 days detox challenge.
---
I hope you will love these ideas! Happy advent season!
---
This post may contain affiliate links. This means I will get a commission if you purchase through my links, at no extra cost to you. Read the full disclosure here.