Navigate to where you want to go:
In this blog post, I'll show you How I Make My Italian Keto Spritz.
Spritz is a famous Italian happy hour cocktail made with Prosecco and Aperol, which is a sugary liquor – therefore is not sugar-free or keto-friendly.
My keto version may not be traditional, but it tastes a lot like Spritz, and that's all that matters to me. Taste and colour are very similar to the real deal. This is one of my best Summer keto essentials.
Watch the reel with the recipe here.
Italian Keto Spritz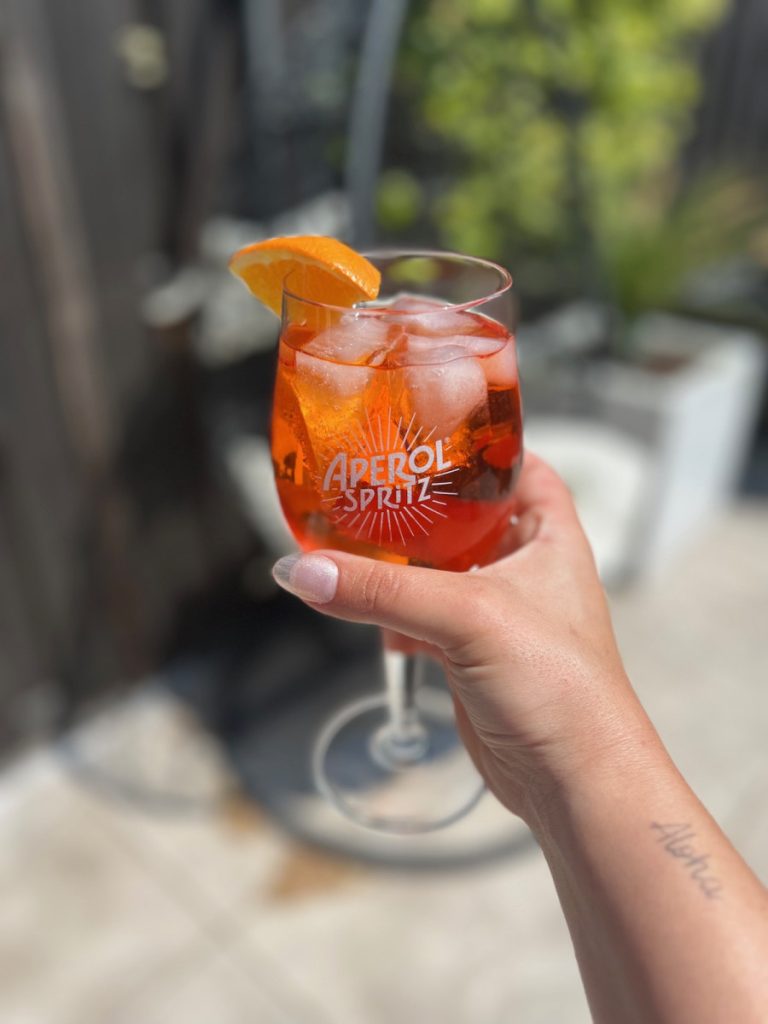 The secret ingredient is an alcohol-free ginger drink, which surprisingly doesn't taste ginger but is more like Red Crodino. Unlike Crodino, this ginger drink is sugar-free, making it perfect for keto. As Crodino, the ginger drink has no alcohol.
Ingredients for the Keto Spritz
With these quantities, you will get 1 Spritz. Multiple doses if you have company.
Ice cubes
60 ml Ginger Zero San Benedetto
120 ml Prosecco
Sparkling water (if needed)
Orange slice (to decor)
Instructions
Put ice cubes in a large wine or Aperol glass.
Add the ginger drink, Prosecco, and sparkling water if needed.
Decorate with an orange slice and serve.
Where to find a sugar-free Bitter Ginger Drink in the Netherlands
I searched everywhere, and the only place I found a sugar-free ginger drink in the Netherlands is on Amazon. The price for 6 boxes is NOT BAD AT ALL – and it's shipped from Italy, it's definitely worth it.
Calorie and Macros
For 1 Keto Spritz:
80 calories
1 gr of carbs
Why I love my Italian Keto Spritz
It's Refreshing
Perfect for the warm Summer days or barbecue
Sugar-free, Low-carb, keto
The vibrant color puts me in a good mood.
---
I'm glad you enjoyed the post about Keto Spritz! If you're into refreshing beverages, I recommend checking out the following blog posts as well:
Keto-friendly drinks to order on a night out
Sugar-free non-alcoholic beverages in the Netherlands
---
---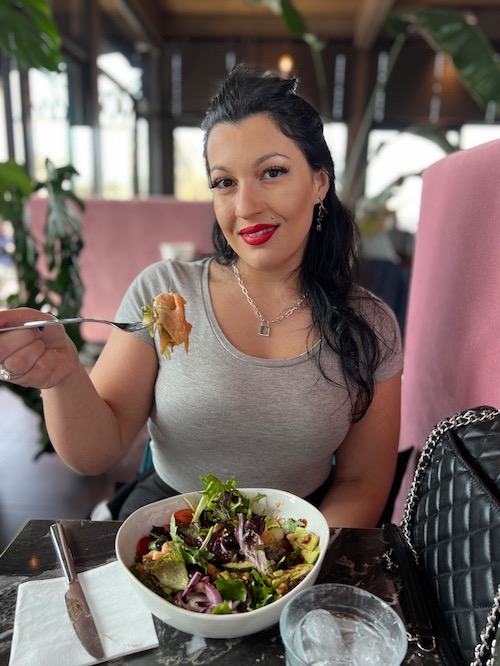 My name is Simona, a keto enthusiast, based in the Netherlands.
I live with my husband, my cat Newton, and a fridge full of cheese.
You find me on Instagram, Pinterest, and sometimes on Facebook.
I also write a lot of keto recipes on my Italian blog keto-with-simona.


Check also:
Keto products review
Discount codes
Keto favorite products
---
---
"This post may contain affiliate links. This means I will get a commission if you purchase through my links, at no extra cost to you. All the opinions are my own. Read the full disclosure here."
---