Navigate to where you want to go:
Here a list of all the Keto-friendly Drinks to order on a night out. Mixed drinks are lifesaver, because they are all 0 carb and other beverages/products and we can enjoy a few sugar-free, cocktails.
Of course, we can do a lot of sugar-free drinks at home, but when you order at a bar you don't have really control of what you order. Therefore in this article, you will find safe choices. Few options, involves only small modifications (like soda instead of a syrup and cola 0 instead the regular one).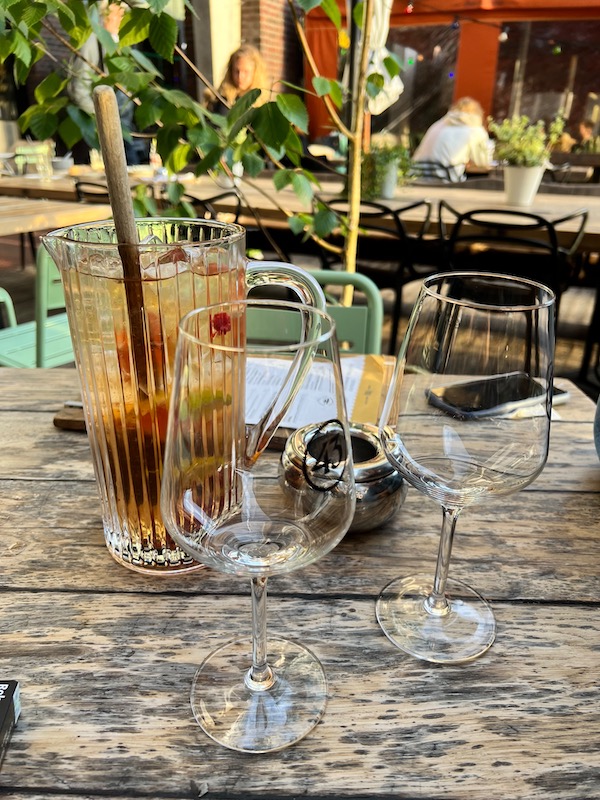 A few notes about drinking alcohol while on a keto diet:
Drink with moderation: try to not drink every day. Alcohol is not really a healthy product, and if you are living-low to lose weight, alcohol is Consume alcohol on special nights or dinner.
Replace a few cocktails with water. In between drinks order a big glass of water, and allow your body to rest a bit.
Having sugar-free non-alcoholic drinks is an option.
If wine is your jam, jump to this blog post on the best wines for the keto and low-carb diet.
If you are living in Holland, read also the best low-carb beers.
Can I have drinks with my friend on a keto diet?
Yes you can. Avoid the cocktails on the menu, as they contain sugary liquors and juices.
Good options to have drinks while out are:
Dry Wines: white and dry wines are the safest choice, (see here the best wines for keto and low-carb diet)
Spirits: such as vodka, tequila, rum, gin, whisky
Mixed drinks: a combination of spirits and alcoholic and sugar-free beverages (such as cola 0)
Difference between cocktails and mixed drinks
Cocktails are made with multiple ingredients, usually they include at least one fruit juice and one hard liquor. Mixed drinks are usually made with one spirit and one alcoholic, usually a carbonated one.
You can easily understand that it is easier to find a keto mixed drink than a cocktail.
Cocktails involve too many ingredients, are many of them are not replaceable, especially in a bar.
Can I find keto-friendly cocktails in a bar?
Cocktails involve always fruity, sugary liquors, juices or syrups. Mnay times they contain even sugar.
Unless a bar have specifically on their menu some keto options, you cannot order a cocktail in a bar and expect that this is keto-friendly.
Cocktails, are always high in sugar, in carbs, and in calories. Try to swipe for a mixed drink, that involves only one spirit and one non-alcohlic drink.
Best Keto friendly wines to order on a night out
The best wine you can order is a dry white wine. Here are the best:
Chardonnay
Pinot Grigio
Sauvignon Blanc
Prosecco
Read also here all the best wines for the keto diet.
Best keto-friendly spirits to order on a night out
The easiest way to drink 0 carb, is ordering a shot of pure alcohol (shots). Order the following options and you cannot go wrong:
Vodka
Tequila
Rum Gin
Whisky
Best Keto-friendly Mixed Drinks to order on a night out
Skinny Mojito
The skinny Mojito is a popular version of Mojito. Instead of the syrup it has soda water. This is a simply modification you can ask every barman to make.
Vodka & Soda
Vodka & Soda is the keto version of Vodka & Tonic. Ask a small modification for this cocktail. Usually, Vodka Tonic is made with vodka, tonic water and a squeeze of lemon. Ask the barman to swipe the tonic water with sparkling water. Add a lemon wedge and you have yourself a really nice 0 carb cocktail!
Gin & Soda
Gin & Soda is the keto version of Gin & Tonic. The original cocktail is made with gin, tonic water and lime. Ask your barman to swipe the tonic water for soda water, and you have your Gin & Soda.
Scotch & Soda
No modifications in this existing mixed drink: Scotch & Soda is made only with whisky and soda. Perfect with a lemon twist.
Cuba Libre
The popular Cuba Libre is made with run amd Coca-Cola. Easily ask to pour Cola 0 instead of the regular.
Rum & Coke
Rum and coke, is prepared with Rum and Coca-Cola. Swipe for the Cola 0 and you have your keto cocktail.
Vodka & Red Bull
Vodka & Red Bull is a powerful cocktail, that has simply Vodka and the energy drink. Ask your barman if they have a sugar-free Red Bull. They may not have it. In the case they have it, enjoy your keto cocktail.
Jack & Coke
Jack and Coke, made with Whisky and Coca-Cola. Ask to replace with Cola 0 and you have your keto mixed drinks for the night.
Dry Martini
Made with gin and dry vermouth, is a very classy cocktail. Dry Vermouth is not very low-carb but the splash is so small that it fits the keto macros.
Espresso Martini
Espresso Martini, the right choice when you cannot decide between alcohol and a coffee (story of my life).
Prepared with vodka, espresso and coffee beans, it has also a liquor and a syrup.
Ask your barman to shake only the espresso with the vodka, and I guarantee you this cocktail is just fine.
Skinny Sangria
In the Summer, many bars make their own sangria. Ask if is possible to have a version without addes sugar and syrups. When available, I like to drink a White Sangria, made with Prosecco, berries, orange and lime wedges.
---
I hope this list with all the more easy Keto-friendly Drinks to order on a night out will be useful to all of you. Being on keto doesn't mean that we cannot enjoy a drink with our friends or colleague. My only suggestion is: Enjoy and Drink with moderation!