Navigate to where you want to go:
In this blog post, I will review the Edamame pasta from the brand Planet Plant-based. This pasta is made 100% from edamame beans, therefore is low-carb and in small portions also suitable for the keto diet.
The Edamame pasta is available here on Amazon. Sometimes is not available, but this one it is also a valid option.
This Edamame pasta is available in spaghetti e fettuccine. The nutritional values are exactly the same, only the shape of the pasta is different.
SPOILER ALERT: this is the best keto pasta I ever tried.
Read also:
Keto crackers in the Netherlands
Besto low-carb Tortillas in the Netherlands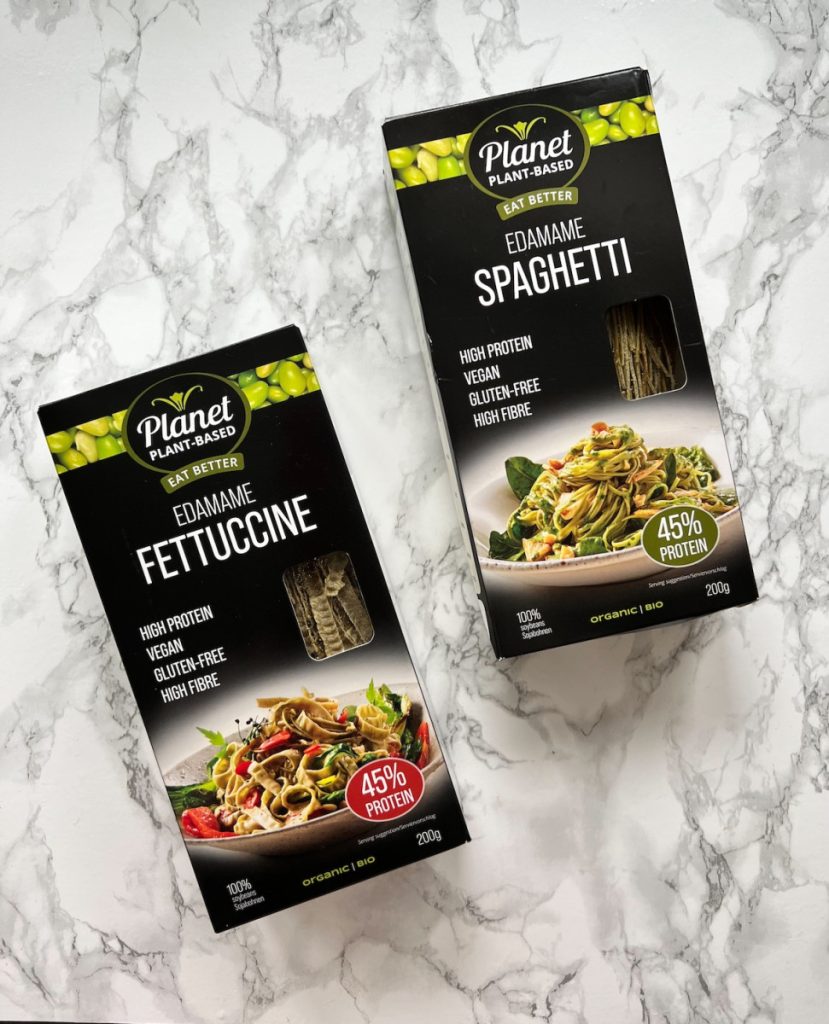 Ingredients and nutritional values of the Planet Plant-based Edamame Pasta
The ingredients of this pasta are 100% Edamame beans.
The nutritional values per 100 grams are:
351 calories
8 gr fat
15 gr carbohydrates
45 gr protein
Is 100% Edamame Pasta keto?
This pasta is made 100% from edamame, so one clean ingredient. It counts 15 grams of carbs per 100 grams of products. The pasta is also very high in protein, 45 grams per 100 grams.
If you are following keto and you play your nutrients wisely throughout the day, this pasta fits your macros.
Review of Planet plant-based Edamame pasta
The edamame pasta is so far my favorite keto pasta on the market.
Not only is it 100% vegetal, without any flour or shady stuff, but it is very similar to regular pasta.
I can barely tell is not real pasta. I have the feeling I am eating real, homemade pasta.
No aftertaste, no gross sensations during chewing, and no special way to cook it. It tastes like real pasta.
Also, my no-keto brother had a fork of this pasta, and he was very impressed by it.
The texture is rough as real pasta, to help absorb the seasoning.
I love that this pasta is not breakable. Usually, all the keto pasta I tried was weak, but this pasta doesn't get destroyed during cooking. It keeps its length and shape during and after cooking.
The volume of this pasta is also very similar to authentic pasta, and a portion of 50-80 grams it is very decent for the eyes.
Season this pasta with a good homemade keto sauce and grated cheese, serve it warm, and I guarantee you – you won't miss regular pasta anymore.
Planet Plant-based Edamame Pasta Spaghetti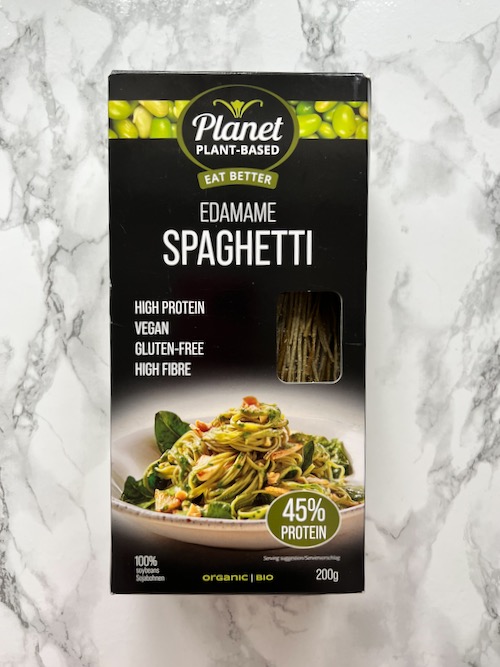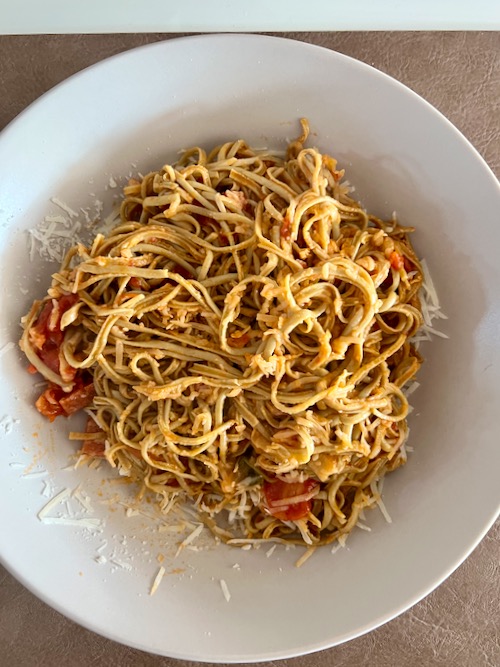 Spaghetti is very thin but resistant, they won't break while cooking.
They are easy to pick with a fork and make a good forchettata. This type of pasta is ideal for light sauces, like tomato sauce or creamy pesto.
This spaghetti felt real: I had the impression I was eating real pasta.
Planet Plant-based Edamame Pasta Fettuccine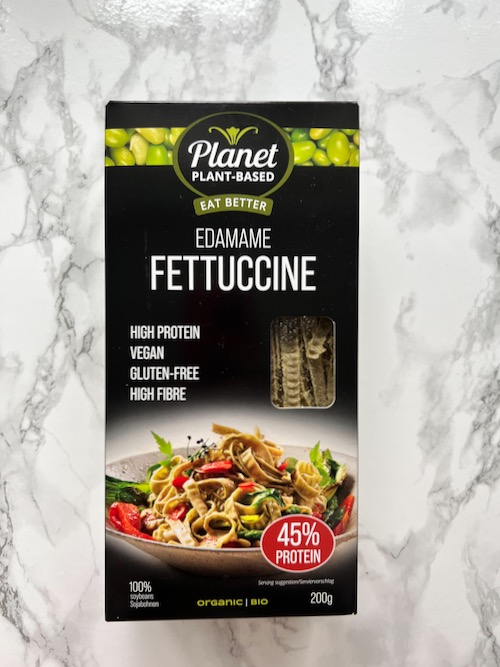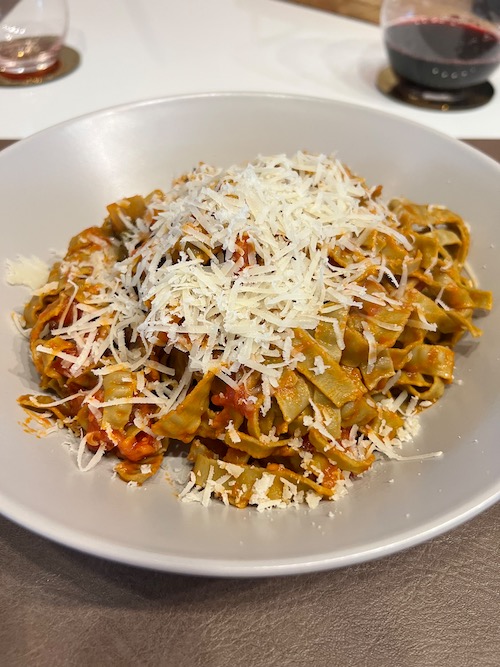 As happened with the spaghetti, also for the fettuccine, I have the feeling I am eating real pasta.
The main difference between these 2 pasta types is the shape. Spaghetti has a cylindrical shape, while fettuccine has a broader and flatter surface.
Also, fettuccine is very resistant, and it won't break while cooking.
That's why fettuccine is better to fit on thicker, more robust sauces. Fettuccine is perfect for pasta carbonara, Bolognese, and heavy pesto variants.
---
More posts you may like:
Grassfed meat in the Netherlands
---
---
---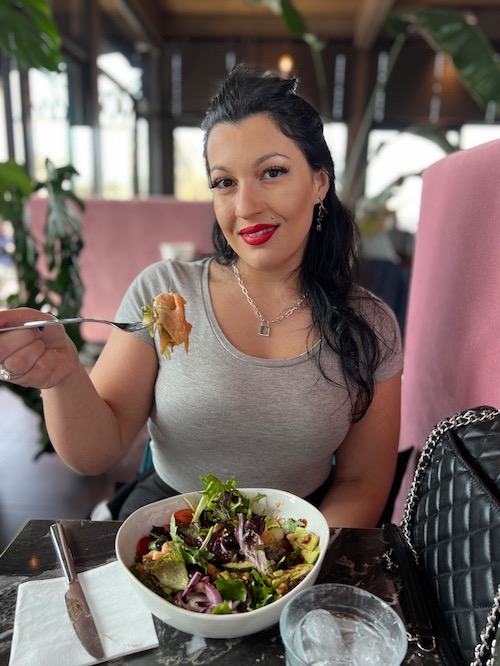 My name is Simona and I am a keto enthusiast, based in the Netherlands.
I live with my husband, my cat Newton, and a fridge full of cheese.
You find me on Instagram, Pinterest, and sometimes on Facebook.

I also write a lot of keto recipes on my Italian blog keto-with-simona.
Check also: