Keto FAQs – the Netherlands, is the post in which I will answer the frequent questions (FAQs) regarding keto in the Netherlands. To read interesting things about keto in the Netherlands, visit the Keto in the Netherlands section.
Do you have a more general question about keto? Visit Keto FAQs page.
Where to eat keto and low-carb in Amsterdam?
Check my post on eating keto and low-carb in Amsterdam. I keep it updated on the go.

Do they have heavy cream in the Netherlands?
In the Netherlands, heavy cream is not a thing. What you can use is the so-called slagroom (the one to do the whipped-cream). Buy the unsweetened one. Usually has 30gr fat and 3gr carbs. It's fatty enough even if not as the heavy-cream. Another option is the English clotted cream that you can find in AH. To order heavy-cream at Starbucks read my post "Keto and Starbucks in the Netherlands".
What can I use to make a keto-friendly whipped cream?
In the Netherlands, the best is to use a liquid, fresh slagroom. I buy the fresh Slagroom from Zaanse Hoeve. Add some sweetener in drops. Whip the cream with the hand mixer or with the bottle. I advise a whipped cream dispenser like this one or this one because they do the work faster and you can place the cream nicer. Store in the fridge for up to 5 days.


Is there a service of keto meals in Amsterdam or in the Netherlands?
So far no. Meal delivery service is a business in growing business and so far none of them is dedicated to a ketogenic diet. The best option is to order at home some ready to eat food. Read this article.
Where I can find the English clotted cream in the Netherlands?
You can find the English Clotted cream in AH and Jumbo. Usually, only the biggest store has it. They are among the cheese, usually in the open fridges near the bread and lunch meat department.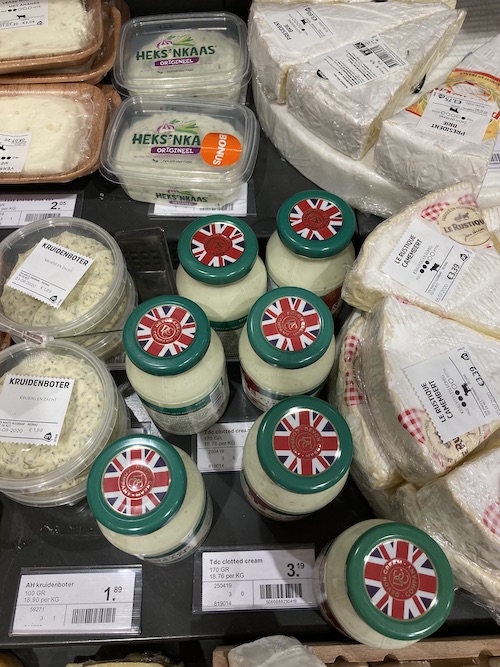 Where I can find keto products in the Netherlands?
In the Supermarkets you will find the most of the products you need.

Read my blogposts regarding the best keto products in AH, AH To Go, Jumbo, LIDL.
Read which keto products you can find in Hema, Holland and Barrett, Ikea.
In the Webstores, discover the best keto and low-carb products from Lizza, Funky Fat Foods, Body and Fit.
Plan a big shopping on AMB.
Read also where to eat keto in Amsterdam, and what to drink at Starbucks in Holland.
Read also my favorite keto and low-carb products.
---
Do you have a question and is not listed here? Don't hesitate to contact me or leave a comment below and I will be happy to help!
---
This post may contain affiliate links. This means I will get a commission if you purchase through my links, at no extra cost to you. Read the full disclosure here.