Navigate to where you want to go:
There is no shame in falling off the wagon and enjoy all the food we are were craving for months. In this post, you will find 5 ways to get your diet back on track.

The important thing is to get back on track and if you are reading this it means that you are willing to do so.


If you get tired, learn to rest, not quit.




Definitely, following an healthy lifestyle, especially when low carb, is never easy and even more during festivities or social events.

But now, it's time to bring the beat diet back.

This post is not about how much water or how many hours of fasting you need in order to burn the calories you ate on Christmas day.

In this post you will find effective ways to conquer back a healthy-oriented mindset: a mindset that promotes healthy habits, that sustains you on difficult days and that helps you achieve your goals.

Important to realise is that starting over is harder than starting: when we start again we know what is waiting for us, and sometimes the path is long and demotivating.

Buuuuut….with the right mindset it's easy getting back to the old, good habits.

Let's dive in with my favourite 5 ways to get your diet back on track.
Choose the day
First thing first: decide the day of your comeback, the day in which you will start to be focused and committed again to your health.
Deciding when gives you the time to prepare yourself mentally and enjoy the moment.
Moreover, it gives you also the time to organise the rest.
Once you start don't look back.
One great piece of advice? Track your macros! Here's how I do it!


Remove what is not suitable for your diet
Especially during the festivities, we end up collecting bad food, such as candies and processed foods and most of it survives the celebrations.
Plan in advance how to get rid of these products.

After you removed the bad it's time to bring back the good foodie!
Stock in greens, good fats, healthy proteins, and the right carbs.


Make "health proof" your social media's
Never underestimate the power of visuals.

To not fall into bad habits after 2 days it's very important to make your feed "health proof".
Open all your socials and take stock of influencers, people you know, and companies. Do you find them inspiring for the healthy lifestyle you want?
Push the unfollow button as needed. Follow people with your same goal: this is how you boost your motivation and stay on track.

And remember that perfection it's only a social media illusion.

Find your WHY
Be specific with yourself about why you are doing what you are doing.
The why can be a goal or something you already achieved, doesn't matter. Knowing what is your why keeps you resilient.

Plan
To keep you aware and motivated on your WHY or your ultimate goal you can prepare a plan.
Don't freak out with this word: a plan doesn't have to be complicated.
It's enough to write down your goal and few steps that support you on that.
Interested? Read this article about resolutions and plans.

---
Do you have a special strategy? Let me know in the comments.
---
---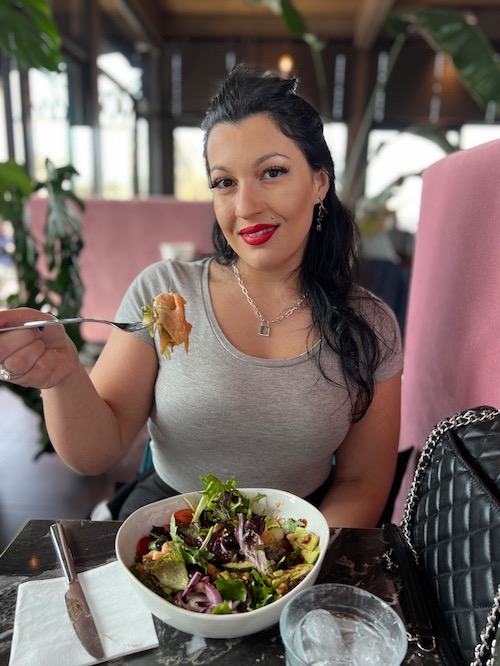 My name is Simona, a keto enthusiast, based in the Netherlands.
I live with my husband, my cat Newton, and a fridge full of cheese.
You find me on Instagram, Pinterest, and sometimes on Facebook.
I also write a lot of keto recipes on my Italian blog keto-with-simona.


Check also:
Keto products review
Discount codes
Keto favorite products
---
---
"This post may contain affiliate links. This means I will get a commission if you purchase through my links, at no extra cost to you. All the opinions are my own. Read the full disclosure here."
---