Nooey is a new Australian brand of keto pasta – low-carb noodles, that you can buy online.
The pasta is made in Australia, and they also ship to Europe. I finally tried this pasta and this is my honest review. Did I mention I am Italian, so the Italian reviewers of pasta matter!

If you are living in the Netherlands, read also:
Keto pasta in the Netherlands
Where to buy keto products in the Netherlands
Where to find Grass-fed meat in the Netherlands
But now, let's talk about Nooey: hereby my review of this pasta.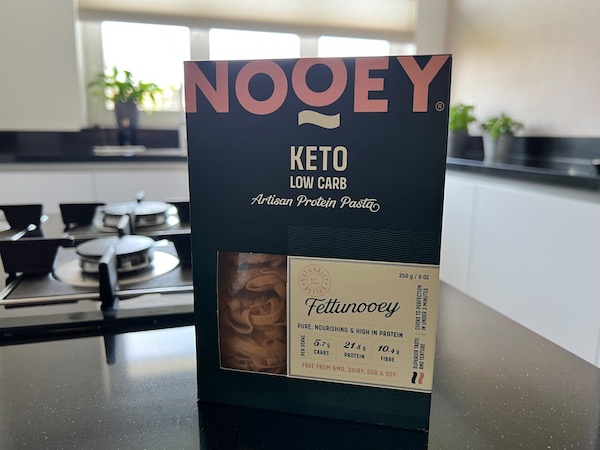 Nooey Keto Pasta
Anliette is the proud creator and maker of Nooey.
She is an Award-winning Sydney food photographer and closeted recipe scientist who in 2020 started the ketogenic lifestyle. Since she is a pasta-lover, she tried everything to find a replacement for her noodle and pasta dishes. Not finding good options, she created in her kitchen the noodles that now we can enjoy.
Nooey Keto Pasta
As stated on the website, the pasta is directly sourced from Aussie farmers. Nooey is handcrafted from premium ingredients that are high in nutritional value. The pasta is minimal in carbs, low in calories, high in protein, loaded with micronutrients and full of prebiotic fiber.
The pasta is low-carb, keto-friendly, diabetic, vegan, vegetarian, plant-based, and flexitarian dieters. It is also GMO-free, dairy-free, egg-free, and soy-free.
Notice: is not gluten-free.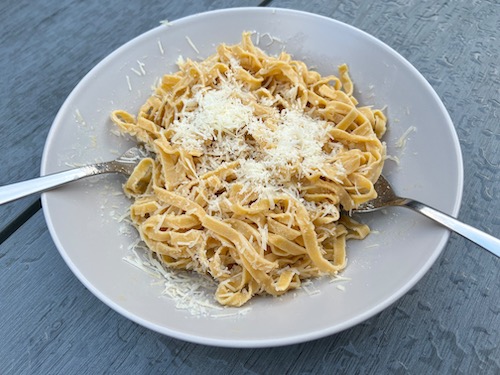 Nooey ingredients
Lupin is the magical ingredient of the Nooey pasta.
One of Mother Earth's superfoods, lupins are tasty little legumes with the slightest hint of nuttiness.
Australian lupins boast the lowest GI (Glycemic Index) of any commonly consumed seed and are rich in micronutrients including antioxidants, potassium, and iron, they also contain higher levels of thiamin, riboflavin, Vitamin C, phosphorous, magnesium, and zinc.
Lupin is listed as an allergen. If you're allergic to legumes or peanuts, Nooey might be not your best choice. If you are allergic to gluten, this pasta is also not recommended.
Besides lupin, the ingredients are wheat protein (gluten), vegetable fibers, extra virgin olive oil, Himalayan pink salt, and flaxseed.
Minimal in carbs, ultra-low in saturated fats, and high in prebiotic fiber, protein, and good fats, Nooey is currently the only pasta noodle in the world that's enriched with Omega-3.
Nooey nutritional values
Per 100 grams:
Calories: 80 gr
Fat: 8,4 gr
Carbs: 11,4 gr
Proteine: 43,5 gr
Per portion (about 50 gr – 2 nests):
Calories: 40 gr
Fat: 4,2 gr
Carbs: 5,7 gr
Proteine: 21,8 gr
Portions and cooking of Nooey
A recommended serve of Nooey is 2 nests. The cooking is faster than any dry pasta, under 3 minutes.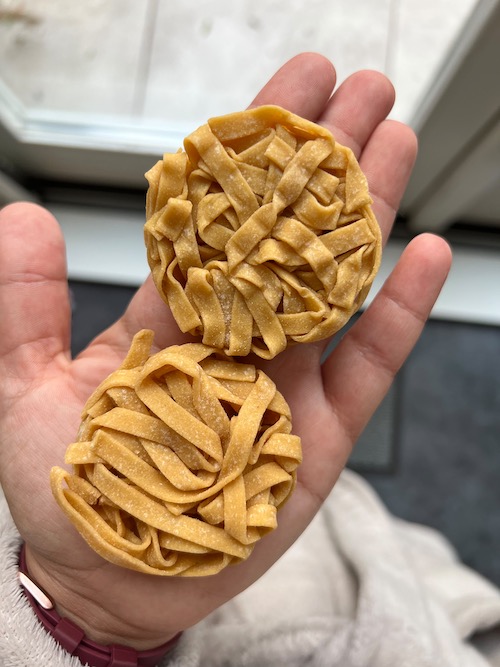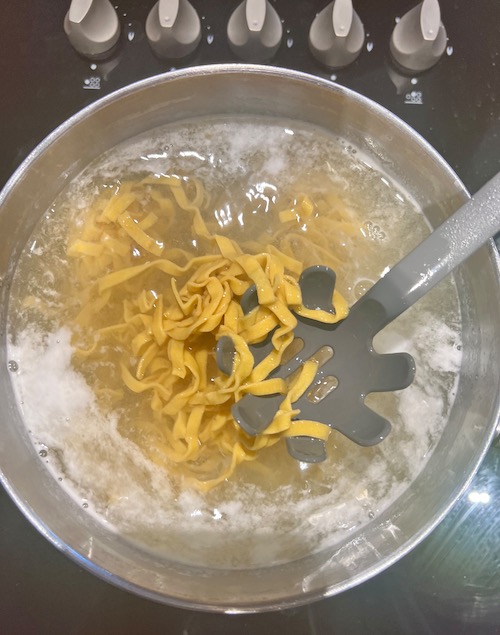 The taste and the texture of Nooey Keto Pasta
The taste is very good and I am happy with the experience.
I seasoned my noodles with butter and I was very satisfied.
The texture is rough and heavy. The noodles are hard to break. This is a good thing but makes it difficult to break them with the teeth and as a consequence is hard to swallow them.
The pasta is good, and is really one of the best pasta out there, for taste and texture. I am hooked.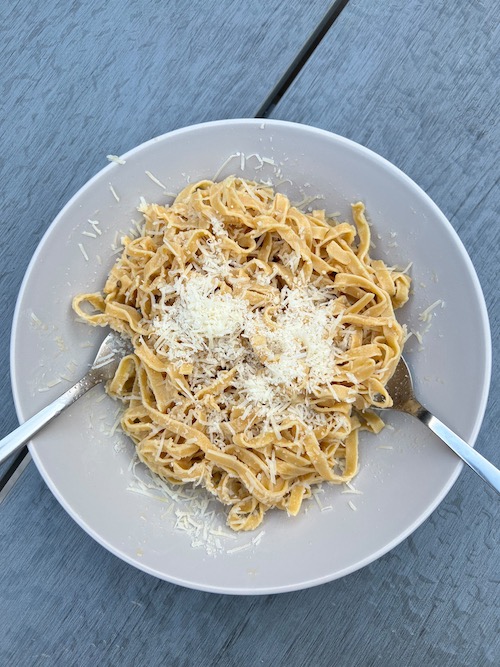 The price of Nooey
The price for this pasta is about 12 euros for a box (5 portions inside). You can also buy bigger doses.
I believe the price is honest!
The shipping
The shipping to Europe is about 17 AUD (about 12 euros) for the standard shipping of the trial box (May 2022). I don't think is too much honestly, since in Europe we don't have much choice of keto pasta. But is also true that 12 euro easily add up to the costs.
Also, the more pasta you will buy, the more the shipping costs will be. But hey, is coming from Australia.
Nooey: Final conclusions
Nooey Keto Pasta is good, despite the texture being too hard. I also think that 2 rolls for a portion are quite enough to be satisfied. I recommend this pasta, so if you can try it, despite the shipping price.
---
More blog posts you may like:
Funky Fat Foods keto chocolate
---
---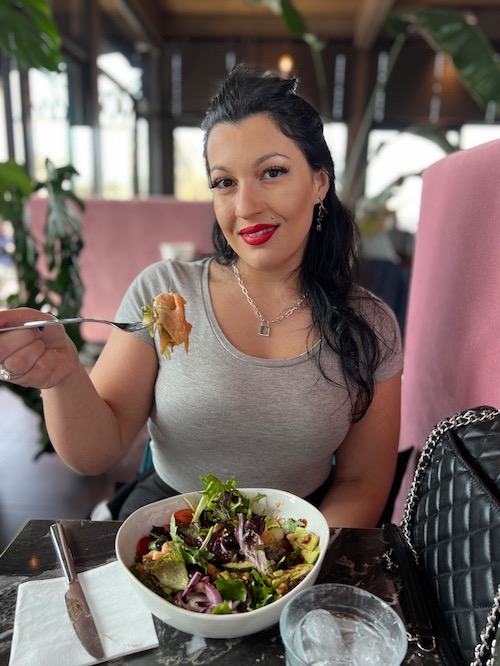 My name is Simona and I am a keto enthusiast, based in the Netherlands.
I live with my fiancé, my cat Newton, and a fridge full of cheese.
You find me on Instagram, Pinterest, and sometimes on Facebook.

I also write a lot of keto recipes on my Italian blog keto-with-simona.
Check also: