If you love chocolate, and sweet and salty flavours, you should prepare this Keto Netflix & Chillld bark. Right now.
It will take just few ingredients and little bit longer than one hour.
I took inspiration from Ben and Jerry's Netflix and Chilll'd, a delicious peanut butter ice cream with sweet and salty pretzel swirls and fudge brownies.
This flavour it's incredible because satisfy any sweet or salty snack craving.
The original B&J Netflix and Chilll'd is not keto, but I made a keto copycat, the Keto Netflix and Chillld ice cream, make sure to check it out.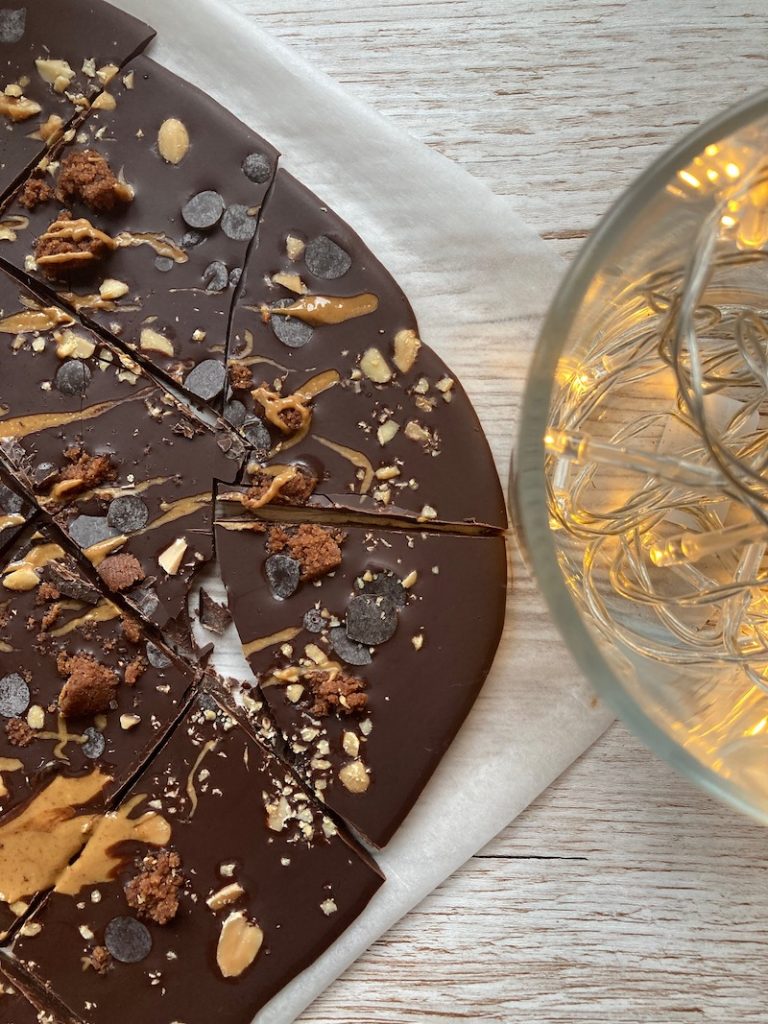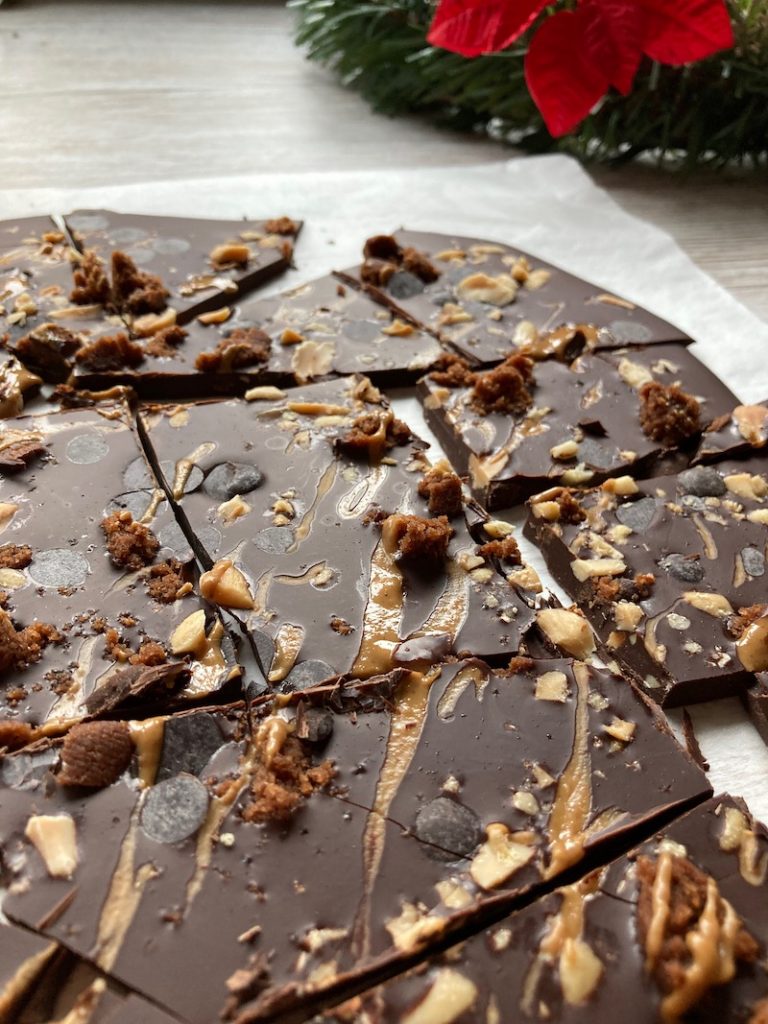 What's a bark?
A bark is a sheet of chocolate, with one of several toppings. Making the bark is very easy. You melt the chocolate, lay it evenly in the tray, you custom as you fancy, you cool it for some time in the fridge, and ta-da!
It's ridiculously easy to make, and yep, it's even considered a recipe!
A bark is typical of the Winter time: it's very Christmassy, cozy, and makes the perfect gift.
Ready to try this amazing Keto Netflix & Chilllld bark?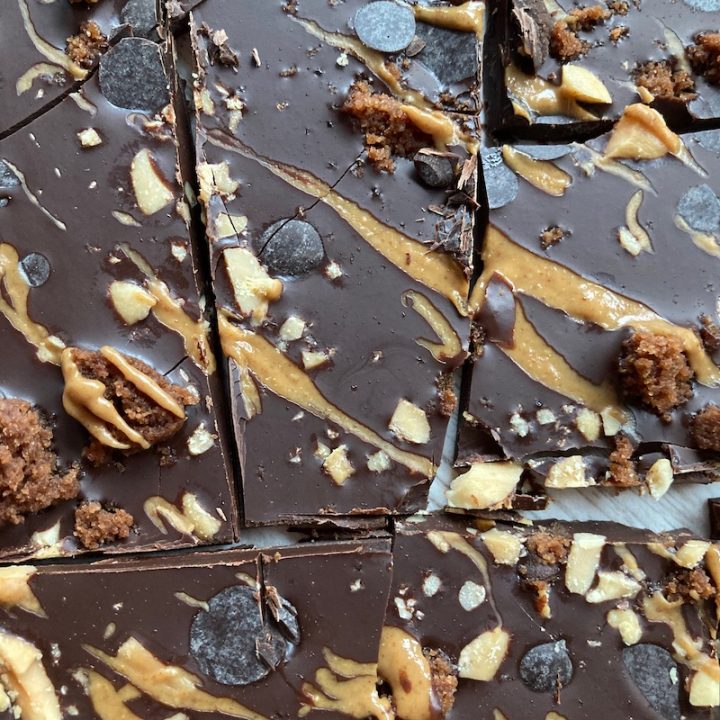 Keto Netflix & Chillld bark
Total Time:
1 hour
15 minutes
This Keto Netflix & Chilllld bark is keto-friendly, sugar-free, vegan. You will love the sweet and salty taste!
Ingredients
200 gr Sugar-free Dark Chocolate
2 teaspoons 100% peanut butter
1 hanfdul of Sugar-free brownie pieces
1 handful of peanuts, shredded into pieces
1 handful of Sugar-free chocolate drops
Instructions
In one bowl, melt the Dark Chocolate and the White chocolate together
Line a sheet of parchment paper into a medium sized baking tray
With a spatula, spread evenly the melted chocolate
Add the toppings
Set in the fridge for 1 hour
Cut into pieces and serve or store into an airtight container
Recommended Products
As an Amazon Associate and member of other affiliate programs, I earn from qualifying purchases.
Nutrition Information:
Yield:

10
Serving Size:

10
Amount Per Serving:
Calories:

230
Total Fat:

19,5g
Net Carbohydrates:

3,8g
Protein:

3,5g
The nutrition calculation may vary depending on the ingredients you use. I did the calculation according to the ingredients I used. Berries and extra flavours are not in the calculation.
Ingredients for this Keto Netflix & Chillld bark
The main ingredients are the chocolate, the brownie and the peanut butter. These 2 ingredients are fundamental to give to the ice cream the salty & sweet taste we want.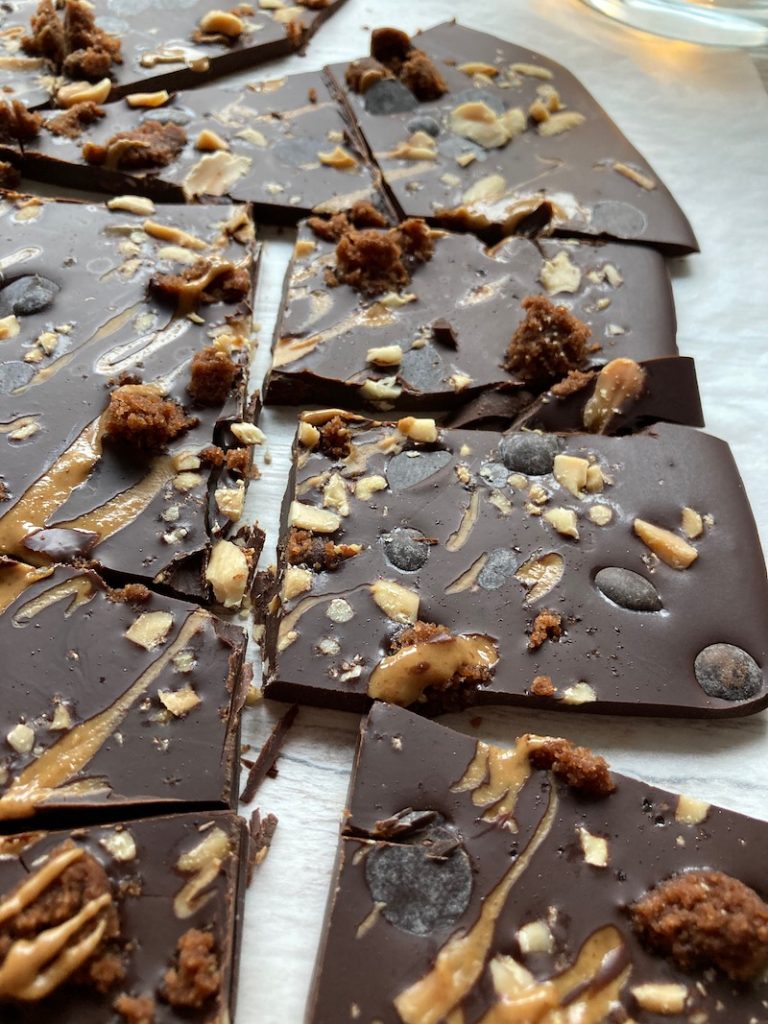 The chocolate
To make this bark, I melted 2 different chocolates: Dark Chocolate and White chocolate.
I used both the qualities from Funky Fat Foods. Use the code TRUSTNOCARB for 15% discount.
The brownie
Making a brownie from the scratch can be time-consuming.
You can also use a sugar-free, keto-friendly brownie bar, such as the Good to Go Double Chocolate bar.
For this bark, crumble the half of a bar on the chocolate!
The Peanut Butter
Use 100% peanut butter for this recipe. You can use of course, also the peanut butter with pieces of peanuts
Peanuts
Take a handful of peanuts and cut them into small pieces.
Chocolate drops
Use low-carb chocolate drops.
Suggested chocolate drops from Steviala, Lily's or Schoko Drops, or Lizza sugar-free drops.
If you don't have any, cut some dark chocolate into small pieces and mix them in the cream.
Salt
The original recipe has pretzels. Since I couldn't come up with a decent keto pretzel, you can add some salt.
More notes for this recipe
The products I used may be different from the ones you will use. The challenging part of this recipe is to balance the sweet and salty.
Visual Recipe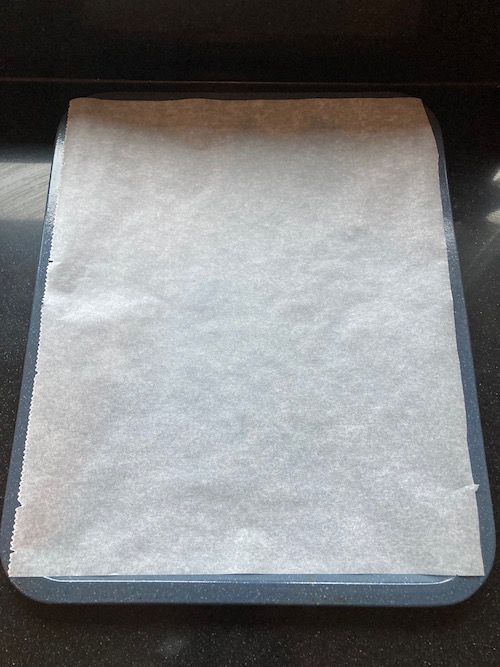 I am sure you will enjoy this keto bark. More Christmas ideas:
Keto Santa Strawberry Muffins
Keto Gingerbread Men cookies
Keto Crispy Chocolate Trees
Read also my Cranberry and Coconut Sugar-free bark in the Funky Fat Foods Blog.
---
This post may contain affiliate links. This means I will get a commission if you purchase through my links, at no extra cost to you. Read the full disclosure here.