Navigate to where you want to go:
Grandma Crunch is the first brand in Europe to produce Keto and Protein cereals.
For months I have been watching American people enjoying their keto cereals, that won't ship in Europe.
Finally, the blessed day arrived even for us poor Europeans, and the miracle is made by Grandma Crunch, an English brand that started to produce their keto-friendly, plant-based cereal. And the good news is, they are shipping through Europe!
Are you kidding me? Keto Cereals in the Netherlands? Grandma, take my money, and gimme that crunch!
Please notice that Grandma Crunch cereals are not really real cereals. Real cereals cannot be keto-friendly. But the crunchiness, texture, and taste of Grandma Crunch are identical to cereals!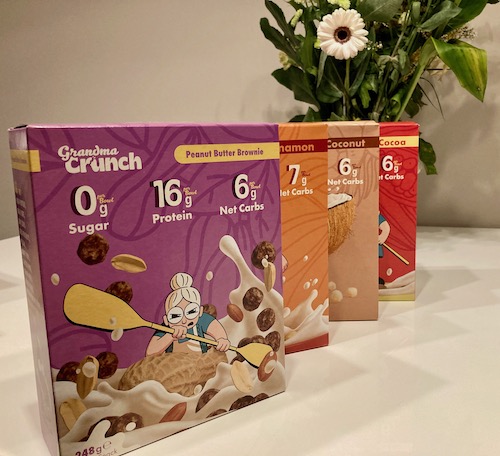 The brand
Grandma Crunch, an English brand producing keto and protein cereals, which are:

High protein
High Fibre
Low-carb
Keto-friendly
Vegan
Dairy-free
Gluten-free
Grain-free
Wheat free
Preservative-free
Grandma Crunch Keto Cereals
Grandma Crunch has 5 flavors of keto-friendly "cereals".
Every portion has about 3 grams of net carbs, depending on the flavor.
Peanut Butter Brownie: 2,6 g net carb, 16,4 g protein.
Cocoa: 3 g net carb, 16,1 g protein.
Coconut: 3,1 g net carb, 15 g protein.
Strawberry: 2,7 g net carb, 15,5 g protein.
Salted Caramel: 2,7 g net carb, 15,5 g protein.
Grandma Crunch Protein Cereals
Grandma Crunch has 7 flavors of protein "cereals". I am a litle confused. The Protein Range should have more protein, right? Well, it's not like this. They contain less protein than the Keto range.
Moreover, the protein range has higher carbs, on average 10 grams per 100 gr.
It is very strange that the company advertise the Protein Range as their best seller.
If you are in keto or not, if you are following a high-protein diet this is my advice: buy the Keto range.
These are the protein in the Grandma Crunch Protein Cereals:
Cocoa: 11,3 gr protein
Tutti Frutti: 9,7 gr protein
Peanut: 11,2 gr protein
Coconut: 10,8 gr protein
Strawberry: 10,6 gr protein
Caramel: 10,5 gr protein
The portion
A portion is 30 grams. In the beginning, I thought that would be a very small portion. Well, as soon as I measured 30 grams, I realized is really a big portion. these grams, and even less, are enough for the moments we just need some crunch.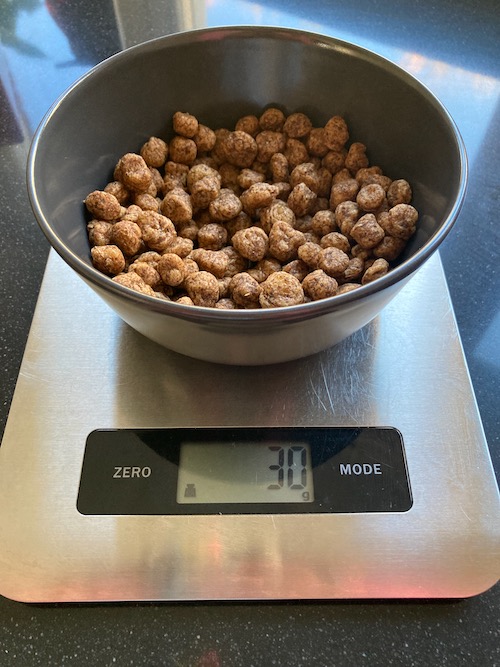 The ingredients
In both the keto and protein cereals, there is no sugar, and the only sweetener are erythritol and/or sucralose.
The main ingredients of the keto cereals are: Soy isolate, Pea starch, coconut oil, erythritol, coconut powder, soy lecithin, steviol glycosides, salt.
The main ingredients of the protein cereals are: pea concentrate, pea Protein, rapeseed oil, reduced fat cocoa powder, pea starch, sunflower lecithin, natural flavors, sucralose.
Shipping
They ship throughout Europe. Yes, even in the Netherlands! Shipping costs may vary depending on the country.
For the Netherlands, the shipping rate is 3,95. For Italy is about 5 euros.
Prices
The price for 4 boxes is around 30 Euro. You can buy 4 boxes of the same flavour or mix and match your favorite flavors. For the first time, I really recommend purchasing the variety box (one box of each flavor).
I honestly don't find this price very expensive, as this is the only keto-friendly cereal we can find in Holland (and Europe).

Interesting info for people based in Holland: is possible to pay with Ideal.
Grandma Crunch Discount Code
If you want to try these cereals, you can have 10% off by using my code: SIMONA10. I am sure you will love Grandma Crunch as I do!
My favorite Granda Crunch flavour
The same day I got these boxes, I sat with my fiancé and we try all the flavors. My favorite is Peanut Butter Brownie. Followed by Cocoa, Strawberry, and Coconut.
How to consume Grandma Cereals
I tried these cereals a few times already, and so far I love them with milk (cashew or almond milk).
I also like to crunch these cereals without milk, during my Netflix nights.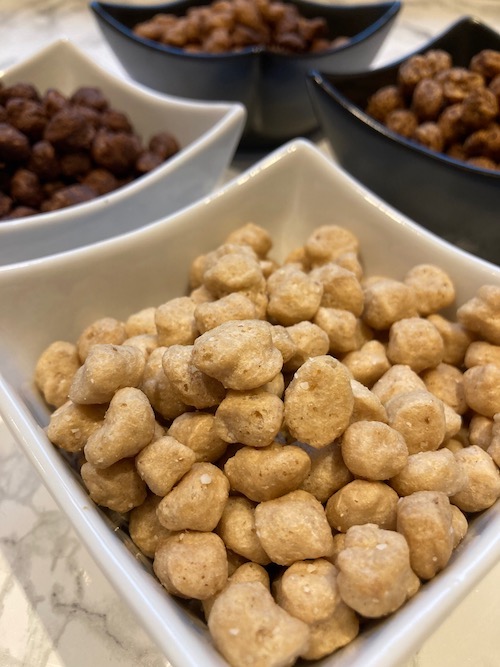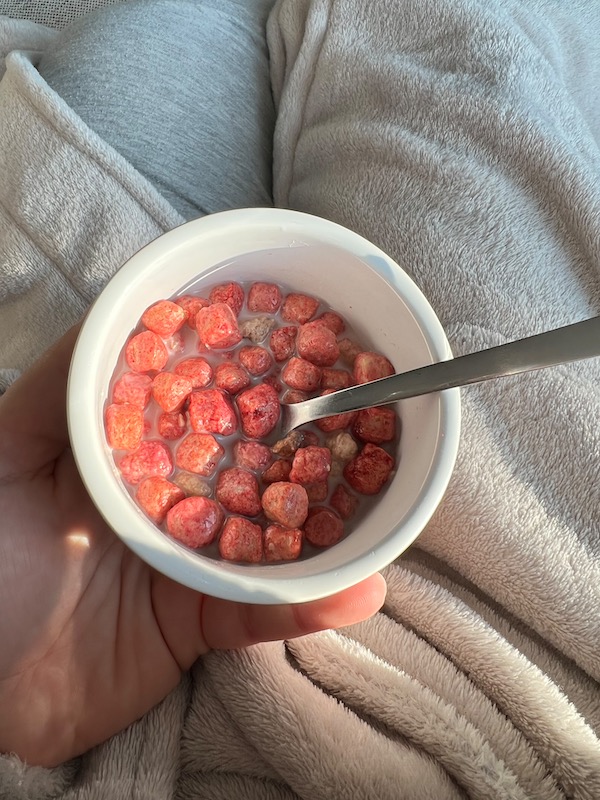 My final opinion
I am hooked. I love these cereals. I missed cereals so much. I am very happy I can easily order Grandma Crunch, and I am so relieved that they ship in the Netherlands.
I think 3 net carb per portion can fit everybody's macros.
I have nothing that respects for an emerging keto European brand. And buying these products is my way to sustain them. Thank you, Grandma Crunch keto cereals!
---
---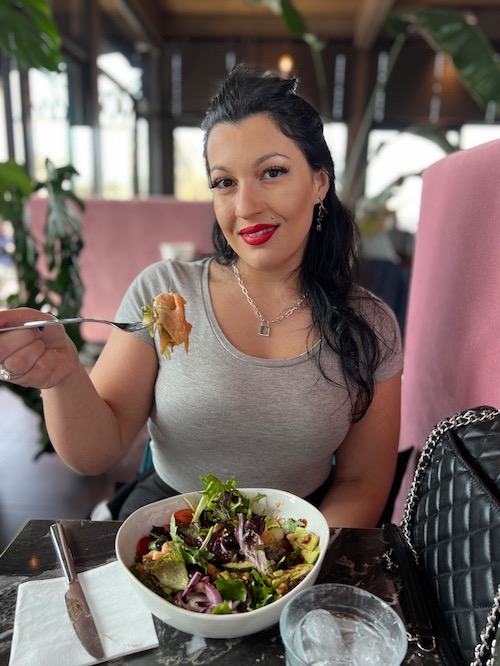 My name is Simona, a keto enthusiast, based in the Netherlands.
I live with my husband, my cat Newton, and a fridge full of cheese.
You find me on Instagram, Pinterest, and sometimes on Facebook.
I also write a lot of keto recipes on my Italian blog keto-with-simona.


Check also:
Keto products review
Discount codes
Keto favorite products
---
---
"This post may contain affiliate links. This means I will get a commission if you purchase through my links, at no extra cost to you. All the opinions are my own. Read the full disclosure here."
---