The keto Iced Pumpkin Spice Latte is the perfect drink when you are craving pumpkin spices but it's warm outside and you don't feel like drinking a hot drink. Or is perfect if you live in a place where the Autumn is warm AF.
I love the sunny, warm Autumn days, and the Pumpkin Spice season, and I want to be able to enjoy both of them.
Hence, this recipe is a great compromise.
Of course, when the Autumn gets nastier, stick to the warm keto Pumpkin Spice Latte.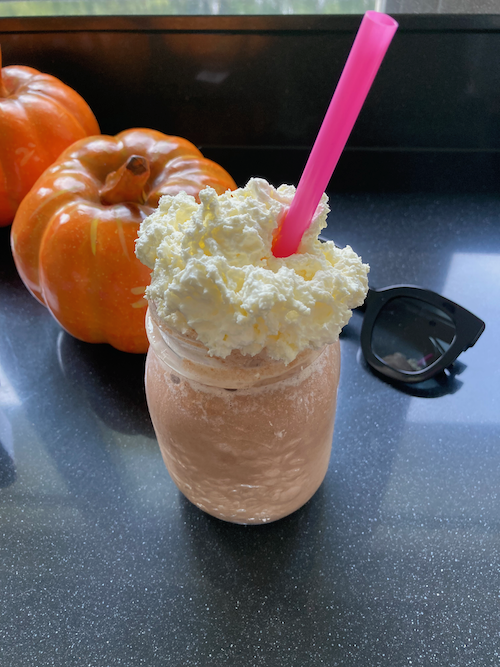 The recipe is the same as the warm version. Only the procedure is a little bit different. It's easier I would say. Perfect to grab this Iced Pumpkin Spice Latte and catch the last rays of sun for the year.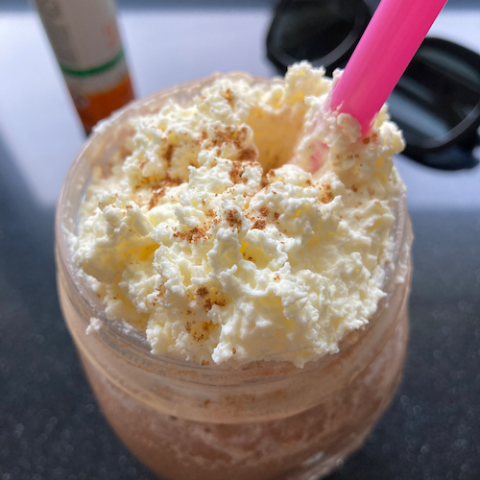 Iced Keto Pumpkin Spice Latte
This Iced Keto Pumpkin Spice Latte is the perfect cold drink when you feel Autumn inside but it's Summer outside. Sugar-free, low-carb and keto-friendly.
Ingredients
2 tablespoon pumpkin puree
Half teaspoon pumpkin spice mix
Sweetener
200 ml almond milk
Coffee of your choice
1 tablespoon Vanilla extract (optional)
Heavy whipped cream (optional)
Instructions
In a blender, combine the pumpkin puree, the pumpkin spices, the sweetener and the milk. Combine optional vanilla extract
Add ice cubes if you want your drink colder
Pour your preferred coffee in a mug
Add the pumpkin milk.
Add optional whipped cream and more pumpkin spices on top.
Recommended Products
"This post may contain affiliate links. This means I will get a commission if you purchase through my links, at no extra cost to you. All the opinions are my own. Read the full disclosure here."
Nutrition Information:
Yield:

1
Serving Size:

1
Amount Per Serving:
Calories:

85
Total Fat:

1g
Carbohydrates:

2g
The nutrition calculation may vary depending on the ingredients you use. I did the calculation according to the ingredients I used.
Products I use to prepare the Keto Iced Pumpkin Spice Latte
Here are all my trustworthy ingredients to prepare this amazing Iced Keto Pumpkin Spice Latte in the Netherlands.
PUMPKIN PURÉE
The pumpkin purée is not easy to find in the Netherlands.
You can find some pumpkin purée on some websites, but they are not many, and they get sold out so (hello Americans in the Netherlands, I see you!).
During the Autumn, you can find the pumpkin purée from American's Market at AfvallenmetBregje.
At AH you can find the pompoen mix. I believe is a food for newborn babies, but if you look at the ingredients, it's only pumpkin. Perfect for us and for keto.
Don't confuse the pumpkin purée with the pumpkin filling: the last one is the one used for the pies, and has sugar inside! Avoid it!
PUMPKIN SPICES
The pumpkin spices are also not easy to be found in the Netherlands. You'll have to search in some small stores, or online.

I luckily found a valid Pumpkin Spice Mix at AfvallenmetBregje, thanks again Bregje!
You can also try your own!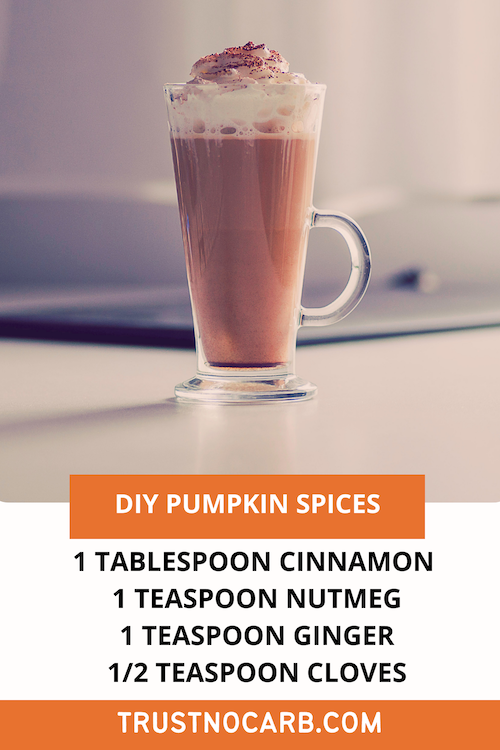 ICE
Love your blender, and use pre-cut ice for this recipe. With whole cubes, the blender will make more fatigue to treat the ice into a reasonable consistency.
MILK
For the milk, any kind of low-carb milk is okay. My favorite is almond milk, and I think is the best one, because it has the most neutral taste. Lately, I have been loving also cashew milk and hazelnut milk (check always that they are sugar-free!).
COFFEE
For coffee, I like to use a shot of espresso.
SWEETENER
I use a liquid sweetener, but you can use also Erythritol. Just make sure it will combine well with the rest of the ingredients.
WHIPPED CREAM
To make your own whipped cream, I whip a low-carb liquid heavy cream.
Notes
If you don't have a blender, just combine all the ingredients directly in a bowl, skipping the ice.
For an extra foamy effect, add a little bit of heavy cream to the milk.
You can also do the Bulletproof Pumpkin Spice latte pouring the latte in a blender with MCT oil and/or butter. Extra spicy energy!
Keto Iced Pumpkin Spice Latte: easy 0 carb variant
When in hurry, my to-go option is adding a tablespoon of the unsweetened Pumpkin Spice Latte syrup to my coffee.
In Europe, you can find this great syrup from Skinny Foods.
Took 10 days to arrive in the Netherlands, but believe me, it's so worthy!
The only "issue", is that the company doesn't sell more than 2 kilos to Holland (I believe is due to customs and Brexit).
So, I had to order not more than 2 liters (which was the 1 liter syrup, a cream, and another small item).
Therefore, for only these 3 items, I had to pay 12,99 for delivery. Well, I am sure it's worthy because here in the Netherlands we have many syrups, but couldn't find the PSL.
So happy me.
How to enjoy the Iced Pumpkin Spice Latte
I love to enjoy the Keto PSL in the warm afternoons when it's Autumn and I need an extra spicy coffee.
Perfect with a Netflix movie and a few keto butter cookies or muffins.
I also pair it with my favorite MCT keto chocolates.
Read some keto spice inspirational ideas and be ready for the Autumn.
Keto Iced pumpkin Spice Latte: Visual Recipe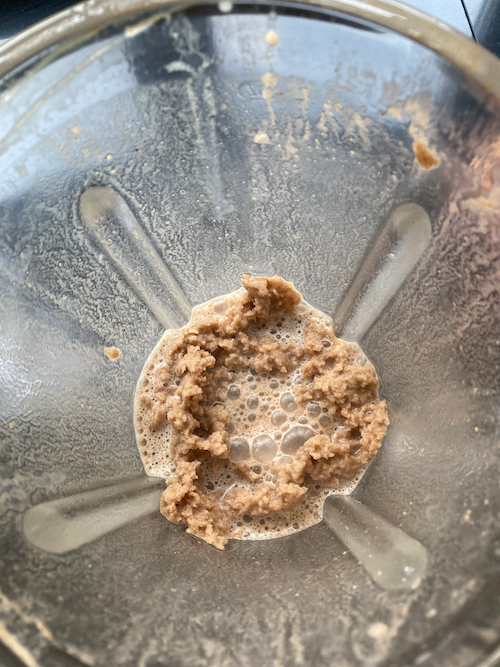 I hope you found this recipe useful! read also this recipe with pumpkin: keto pumpkin lasagna!
---
"This post may contain affiliate links. This means I will get a commission if you purchase through my links, at no extra cost to you. All the opinions are my own. Read the full disclosure here."